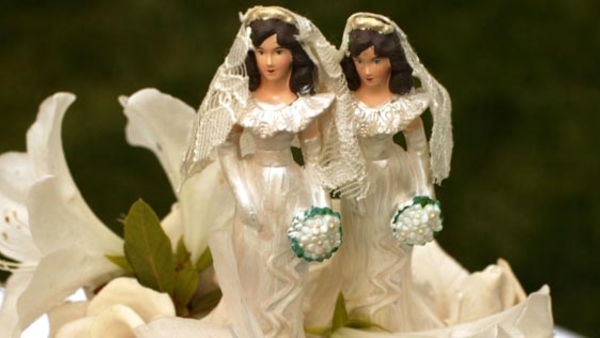 The U.S. Supreme Court's decision overturning same-sex marriage bans in the four remaining states that had them will ease the administrative burden on benefits managers at companies that offer insurance coverage to spouses and partners.
That's the view of consulting firm Aon Hewitt. While states-rights advocates like Supreme Court Justice Antonin Scalia have railed against the same-sex and premium subsidy rulings by the court, for human resources managers, such rulings offer a sense of consistency and stability, Aon Hewitt said. Already, 77 percent of employers with employee health plans offer same-sex partner coverage already, Aon Hewitt said.
However, the ruling, which overturned bans in Michigan, Kentucky, Ohio and Tennessee, could cause some employers to drop or increase the cost-sharing of spousal coverage if they are concerned about having to cover a substantially higher number of spouse/partners.
"With today's ruling, employers will need to consider how best to design their employee benefits plans to attract and retain the best talent," said J.D. Piro, senior vice president and national practice leader in the Aon Hewitt Health Law Group. "Some employers may move toward offering spousal benefits under one common umbrella. Others will continue to offer benefits coverage to both same-sex and opposite-sex domestic partnerships, while also recognizing the broader definition of marriage endorsed by the Supreme Court. As companies decide on a strategy, they will also want to consider the impact of state and local laws requiring employers to offer domestic partner benefits."
Read: FMLA updated to include same-sex couples
In the wake of the decision, Aon Hewitt encouraged employers to be aware of the following:
Employers may need to make administrative changes to cover same-sex spouses in states where they were not previously covered. For example, employers will need to modify enrollment processes and create or modify consent and eligibility forms.

The state income tax treatment of employer-provided benefits could change for individuals with same-sex spouses.

Eligibility rules for employer-provided benefits could change, which would open up eligibility to same-sex spouses in all states. In contrast, Employees should check with their employer about any possible changes to their benefits or necessary administrative steps they may need to take to ensure coverage.

With anticipated changes to the state income tax treatment, workers with same-sex spouses covered by employer plans will no longer need to pay imputed income on those benefits.