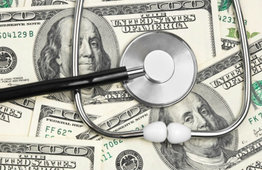 A new report has upped the estimated number of people who have gained health insurance through the Patient Protection and Affordable Care Act.
The Department of Health and Human Services now estimates that 17.6 million Americans are insured because of the law, up from the previous estimate of 16.4 million that was released in March.
"Five years in, millions of people have new coverage and the percentage of the uninsured has been reduced to the lowest level on record," said HHS Secretary Sylvia Burwell during an address at the Howard University College of Medicine. "We now have a new opportunity before us to build on this progress."
Burwell also outlined the ways in which the situation could improve. Millions remain uninsured and still have the opportunity to get insurance during the upcoming open enrollment period.
HHS estimates that 10.5 million Americans are eligible to get marketplace coverage during that period. These are generally people whose incomes are too high to qualify for Medicaid but who do not receive insurance through an employer.
HHS has identified five priority target areas with high numbers of eligible people without insurance: Dallas, Houston, northern New Jersey, Chicago and Miami.
Much of the outreach will focus on young people, since the department estimates that half of the uninsured eligible for exchange plans are between the ages of 18 and 34. Getting more young people onto the exchanges will also further bolster the long-term prospects of the marketplaces and hopefully drive premiums down.
Among those eligible for the marketplaces, 19 percent are Hispanic, 14 are African American, 2 percent are Asian and 67 percent are white.