W. Thomas Reeder Jr. was confirmed as the next director of the Pension Benefit Guaranty Corp. by a voice vote in the Senate.
"It's an honor for me to become PBGC's next director," said Reeder in a statement.
"I've spent most of my professional life helping employers start and maintain retirement plans. I appreciate the faith the Administration and the Senate have shown in nominating and confirming me and I'm looking forward to getting started," he added.
The Obama administration nominated Reeder last May. He replaces Josh Gotbaum, who resigned last year.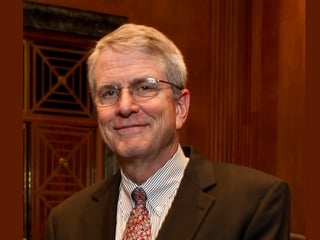 Reeder will be coming from the Internal Revenue Service, where he has been health care counsel since 2013.
Previously, he was senior benefits counsel on the Senate Finance Committee, from 2009 to 2013.
He holds a law degree from the University of Texas, and spent from 1987 to 2000 practicing in the private sector before taking the first of several positions with the IRS.
In July, Reeder told the Senate Finance Committee that he thinks giving PBGC authority to set premiums for plan sponsors should be explored. Currently, Congress sets premium rates that sponsors in the single-plan and multiemployer plan pay.
He also expressed support for the Multiemployer Pension Reform Act of 2014, which gives trustees of multiemployer plans expected to be insolvent in 15 years the power to cut existing benefits to some retirees.
By most accounts, Reeder will have his work cut out for him.
A PBGC projection report released in September said the controversial MPRA is expected to slightly improve the agency's beleaguered multiemployer insurance program.
PBGC now expects that program to be insolvent in 2025, three years later than previous projections.
Beyond giving the most distressed plans the ability to claw back some pension payments, the Multiemployer Pension Reform Act doubled multiemployer plans' premium payments, accounting for most of a $1.4 billion dollar reduction in the program's deficit for fiscal year 2015.
If the qualifying plans do not suspend some benefit payments, or make use of new provisions that would allow PBGC to partition some benefits in the worst funded plans, the program is expected to have a $44.3 billion deficit by 2025.
Assuming plans do make use of the all the new provisions, the program still stands a greater-than 50 percent change of being insolvent in 2025.
The risk of insolvency rises rapidly in the ensuing years, according to the report.
The outlook for PBGC's single-employer program remains likely to improve over the next decade, according to the latest projections report.
Under new estimates, the single-employer program's fiscal year 2014 deficit of $19.3 billion is expected to shrink to $4.9 billion by 2024, an almost $3 billion improvement over the 2023 deficit projection PBGC made last year.