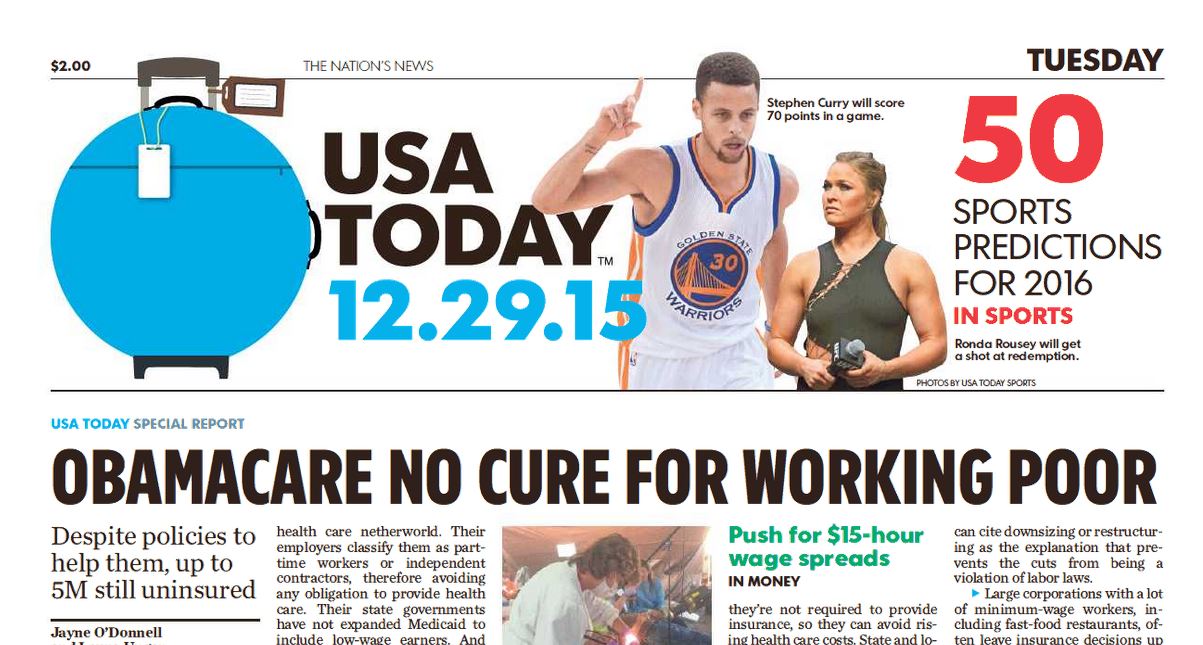 The editorial board of USA Today has gone on the record supporting the Department of Labor's proposed fiduciary rule.
In an editorial titled "The Retirement Racket," the board said that DOL's regulation governing retirement plans, based on the Employee Retirement Income Security Act (ERISA), haven't changed since they were drafted in 1975.
However, the retirement landscape has changed drastically, it pointed out. In 1975, almost 40 percent of workers were covered by defined benefit plans; today that's fallen to just 18 percent.
In addition, the now-$5 trillion 401(k) industry didn't exist, while IRAs, at the time barely a blip on the radar screen, now account for 7 trillion.
Although "[t]he fees might not look big," the editorial said, "[a]nd, in some cases, … are all but impossible to detect," a 1.5 percent management fee can add up to what AARP says "can reduce a saver's retirement income by at least 25 percent" over 20 years, compared with, say, a fee of 0.5 percent.
Read: More coverage on DOL Fiduciary Rule
Since the DOL is convinced of the wisdom of its new rule, said the editorial, industry ads aimed at members of Congress are seeking legislative support to prevent the rule from being implemented "to protect … their fat fees" by arguing that "the new rule would limit consumer choice and lead to higher costs."
However, "It's impossible to see how investors would pay more in a world when all advisers would have to operate in investors' best interests," the editorial board wrote.
The publication also presented an editorial that offered an opposing view.
Authored by Kenneth E. Bentsen Jr., president and CEO of the Securities Industry and Financial Markets Association (SIFMA), this editorial advanced the industry's allegations that the new rule would not only drive up the cost of investment advice for those saving for retirement, it would make it more difficult to get.
In his editorial, Bentsen said that "[m]ost retail investors, including retirement savers, choose brokerage accounts … because they are a more cost-efficient choice. Roughly 98 percent of savers with IRAs under $25,000 are in brokerage accounts." For those who choose instead to have managed accounts, "where the adviser provides ongoing management of the investor's assets," pay more for the "additional level of service provided…."
Existing regulation of managed accounts, Bentsen argued, is "stringent … with brokerage accounts subject to multiple layers of regulatory supervision, examination and enforcement to ensure investor protection."
However, the DOL rule "is too complex and convoluted to work as proposed," and will drive investors who don't want to pay extra fees will simply have to do without.
Obviously, USA Today disagrees.