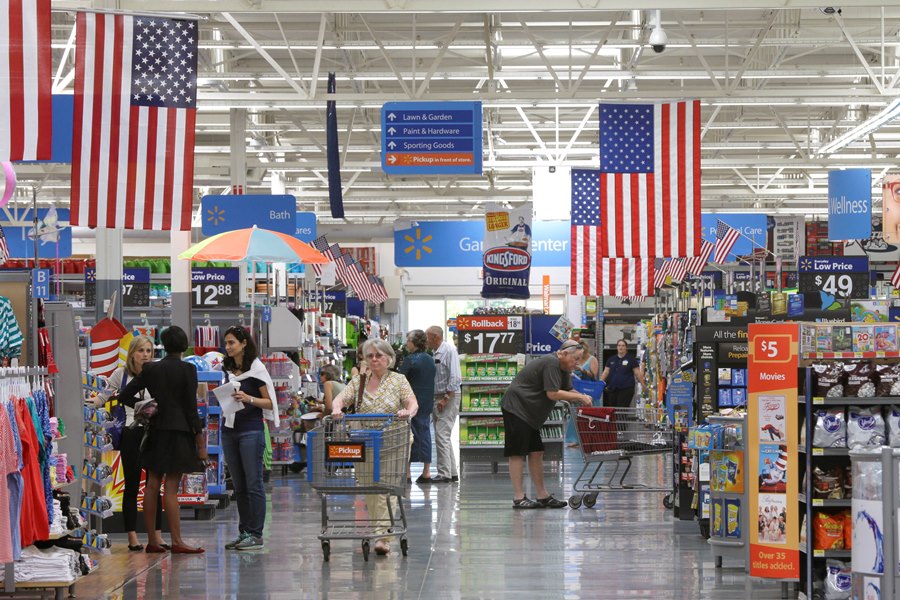 Wal-Mart will be giving almost all of its more than 1 million hourly store employees a raise next month.
The largest employer in the U.S., Wal-Mart will be hiking its lowest wage to $10 an hour as well as boosting pay for workers who are making above its starting rate.
It's not clear how large the average wage increase will be, but so far the company has said that the raise will amount to at least a 2 percent hike.
The company has also said that average hourly earnings for full-time employees will rise to $13.38 an hour and $10.58 an hour for part-timers.
"We want to make sure we're rewarding associates in a way that's fair and consistent and transparent. We wanted to bring all of the raises together in one day," company spokesman Kory Lundberg told the Huffington Post.
For a little context, a 2 percent hike would mean a 20 cent-an-hour raise for an employee currently working for $10 an hour, or an annual increase of $416, assuming the employee is full-time.
Wal-Mart also told the Wall Street Journal that the raises would total $2.7 billion over fiscal years 2016 and 2017 and reduce corporate profits by up to 12 percent.
In recent years, Wal-Mart and other major retail and fast-food chains, such as Target and McDonald's, have been subjected to increasingly strident criticism over wages and benefits.
Political leaders on the left have sought–often successfully–to raise the minimum wage, arguing that such companies are essentially being subsidized by the government because so many of their workers depend on Medicaid, food stamps and other services that they wouldn't need if they were paid better.
Fast food workers have gone on strike in a number of cities and even succeeded in unionizing certain franchises, an accomplishment that was long considered impossible in the industry, whose reliance on part-time workers and high turnover rates make it challenging for employees to organize.
Tyfani Faulkner, a former Walmart worker and activist with OUR Walmart, a group that seeks to improve compensation for company employees, told the Wall Street Journal that the announcement was a step in the right direction, but still insufficent.
"At least they are recognizing that the longtime workers who are already making more than $10 need something," she said. "I still don't think 2 percent is enough."