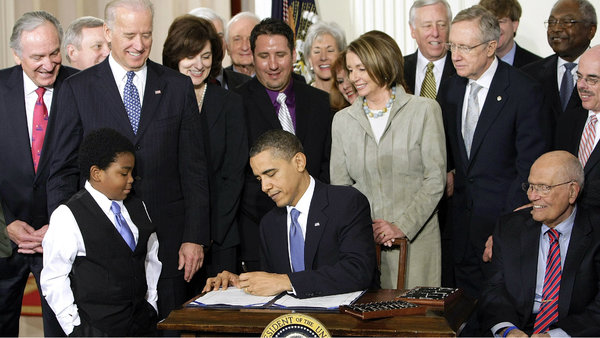 President Obama is citing a new figure when describing his landmark health law: 20 million.
That's the number of people who he says will lose health coverage if Republicans have their way and repeal the Patient Protection and Affordable Care Act.
If that number seems inflated, it's because it doesn't just include the number of people who gained insurance through the expansion of Medicaid or who purchased it on the federal and state marketplace exchanges. It also includes young people who can remain on their parents' plans until they are 26, a provision of the PPACA that has even been embraced by its opponents.
At a speech in Milwaukee touting the success of that city in winning the "Healthy Communities" competition by enrolling a particularly large number of uninsured people in health plans, the president mocked Republicans for repeatedly voting to repeal Obamacare without offering an alternative.
"If they got their way, 20 million people would have their insurance taken away from them," he said, according to the New York Times. "Twenty million people!"
And, directing a barb at Wisconsin Gov. Scott Walker, who touted his rejection of a federally-funded Medicaid expansion during his brief presidential campaign last year, Obama again argued that Republican leaders have put politics over people when it comes to health care.
"Your governor still refuses to expand Medicaid, which, by the way, actually would save money," he said. "He's denying Wisconsinites their ticket to health insurance, and it's political."