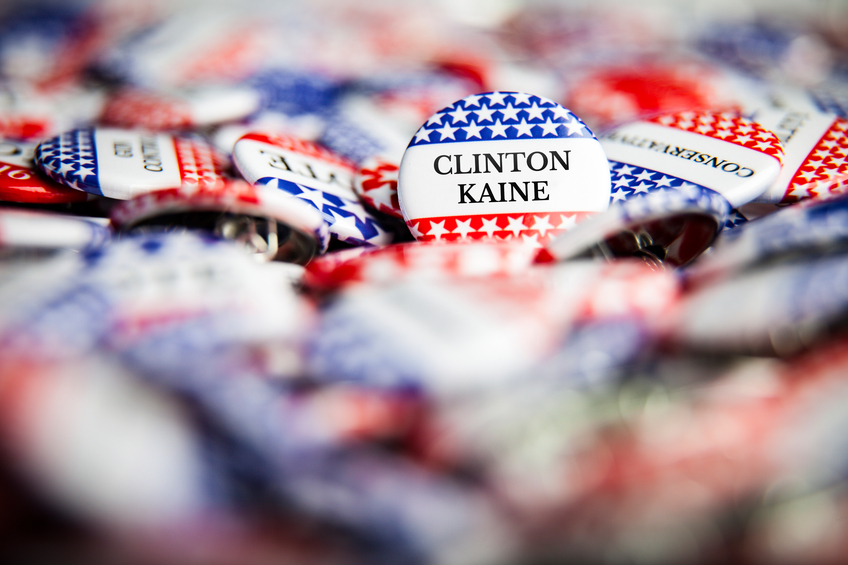 It's official: The tickets are set, and Hillary Clinton has announced Tim Kaine, Virginia senator and self-described "progressive," as her vice president should she win this year's election.
Widely regarded as a safe option, Kaine is a relatively unknown face (compared to Elizabeth Warren, who has been atypically mum since last Friday's big reveal).
But this week brings the opening of the Democratic National Convention, where Clinton and Kaine will both officially accept the nominations of their party, and we'll learn more about the Virginia senator.
Prior to the Republican National Convention, we examined the presumptive GOP vice president Mike Pence, so for those unfamiliar with Kaine, here's a little of what we know.
The abortion debate
Kaine's religion, Roman Catholicism, has been brought up often since Clinton announced her decision on Friday, and that's probably because it largely precipitates his personal objection to abortion. If Hillary takes the ballot box in November, he'll also only be the second Catholic in the White House since President John F. Kennedy — Joe Biden is the first Catholic vice president.
Despite his own misgivings, Kaine is still a strong supporter of Roe v. Wade. In an interview, he pushed back when asked if he would categorize himself as "pro-life," saying he "never embraced labels."
"I have a traditional Catholic personal position, but I am very strongly supportive that women should make these decisions and government shouldn't intrude," Kaine told CNN. "In government, we have enough things to worry about. We don't need to make people's reproductive decisions for them."
Despite his personal stance, he has received perfect scores from abortion rights groups like Planned Parenthood and NARAL. The National Right to Life Committee, an anti-abortion group, gave Kaine a zero.
Abortion will undoubtedly come up in the vice presidential debate, as Donald Trump's pick, Mike Pence, signed one of the most restrictive laws in the country. It will be interesting to see how the two tussle when the topic arises.
Prior to becoming Clinton's running mate, Kaine openly criticized the Affordable Care Act's limited religious employer exemption for birth control. Subsequently, however, he cheered a 2012 amendment that empowered insurers to provide contraception when an employer's religious views didn't call for it.
Presumably, Kaine's religious views were at the heart of his earlier stance on abstinence-only education, but in 2007, he cut off state funding for this program and instead vouched for both abstinence and contraceptive sex education, as well as evidence-based information that predominantly reveals the shortcomings of abstinence-only teachings.
Related: Trump: My Supreme Court pick would've upheld abortion law
ACA support and Medicaid expansion
Kaine is a proponent of the Affordable Care Act. He stands beside Clinton in her aim to improve the landmark health care bill, as well as expand Medicaid.
According to Modern Healthcare, Kaine has been vigilant in expanding Medicaid in Virginia, saying that "the fact that so many Virginians — mostly working people and their kids — lack health insurance in our country is appalling." He stands by the decision to bring Medicaid to low-income individuals and families, a mission he and 30 other Senators supported in letters to governors and legislators on the 50th anniversary of Medicare and Medicaid in 2015.
Kaine is also a supporter of allowing Medicare to negotiate prescription drug prices. In January 2015, he and four others introduced the "Medicare Prescription Drug Price Negotiation Act," a bill that would call for Medicare to haggle on costs of prescription medication for seniors enrolled in Medicare Part D.
This year, he co-sponsored the "States Achieve Medicaid Expansion Act," a bill that would offer financial incentives to the 19 states that have yet to put Medicaid expansion into place. The bill uses language from President Obama's proposal, giving states that choose Medicaid expansion after 2014 three years of 100 percent federal matching rates.
Kaine has also raised concerns regarding the "family glitch" in the ACA's premium subsidy system, says Modern Healthcare. In 2014, he co-sponsored another bill — the "Family Coverage Act" — in an effort to clear up ACA rules, making it easier for individuals to cover their family with premium tax credits.
In 2015, he co-sponsored the "Protecting Affordable Coverage for Employees Act," a piece of legislation that would categorize employers with 51 to 100 employees as a large employer under the ACA, enabling such employers to maneuver in health insurance markets with better flexibility when creating benefits packages.
According to Modern Healthcare, Kaine has sponsored several bills to make the ACA more comprehensive, but none have passed or garnered GOP support.
Related: Newly covered cheer Medicaid expansion
Curbing the cost of care
On his Senate campaign website, Kaine tackles rising health care costs, as well.
"There is no reason the wealthiest nation in the world should spend more on health care than any other nation yet receive second-rate results," the website reads. "Unless we control the cost of health care, we threaten our ability to finance other budget priorities, such as education and defense."
The site also alludes to Kaine's commitment to combating the country's growing opioid epidemic. At the end of last year, Kaine introduced a bill — "Co-prescribing Saves Lives Act" — to quell opioid overdose deaths through prescription of naloxone alongside other opiates.
Earlier this month, he supported the passage of bipartisan legislation that would expand opioid abuse and education. The bill itself included pieces written by Kaine himself, including the provision regarding prescription of naloxone.
Some are touting Kaine as the "prevention candidate." According to Stat, preventative care is a top issue for the vice presidential hopeful, and possibly the lynchpin in his effort to cut health care costs. While Clinton has largely focused on coverage, Kaine is concerned with how to keep Americans from getting sick; for him, that's just as important as providing top-tier care once someone is ill.
Stat says health care advocacy groups know preventative care is often overshadowed by more "buzzy" health care issues (and there are plenty of those — ACA reform and LGBT health care rights, to name a couple) and perhaps Kaine's position could sway the conversation. While Clinton might field more wonky health care topics, Kaine can round out her overall health plan — something that will feature prominently at this week's DNC, according to news outlets.
Beyond his work with opioid addiction prevention, Kaine fought for smoking bans and insisted on reducing Virginia's high infant mortality rate. He also visited students to combat obesity, and hyped the importance of exercise. He has been vocal about how the health care system needs to push a healthier living agenda in order to prevent illness and disease.
Related: Turning the ship on rising health care costs
GOP response
In the wake of Clinton's vice presidential announcement, Donald Trump took to his chosen medium to sound off on the pick.
"Tim Kaine, is, and always has been, owned by the banks," Trump tweeted on Saturday. Many have argued that Trump has tried to use Kaine's appointment to create further division between Bernie Sanders supporters and Hillary Clinton, hoping to bring those voters into his fold.
According to Stat, Kaine has consistently been invested in by the health care industry. "Since 2015, health care political action committees — which include pharmaceutical companies, physicians, and health care services — have donated $63,500 to Kaine, making them his most importantant source of PAC funds," says the outlet.
Trump continued, saying "The Bernie Sanders supporters are furious with the choice of Tim Kaine, who presents the opposite of what Bernie stands for. Philly fight?"
Kaine has a strong reputation with Senate Republicans, which might not be harped on in the campaign's final months, but is something that might endear the Democrat's ticket to GOP members on the fence about Trump.
According to Politico, Pennsylvania Senator Pat Toomey, who has yet to endorse Trump, applauded Clinton's pick, touching on the work he and Kaine have done together. Bob Corker, R-Tenn., despite his growing Trump support, said Kaine was a "solid" selection. Senators John McCain, R-Ariz., Lamar Alexander, R-Tenn., and Jeff Flake, R-Ariz., all praised Kaine after Clinton's announcement as well.
Texas Senator Ted Cruz, now famous (infamous?) for withholding his endorsement of Trump during last week's Republican National Convention, also has a good relationship with Kaine, according to the vice presidential pick.
Senate Majority Leader Mitch McConnell was less impressed by Kaine, quickly designating him as one of President Obama's "most loyal 'yes men' in the Senate" following Friday's statement.