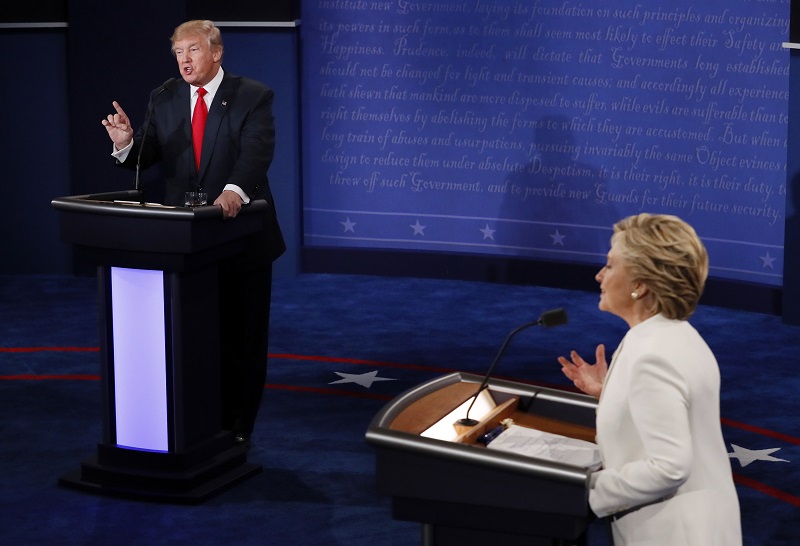 Nearly 90 minutes into the third and final presidential candidate debate, candidates Hilary Clinton and Donald Trump were asked how their prospective administrations would address Social Security reform.
Related: 6 myths about Social Security that voters and presidential candidates should know
The issue of Social Security's projected insolvency was conspicuously absent from the first two debates. On Wednesday night in Las Vegas, Fox News' Chris Wallace asked each candidate if they would be willing to compromise and strike a "grand bargain on entitlements" that includes tax increases and benefit cuts. It was the last question of the debate season.
Mr. Trump, who answered first, said his administration would grow the economy through aggressive tax cuts. "It's going to grow at a record at a record rate of growth," he said.
Wallace immediately countered, saying, "That's not going to help entitlements."
"No, it's going to totally help," said Mr. Trump, who then pivoted to the Affordable Care Act, which he said needs to be repealed and replaced.
Sec. Clinton promised to replenish Social Security's trust fund by raising taxes on the wealthy.
"I will not cut benefits," said Sec. Clinton. "I want to enhance benefits for low-income workers and for women who have been disadvantaged by the current Social Security system."
In effect, neither candidate was willing to agree to a grand bargain.
Sec. Clinton said the payroll cap on Social Security taxes would go up under administration.
"My Social Security payroll contribution will go up, as will Donald's, assuming he can't figure out how to get out of it," she said.
In one of the acrimonious debate's more memorable moments, Mr. Trump then interrupted. "Such a nasty woman," he said.
Marc Goldwein, senior vice president and senior policy director for the Center for a Responsible Federal Budget, a non-partisan think tank that advocates for sustainable fiscal policy, said he was pleased with Wallace's question for the candidates, but not so much with their responses.
"We've heard no plan from Donald Trump on Social Security, except for his fantasy levels of economic growth," said Goldwein in an interview.
"And from Mrs. Clinton we've only heard vague ideas about tax adjustments and pledges to extend the program," he said. Wallace cited CRFB's research showing that neither candidate has a serious plan to address Social Security's solvency.
"It is unrealistic to think we can solve Social Security entirely with tax increases," added Goldwein.
"The reality is we are going to need a mixture of new taxes and measures to slow the growth of benefits," he said.