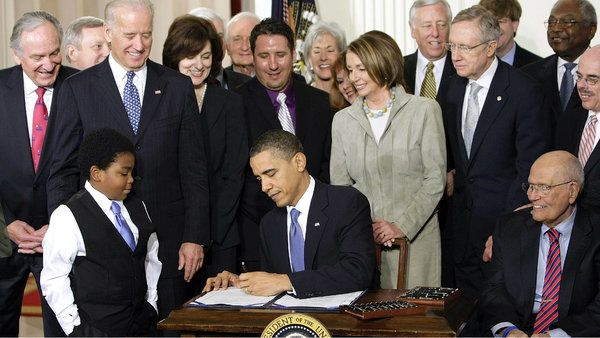 With the results of the 2016 election now in the record books, Congress and the president are set to engage, for the second time in less than a decade, in a debate over the future of the health care system of the United States.
Donald Trump will be the fourth president in a row to enter office with his political party in at least nominal control of both houses of Congress. For the first time since Dwight Eisenhower was elected in 1952, an incoming Republican president saw his party win an absolute majority in both the U.S. Senate and the U.S. House of Representatives. And one of the first items on President-elect Trump's agenda will be a debate regarding the future the Patient Protection and Affordable Care Act.
The Affordable Care Act (ACA) is the result of more than a year of intense legislative debate that produced a bill that ran more than 1,000 pages and has spawned tens of thousands of regulations, rulings and releases over the seven years since it was signed into law. It constitutes an intricate web of inter-related and interdependent laws, regulations, mandates and subsidies that have affected health care stakeholders such as employers, providers, insurers, drug manufacturers, government programs and private insurance, to name just a few. Although President-elect Trump campaigned on a promise to "repeal and replace" the ACA, achieving consensus again on how to reform the health care system will not be an easy task.
The Trump administration will have to consider the impact of repeal on the federal budget, as well as the level of congressional support for repeal and replace. Will there be congressional consensus on all aspects of repeal and replace? Or will some provisions remain in place, such as the ban on pre-existing condition exclusions and coverage of adult children in employer plans to age 26? President-elect Trump recently suggested he's open to leaving both provisions in place, suggesting that "repeal and replace" might become "amend and modify."
The Senate's Democrats, who are supporters of the ACA, might attempt to filibuster any attempts to dismantle it. In that event, the Republican majority might attempt to enact changes via the reconciliation process, a complex parliamentary maneuver that limits the kinds of changes that can be made. In addition to political support, the support of health care industry stakeholders, such as employers, providers, insurers, manufacturers of drugs and medical devices and consumer advocates, will be crucial to any significant health care legislation.
The full outline of the Trump administration's plans for health care reform will become clear over the next few weeks and months. Congressional Republicans have already issued a 37-page outline regarding what they view as a possible replacement for the ACA. Changes could include:
Repeal of the individual and employer mandates. Although these are likely to be the first of the ACA provisions to be targeted, employers should realize that the mandates — and the ACA reporting obligations and penalties — remain on the books.
Expanding HSAs. An expansion of health savings accounts, including allowing spouses to make catch up contributions to the same HSA account and expanding access for certain groups;
Portability of health insurance. Financial support for portable health care coverage, including a universal refundable tax credit for individuals and families to purchase a health care policy;
Repeal of the Cadillac tax. Preserving employer-provided health insurance, including a repeal of the Cadillac tax and enactment of a refundable tax credit coupled with a cap on the employer health care exclusion;
Medicaid reform. Converting federal Medicaid funding to block grants and ending the expansion of Medicaid under the Affordable Care Act;
Purchasing health care coverage across state lines. This would include allowing consumers to purchase plans across state lines and allowing states to enter into interstate compacts for risk pooling;
Association health plans. Expanding opportunities for small businesses in voluntary organizations to band together to offer small business health plans;
Wellness programs. Preserving employee wellness programs and opposing EEOC regulations that hinder and obstruct their implementation;
Stop loss insurance. Preserving the current definition of stop loss insurance; and
Liability reform. Medical liability reform including caps on non-economic damages and adoption of the loser pays rule.
Other possible health care reforms. Congress may also consider the following proposals from the Trump campaign in the coming year:
Allowing all individuals to deduct health insurance premiums paid on a post- tax basis;
Removing barriers to entry into free markets for drug providers that offer safe, reliable and cheaper products; and
Revising and possibly withdrawing the contraceptive regulations for religious organizations.
How quickly all of this — or any of it — can be accomplished will be one of the first tests of the new president's administration.
For now, the status quo remains in effect. The employer mandate to offer affordable, minimum value health insurance to full-time employees remains in effect with all its compliance and reporting obligations for the 2016 year, including the requirement to file Forms 1094 and 1095 in early 2017. The individual mandate to carry health insurance or pay a penalty also remains in effect. The public exchanges, which cover almost 13 million people and subsidize coverage for 85percent of those enrollees, are conducting open enrollment for 2017 and have seen a surge of enrollment immediately following the election. Employers are likely to continue staying the course as things shake out in Washington.