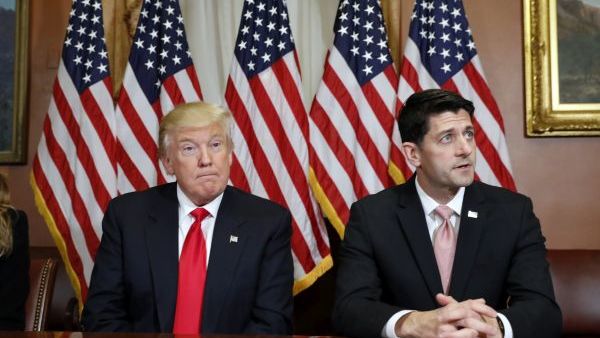 U.S. lawmakers are putting the final touches on a $1.1 trillion spending bill needed to avert a government shutdown, after the White House appeared to satisfy Democrats' demands that President Donald Trump and Republicans protect a key piece of Obamacare.
Related: Stalled health bill wins support from conservative holdouts
House Republicans introduced a seven-day stopgap measure late Wednesday aimed at giving both chambers enough time to finish negotiating and pass a broader spending bill that would fund the government through Sept. 30.
The move should remove the threat of a shutdown, even as lawmakers continue to haggle over several outstanding issues.
The White House on Wednesday afternoon assured lawmakers that the administration would continue to make the Obamacare payments at issue, which are used to subsidize coverage of lower-income Americans, according to a person familiar with the negotiations.
"This decision brings us closer to a bipartisan agreement to fund the government and is good news for the American people," Senate Minority Leader Chuck Schumer said Wednesday afternoon in a statement. "There are outstanding issues to be resolved, particularly with riders, but this is a positive development for the negotiations."
With government funding set to run out Friday, Republicans and Democrats in Congress have reached agreement on most elements of the sweeping spending bill, which remains under wraps.
Related: Trump changing tactics on tax after health care repeal failure
But Trump criticized Democrats for their stances in the negotiations.
Trump tweet
"The Democrats want to shut government if we don't bail out Puerto Rico and give billions to their insurance companies for OCare failure," Trump wrote on Twitter Thursday morning, using an abbreviation for Obamacare. Democrats had also pushed for funds to help Puerto Rico cover a shortfall in Medicaid payments.
Related: Keep and fix ACA, say most Americans
The omnibus is being delayed by fights over other policy areas, including Republican demands for changes to the Dodd-Frank financial law in the bill, a "conscience clause" provision to allow insurers to refuse certain procedures, and language to restrict abortion coverage on Obamacare exchanges, a Democratic aide said.
The biggest issue was the billions in cost-sharing payments used to offset health premiums for low-income people. Insurers are threatening to raise premiums if they don't get the subsidies and could further drop coverage in Obamacare markets.
House Democratic leader Nancy Pelosi said in a statement that negotiators had made progress on the health-care issue, though other disputes remained. She spoke twice on Wednesday with White House chief of staff Reince Priebus, according to a Democratic aide.
Clear deadlock
A White House decision to continue the payments may be enough to clear the current deadlock and allow the spending bill to move forward, although it's unclear how quickly Congress would act.
On Thursday, Trump's budget director, Mick Mulvaney, told CNBC that he's hopeful there will be no shutdown but is unsure of where Democrats stand.
"We thought we had a deal Monday" when they took funding the border wall off the table, but since then, Democrats have gone silent, he said. He believes Senate Democrats now are "looking for something they can ask for" but he doesn't think there is such a sticking point, he said.
Holding 'hostage'
"This administration has made CSR payments in the past, and the only reason some are raising this now is to hold the government hostage and find an excuse to oppose a bipartisan agreement," he said, referring to the cost-sharing funds.
Democrats have expressed concern that the cost-sharing payments could be used as leverage against them in the future or get nixed in the courts and blow up the insurance market. The payments are currently being challenged by House Republicans in a lawsuit questioning their legality.
Anthem Inc. threatened to raise rates for its Obamacare plans next year if the U.S. government stops funding subsidies for lower-income customers, raising the ante on the outcome of this debate.
Chief Executive Officer Joseph Swedish said on a conference call Wednesday that the insurer could raise its rates by 20 percent if the subsidies aren't paid to insurers.
Pelosi, Mulvaney call
Pelosi clashed with Mulvaney Tuesday night over the issue during a telephone call.
She reiterated to Mulvaney what has been the House Democratic negotiating position in the talks that CSR payments must be included in the omnibus, said a Democratic aide familiar with the conversation.
The aide said Mulvaney indicated that, while the Trump administration had continued the payments, officials hadn't yet decided whether they would make the May payment.
The Democratic aide said Mulvaney made clear that, absent congressional action, the judge's order ruling the payments illegal would stand and the administration would cease making payments.
But a White House official said that Mulvaney didn't say the administration would end payments.
"Instead of working with Democrats to avert another disastrous Republican government shutdown, the Trump administration is cruelly threatening to raise health premiums on millions of families," Pelosi said in a statement Wednesday, noting that Mulvaney helped push the GOP toward a government shutdown in 2013.
The outlines of the broader spending package have been largely to Democrats' liking, including the GOP decision to omit $18 billion in domestic spending cuts proposed by Trump and Mulvaney.
Democrats had offered to increase defense spending if the deal included the CSR funding along with money for Puerto Rico's Medicaid program and coal miners' health benefits.