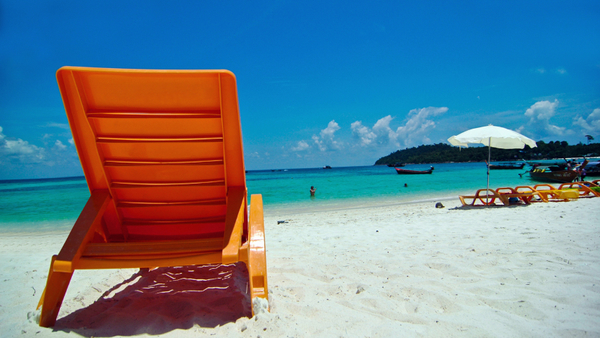 Workers may be stressed on their jobs, but a good many are not taking a breather by going on a vacation — and if they do take off, many are bringing their work with them.
Related: 10 most stressful jobs
According to a survey of more than 3,000 workers by Harris Poll on behalf of CareerBuilder, 31 percent say they feel high or extremely high levels of stress at work, and 61 percent say they are actually burned out in their job — yet a third (33 percent) have not taken or do not plan to take a vacation this year, and 17 percent did not take all of their vacation days.
For those that do take off, many are not truly checked out: 31 percent read their work emails and 18 percent check in with work. And many regret leaving work at all: 36 percent say that they've returned from vacation to find so much work, they wish they'd never left at all, and 18 percent say vacations cause them to be more stressed out about work.
"If you're a boss, it's important that you role model how to take a vacation," says Rosemary Haefner, chief human resources officer at CareerBuilder. "Show your employees that vacation time matters to you and to your company and its culture."
Haefner provided several tips on how to take a "real" vacation:
Workers should communicate to managers, colleagues and clients that they are taking time off, including recording out-of-office email and voicemail messages to inform people that their emails and phone calls will be returned when they get back — or at least not immediately.
Workers should delegate duties to colleagues while on vacation, include their names and contact information on out-of-office messages, and provide them with all the necessary information to handle the work on their own.
If workers have to check in while on vacation, they should set aside time each day to touch base, and then turn off their work cell phone so they can relax.
The CareerBuilder survey also details how workers are experiencing stress at work, including being tired all the time, having sleepless nights, aches and pains, high anxiety, weight gain, anger, and depression, among other symptoms.
Nearly a third of workers say work causes high or extremely high stress levels for them, and among those workers, 33 percent are dissatisfied with their job. Seventeen percent of workers say they are dissatisfied with their job overall.
Women are impacted more by stress than men (34 percent compared to 27 percent). The feeling of burnout seems to impact lower-level workers the most, with 61 percent of entry level/administrative/clerical workers feeling burnout, compared to 58 percent for professional/technical staff members, 69 percent for director/manager/supervisor/team leaders, and 43 percent those at the senior management/vice president level.
The majority of workers (79 percent) say their company does not offer classes or programs to manage stress.