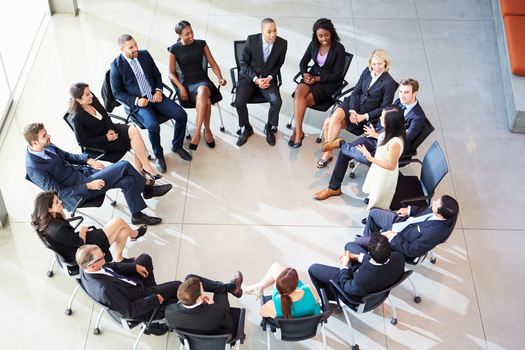 When we have asked what employees value most in their employer's well-being program, the top responses are always strongly linked to company culture and support from leadership to participate.
Our most recent findings have further confirmed employees are persuaded by genuineness in a workplace culture that fully embraces well-being and finds ways to make it easier to build healthy habits both at work and at home.
In fact, among the employees who do not currently participate in their employers' well-being offerings, more than half choose not to due to at least one culture-related barrier, including lack of time to participate, inconvenience, and no perceived employer support.
Fortunately, the research also shows a great opportunity for leaders at all organizational levels to help activate employee well-being — and while employees say support has improved over the last three years, there is still room to grow.
According to the 2016 Consumer Health Mindset Report, 44 percent of employees believe their employer is extremely or very supportive in getting and keeping them healthy, and more than one-third (37 percent) feel the same about their direct manager or department head. A key missing ingredient for success? Top-level leadership support.
Related: Support from management increases employee well-being
At HealthFitness, we've learned visible support from executives helps create a supportive company culture and sets the tone for employees — communicating it's acceptable to fit in a workout during the workday, participate in a weight loss challenge with co-workers, or take advantage of healthy food options.
For example, when one client with an onsite corporate fitness center was struggling with engagement and participation for its well-being program, we created a focus group of employees to understand why. When employees were interviewed, they shared being afraid to be perceived as a slacker if they were seen using the facilities during the workday.
Our staff helped change this perception by recruiting C-suite leadership to work out while on the clock, opening the door for other employees to recognize that health was a genuine priority throughout the company.
Employees trust the behavior, not just the words, of senior leadership — which is why they must be leading the charge as visible contributors to the culture of health, sharing information and setting an example of participation in programs and special events held by the organization.
From my experience, the key to getting started is a little creativity. With that, I've rounded up eight ways senior leaders among our clients have contributed to their company's health and well-being programs, and thereby encouraged employees to do the same.
Give employees bragging rights. It should come as no surprise that employees love a little competition and often relish the opportunity to "beat the boss." Senior leaders at one health plan "walk the talk" as they lead weekly walks with employees. Employees track their total daily steps and those who beat the boss for the week are entered a raffle to win a prize — and earn bragging rights.
Keep it fresh. A growing number of companies integrate with their on-site dining services to serve healthy options at mealtimes and meetings. At one leading technology company, senior leaders encourage healthy eating by dressing up in fruit-patterned leggings, wearing sandwich boards and walking around the campus to encourage employees to eat more fruits and vegetables.
Get dunked. Employees at one leading financial services company get the opportunity to make a splash during the company's "Fitness Field Day," where employees compete in fun fitness challenges. Senior managers serve as judges for the fitness events and then take turns in the dunk tank.
Integrate well-being into your meetings. Some managers lead walking meetings, and some have taken the next step to invite well-being practitioners into meetings to lead energy breaks with their employees.
Share your tunes. One CEO of a leading financial services company often leads the company's spin class in the fitness center, sharing his favorite workout music with employees during class. Employees are excited to hear what the boss listens to when he's breaking a sweat.
Leverage your voice. Share your perspective on health and well-being in various communications channels throughout the company — whether as part of the company newsletter, town hall meetings, on posters or email. At one technology firm, video interviews of company leaders describing what being healthy means to them play on video monitors throughout campus. The videos are also shared with remote employees as part of the company's well-being communication initiatives.
Lead a tour. Build well-being into your company orientation and lead employees through your offerings and any onsite facilities to explain your perspective on well-being and its importance for organizational culture. Leaders at one manufacturing company serve as well-being tour guides for their departments, taking employees on a tour of the company's new corporate fitness facility. Not only does this spread the word about the facility; it encourages them to participate in the full offerings of the company program.
Get moving. At one insurance company, leaders take center stage in a popular class called "spontaneous dance" on Fridays. It includes 15 minutes of movement, like a flash mob, and is just what people need on a Friday afternoon. Consider this your moment to bust a move.