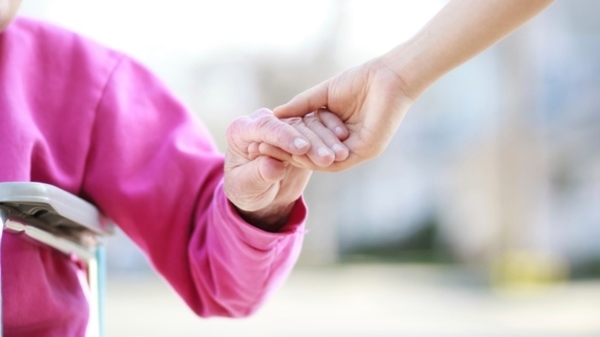 A new study reveals not only do unpaid end-of-life caregivers provide far more care to the people they care for than paid caregivers, but older adults at the end of their lives "were not significantly more likely than other older adults to receive caregiving funded by government, state, or private insurance."
Related: More employees will take on caregiving duties as U.S. ages
Those caregivers need more support than they're getting if they're going to meet the needs of the people they're caring for. As the boomer population ages, the dynamics of caregiving will change.
According to the study "A National Profile of End-of-Life Caregiving in the United States," unpaid caregivers provide nearly twice as many hours of care per week as paid caregivers and also report more care-related challenges, especially in the case of spousal caregivers.
The study finds among the "900,000 community-dwelling Medicare beneficiaries ages sixty-five and older who died within the following twelve months [and] received support from 2.3 million caregivers," close to 9 out of 10 of those caregivers were unpaid — not paid for by the government, the state, or insurance coverage.
Related: Caregiving is costly for careers, employment
Up to five unpaid caregivers per older adult who provided "assistance with mobility, personal care, household activities, transportation or medically oriented tasks" were interviewed for the study; any additional such caregivers were eliminated by random selection.
And while the older adults at the end of life were more likely than other older adults to be assisted by paid caregivers (20 percent, compared with 14 percent), just 9 percent of those at the end of life got any caregiving support funded by federal, state, or private insurance; that's "not significantly higher" than that for older adults not at the end of life.
Related: How to protect your business from caregiving discrimination lawsuits
In addition, more end-of-life caregivers were paid (11.4 percent compared with 8.3 percent), representing an estimated 260,000 paid caregivers assisting older adults at the end of life. However, nearly half (125,000) were paid directly by older adults or their families.
Thirty percent of the unpaid caregivers are 65 or older, with just 14 percent being spouses, compared with the 22 percent providing care to those not at the end of life. Fifteen percent of the end-of-life caregivers report their own health to be just poor or fair, with 23 percent (477,000 across the country) saying they provided care without the assistance of family or friends.
Related: Add caregiver status to health records, Alzheimer panel says
End-of-life caregivers provide help in a broader range of needs and that are more taxing on the caregiver than caregivers for those who were not at the end of life. They also spent significantly more time doing so — 22.9 hours a week, compared with 16.1 hours a week. They were also more likely to report physical difficulty in caregiving (35 percent, compared with 21 percent), and 51 percent say they have no time for themselves; 40 percent of caregivers for those not at the end of life say so.
According to Jennifer L. Wolff, professor in the Department of Health Policy and Management at Johns Hopkins University, because of our "largely biomedically oriented system of financing care … individuals are more likely able to access features and technology, not paid help, for caregivers." But that's not necessarily what's needed.
In an interview with BenefitsPRO, Wolff says particularly for older caregivers, more assistance upstream — and not a one-size-fits-all type of assistance — could offer potential benefits. Assistance tailored to the needs of the caregiver can vary, with older caregivers perhaps needing someone to help with such more physically demanding care as bathing and toileting, while those taking care of Alzheimer's patients may also need other types of assistance because of the intensity of the caregiving process.
The study finds, not surprisingly, caregiving needs increase and caregiving networks expand as older adults approach the end of life. Family members and other unpaid caregivers provide the overwhelming majority of care. Although older adults did receive more paid care toward the end of life, the vast majority of them get no paid help.
The study concludes "[s]upporting the growing population of family and other unpaid caregivers is an urgent public health issue," and "the need for adequate support is especially pressing when older patients and the loved ones who assist them are at their most vulnerable, at the end of life."
Related: Debt and caregiving duties lead to stressed employees
In addition, it says those unpaid caregivers need "greater recognition and expanded access to supportive services" if they're to meet the needs of the people they care for.