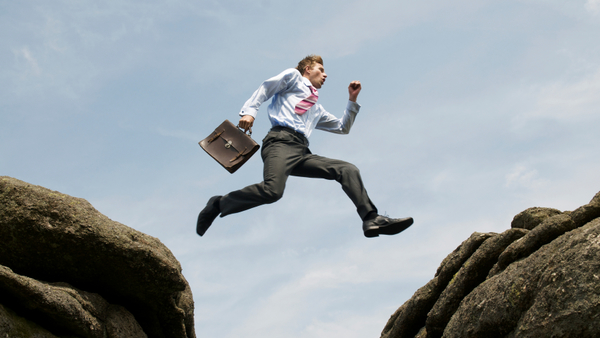 Millennials have a reputation for job-hopping more than other generations. And according to a new LinkedIn report, they not only switch jobs — they also hop industries.
When it comes to work, millennials are ambitious and look at their careers differently than other generations. "Based on U.S. job switching activity in 2016, millennials were 50 percent more likely to relocate and 16 percent more likely to switch industries for a new job than nonmillennials," the report says. They're moving into the fields of technology, health care, auto/aerospace and finance, and they expect certain things once they get there.
When it comes to the job itself, millennials are looking for a strong career path and employee development opportunities, and if they can't advance where they are, they'll just jump ship again.
But the job isn't the be-all and end-all. The report adds that most millennials want steady jobs that provide them with regular benefits and paychecks. "This may explain the growth we see in millennials joining more traditional industries like health care and finance," the report says.
So, how can companies attract millennials, particularly if your company isn't tech? Focus on the company's opportunities for professional growth and career advancement — which can be displayed through benefits such as tuition assistance, training opportunities and, of course, health insurance coverage, retirement savings opportunities and extra—perhaps optional—benefits that play into those goals.
Also, while frequently gifted in technical skills, millennials often have difficulty with soft skills, according to an HR Dive report. As a result, providing training in those areas—as well as overall training programs—could be a cost-effective way to keep them once they take the job.
And since LinkedIn also finds that millennials are moving away from traditional retail jobs to pursue higher education, tuition assistance or help with student loans could be particularly attractive to millennials who see the handwriting on the wall for brick-and-mortar stores and want to rev up for potential positions in e-commerce.
Government agencies are another sector struggling to recruit, says LinkedIn, "because these employers typically offer lower wages but more generous benefits." Leslie Scott, executive director of the National Association of State Personnel Executives, says, "[Young people] frankly have student loans and aren't as concerned about health insurance and retirement and those type of things." She adds, "The compensation mix traditionally just isn't as flexible for the needs of what we might see as a younger employee."
Instead, government employers may be able to attract more millennials by offering less in benefits and more in salary—if the budget allows.