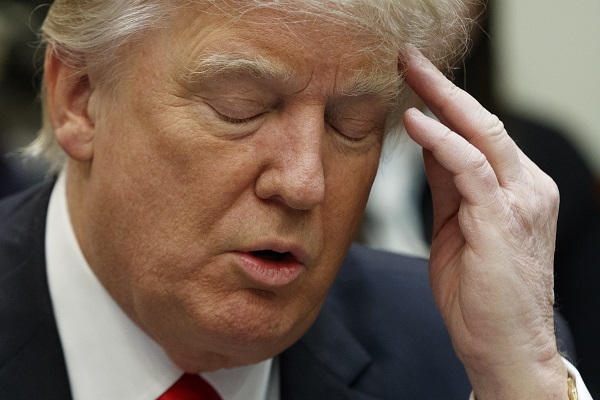 (Bloomberg) — President Donald Trump's threats to shut down the government in October over border wall funding triggered concerns on Capitol Hill and could complicate Congress's job of raising the debt ceiling.
Congress needs to pass a spending measure to keep the government open by Sept. 30 — the same time it's facing a deadline to raise the nation's debt limit.
GOP leaders don't have a plan yet for how they'll proceed but one likely scenario is to package the two measures together to get them to the president's desk.
Trump's shutdown threat may just be part of the routine bluster he employs in negotiations, but it still raises the specter of a potentially market-shaking showdown if he decides to follow through on it.
Trump has made clear for months he wasn't happy with the last bipartisan spending deal in May because it didn't fund a new wall on the southern border, his signature campaign promise. At the time, he tweeted that a "good" government shutdown may be needed to force Democrats to make concessions.
House Speaker Paul Ryan told reporters Wednesday that lawmakers aren't interested in a government shutdown in October.
"I don't think a government shutdown is necessary and I don't think most people want to see a government shutdown, ourselves included," the Wisconsin Republican said in a news conference at Intel Corp.'s office near Portland, Oregon. He said Congress will likely need a short-term stopgap bill since it needs more time to complete the appropriations this fall.
The president has requested $1.6 billion to for wall construction, which Democrats have widely rejected. While the House has passed a package of spending bills that contain wall funding, such a measure doesn't have the support of the 60 senators needed to pass it in the Senate. Now, the president has suggested he would veto a spending bill that doesn't fund the wall.
'We're building that wall'
"If we have to close down our government, we're building that wall," Trump said Tuesday at a combative rally speech in Phoenix. "One way or the other, we're going to get that wall."
The S&P 500 Index and Dow Jones Industrial Index both fell Wednesday following Trump's threats, while gold futures rose.
Trump's remarks were "unsettling," Marc Chandler, global head of currency strategy at Brown Brothers Harriman & Co., wrote in a note Wednesday.
"Government shutdowns are not unprecedented in the U.S., of course, and they typically are mildly disruptive," he wrote. "They are not good for the investment climate."
Any connection to the debt limit fight would heighten the stakes, he added. "While political maneuvering can lead to a shutdown, missing a debt payment is considerably more serious and one that in this game of brinkmanship largely within the Republican Party neither side seems to want to risk," he wrote.
Congressional aides and Republicans outside of government worry that Trump may not hesitate to veto a September stopgap spending bill, known as a continuing resolution, even though congressional leaders worry that such a fight could threaten the wider Trump agenda, including a planned tax overhaul. Even before Trump's threat Tuesday night, Goldman Sachs Group Inc. was warning clients that there was a 50 percent chance of a government shutdown.
"A shutdown over the wall plays so well to the president's base that I find it hard to believe that he will just simply cave and sign a true CR," said Steve Bell, a former Senate Budget Committee staff director for Republican Pete Domenici and now with the Bipartisan Policy Center. "I believe that a government shutdown seems inevitable."
Debt limit
Because the debt limit must be raised this autumn, the feud over the border wall threatens even graver consequences than usual.
Aides have said Republicans aren't close to coalescing around a Republican-only debt ceiling bill.
Conservatives in the Republican Study Committee and House Freedom Caucus are pushing for deep cuts to entitlement tied to the debt ceiling which moderates in the party are not prepared to vote in favor of. That means Republicans will likely need to assemble a bipartisan vote that includes Democrats, who have rejected the idea of attaching any conditions to a debt bill. This may leave GOP leaders deciding that the best way to build support for the debt increase is to pare it with the must-pass stopgap spending bill.
U.S. Failure to Lift Debt Cap Would Spur Review, Fitch Says
If the two are attached, Trump's veto threat becomes more significant, risking a partial shutdown Oct. 1 and a debt payments default shortly thereafter.
Bell said that in light of Trump's stance, the Senate may choose a different path for the debt ceiling.
"A partial government shutdown prompted by failure to pass appropriations is one thing; a threatened default is in a different galaxy," he said. "While no one has a real plan that I can understand, I would think that the Senate leadership would do all it could to avoid conflating the CR and the debt extension language."
Congress could also temporarily lift the debt ceiling if it stalls on a longer-term measure.
"In a divided government when two parties were fighting in 2011, that was not an option," Daniel Clifton, head of policy research at Strategas Research Partners, wrote in an Aug. 22 note. "In complete control government where leaders acknowledge that the debt ceiling has to be lifted, this is a viable option and why we are not too concerned."
"Investors will be looking for clues from Congress's bandwidth to handle tax reform based on how the debt ceiling is handled," Clifton added.
Senate Majority Leader Mitch McConnell of Kentucky said on Monday that there is "zero chance — no chance — we won't raise the debt ceiling. No chance." But he offered no details on how Republicans leaders plan to accomplish that.
McConnell issued a statement Wednesday that made no mention of the wall or Trump's shutdown threat and said "we are committed to advancing our shared agenda together and anyone who suggests otherwise is clearly not part of the conversation."
Blame game
Republicans leaders in Congress have little appetite for any shutdown fight, particularly since their party has taken the blame in recent government shutdown battles. It's also nearly unprecedented for a shutdown to occur when a single party controls both chambers of Congress and the White House.
"The market expectation is that all of this back and forth will be ugly to watch but the policy makers will figure it out," said Walter Todd III, chief investment officer at Greenwood Capital Associates. "We know we've seen this movie before. The government shutdown isn't priced in."
Democrats immediately began the blame game Wednesday.
"If the president pursues this path, against the wishes of both Republicans and Democrats, as well as the majority of the American people, he will be heading towards a government shutdown which nobody will like and which won't accomplish anything" Senate Minority Leader Chuck Schumer of New York said Wednesday in a statement.
Representative Nita Lowey of New York, the top Democrat on the House Appropriations Committee, said that funding Trump's wall is a "non-starter for Democrats, particularly at a time of such real need in our communities."
A top business lobbyist said Trump's comments may just be posturing ahead of the September negotiations, although there is a rising chance that a shutdown could occur.
One solution may be to find a deal that allows both sides to claim victory. Congress could try to pass a portion of the $1.6 billion requested by Trump, or it could approve additional border security funding for other purposes.
Democrats say they won't support any money for the wall or for more deportation officers, but they appear open to more spending on fencing or electronic surveillance.
Another solution could be to convince the White House to save the border wall fight for later in the year when Congress will attempt to enact full spending bills for fiscal 2018.