In a year when major insurers like Aetna and Humana are pulling out of state exchanges left and right—leaving some 35,000 people in 45 counties with no insurance options, and 3 million more in 1,388 counties with just one—a growth story like Oscar's is not only rare, it's virtually unheard-of.
This five-year-old upstart insurance company (currently offering individual coverage in New York, California and Texas) aims to expand its individual market to three new states and offer plans for businesses in four new states by 2018. Oscar reports that engagement with its key features is up 35 percent year-over-year, and that 23 percent of members use its telemedicine feature—eight times the national average of 3 percent.
It launched in 2012 because cofounders Mario Schlosser and Josh Kushner (yes, Jared's brother) were experiencing separate health incidents and took note of how difficult and confusing it was to navigate their health care plans. "No one was there to help them along the way," explains Sophia Norella, director of Oscar for Business and team member at Oscar since 2013.
They wanted Oscar to be different—and according to member feedback, it is.
"When we ask our members what they think of Oscar, far and away what we hear them say the most is: 'Oscar is easy,'" says Norella.
So, what's Oscar's secret?
A curated network
A traditional insurance company puts together "essentially a phone book of doctors," says Norella. "If someone needs a doctor, they get that 'phone book' and they need to figure out what to do with it—find the right doctor for the particular situation they're experiencing."
Oscar took a different approach from the beginning. Instead of building a broad or a narrow network, the health plan creates a "curated" network in each market. "We algorithmically look to our membership—where they live, what they look like, what their care needs are—and we make sure we've got the right coverage in our network for the care they might need at any point."
Oscar also uses quality metrics to select the care providers in its network. But the goal isn't to add every high-quality provider possible to the network; rather, Oscar aims to direct its members toward a conveniently located care provider who does excellent work. The company keeps tabs on providers through its internal "network scorecard," which shows the quality of members' experience and their access to health care in different regions.
A research team at Oscar "is responsible for defining and evaluating the quality of the network on an ongoing basis," writes Nick Reber, the Vice President of Provider Strategy & Operations at Oscar, on the company's website.
"Instead of members having to sift through that phone book, we help them find the right care provider," Norella says.
'Deeply integrating' with care providers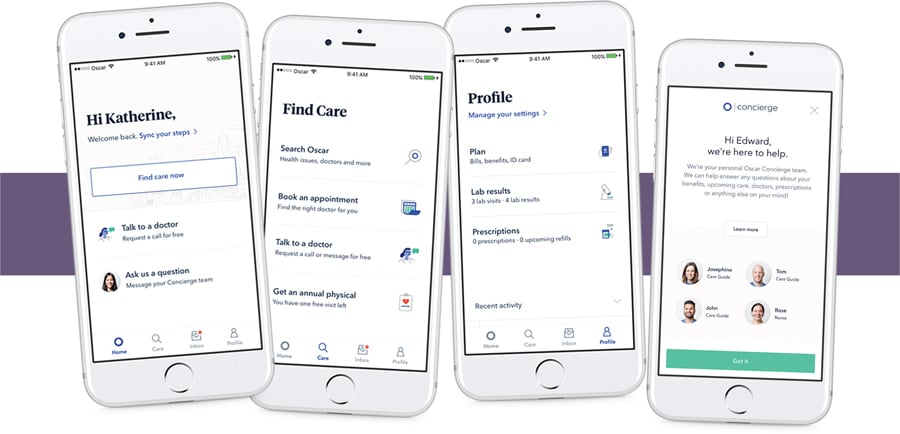 Like many other insurance carriers, Oscar has recognized that it has access to data and member information that would help care providers become more efficient and effective. And it's working to share what it knows.
"We're building tools for providers that will help them get access to member data, including their health history, lab results, allergies and prescription information," Norella explains. "We're also integrating with their systems so members can do online appointment booking, and we are continuing to roll out new features."
One of those features is Oscar's clinical dashboard, described in a blog post by Oscar Chief Technology Officer Dr. Alan Warren as "a tool that gives doctors a more holistic view—Oscar's view—into a patient's medical journey and flags clinically relevant information."
Warren added that the clinical dashboard "synthesizes a member's health history, medical encounters, lab results, active and past prescriptions, hospital admits and discharge alerts, allergies and more into a readable profile of a member's current state of health."
The company also built integrations with its telemedicine feature, as well as hospital systems, so that a physician who's pressed for time can quickly and easily see and scan any patient's current health information without having to pull up and sift through an entire health record.
A concierge experience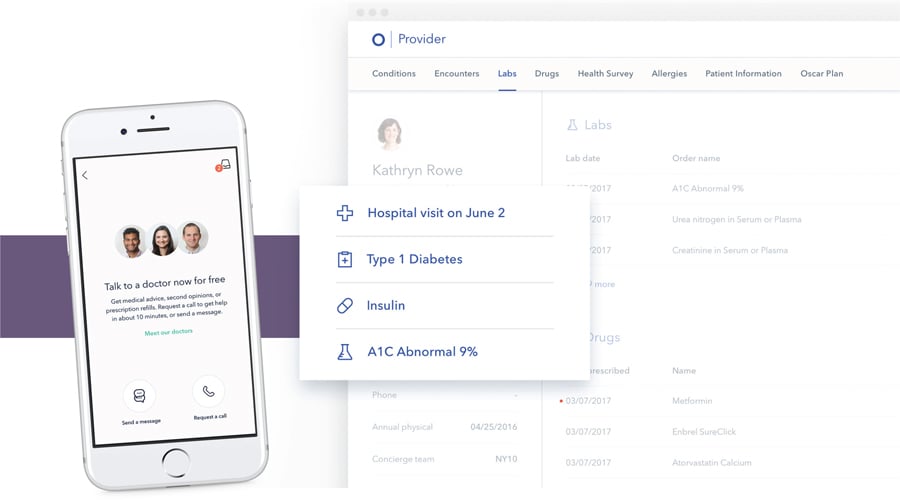 "Our underlying philosophy is very focused on the consumer," notes Norella. "We don't just get involved with our members after they pay a claim; we like to think of ourselves as the entry point into their care experience."
What does that mean, exactly?
Every Oscar member has a concierge team dedicated to their health care service. That team includes three "care guides" and a nurse. "These people can answer any questions members have," Norella says, "whether they have a question about a bill, need help finding a doctor, or 'My doctor told me to do this, can you help me figure it out?'"
Oscar was also one of the first health insurance carriers to offer a free 24/7 telemedicine feature, according to Norella, which gives members access to a care provider without needing to book an appointment or even leave the house.
And the company is "continuing to roll out member-centric features, like a health center for primary care in Brooklyn and online appointment booking," she adds. "Everything we're doing is providing our members with an experience that makes it extremely easy to get care, whether they need a lot of care for an ongoing medical condition or whether they only occasionally need care."
Bringing it to business
In 2017, Oscar began opening up its plans to businesses, in addition to the individual health insurance market. Right now, Oscar for Business is live in New York, and Norella says that (pending regulatory approval) it's planning to roll out Oscar for Business in New Jersey, Tennessee and California in 2018.
"We're rolling it out into additional markets in 2018 and continuing to iterate and improve on that experience for brokers and benefit administrators to make the group insurance side of things as easy as we've made the individual side of things," she says.
"We're giving benefit administrators that same concierge level of service, with dedicated support reps who can help with anything and digital tools to manage the benefits," Norella adds. "We know benefits administrators have a million things going on, and we are here to take the load off of them."