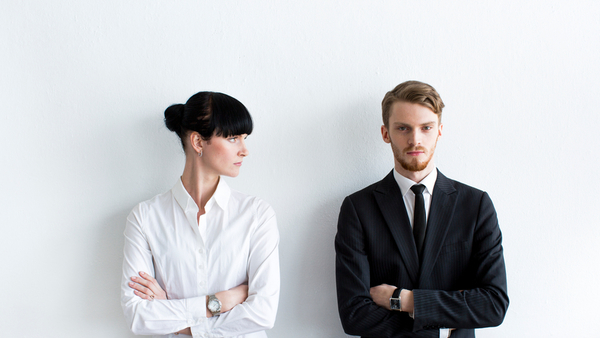 It's not bad enough that the Trump administration is killing regulations that benefit women—from equal pay to birth control to Title IX—but women were already either stalled or losing ground in the workplace. For the third year in a row, the report says, women are underrepresented at every level in corporate America, with fewer and fewer ascending the corporate ladder.
That's according to a Huffington Post report that lays out the gloomy news—which comes from a major survey released Tuesday by the nonprofit women's group LeanIn.org and consulting firm McKinsey & Co. According to the study, "Women fall behind early and continue to lose ground with every step." Not a very cheerful picture.
Corporations have failed, despite what the report calls "lip service" to equality, to advance women either in positions of responsibility or financially, with only 47 percent of entry-level workers being women but even fewer—only 37 percent—being managers. Just 29 percent of vice presidents are women, it adds, but when it comes to the C-suite, that's cut by a third to just 20 percent.
For women of color, it's even worse; the report adds, "the numbers are devastating." Seventeen percent of entry-level employees are women of color, but only 3 percent actually make it all the way to being executives in the C-suite. They also get less support and mentoring from their senior colleagues than white women, the study found. Yet the research also suggests that women of color are more ambitious than their white counterparts.
The lack of advancement for women, whether white or of color, isn't because they aren't trying. Leaning in isn't fixing the problem, the report points out, since the problem is the persistence of "age-old stereotypes about women and men." Rachel Thomas, president and cofounder of LeanIn, is quoted in the report saying, "Women are playing on an uneven playing field." That includes performance reviews, in which women are judged more harshly than men; lack of help from male senior leaders at work, including mentoring; and the notion that women are going to leave to bear children.
Another study finding, which runs counter to the conventional wisdom that women aren't asking for promotions and raises at the same rate as men, is that not only do women ask for promotions and raises at the same rate as men, but when it comes to senior-level positions, women ask more frequently. Yet women are 18 percent less likely to get promoted, according to the findings.
Why? They're underestimated at work, while men are overestimated. But it's not just at work, since even when they get home they're overworked. Fifty-four percent of women said they do all or most of the household work, compared with 22 percent of men, according to LeanIn's survey.