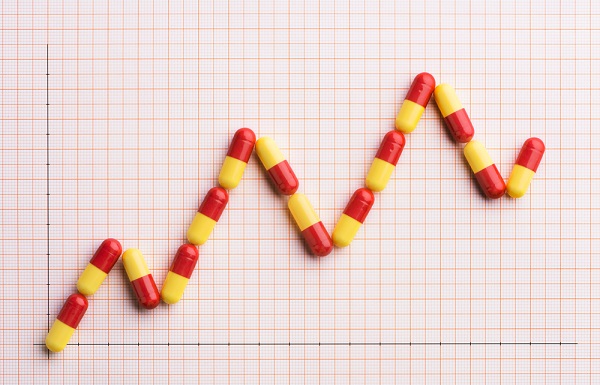 A day after President Donald Trump renewed his attack on high drug prices, officials from the drug industry's top lobbying groups sat down at a black cloth-draped table in a Senate hearing room and told lawmakers who's to blame: the person a few seats over.
Drugmakers said in prepared remarks that insurers, pharmacy-benefit managers and hospitals, among others, keep a large chunk of the money Americans spend on medicine and don't pass on savings to patients.
Pharmacy-benefit managers pointed the finger back at pharmaceutical companies, and said the cut they take as middlemen has no connection to how drugmakers set prices.
While Trump spoke early in his presidency about bringing down drug prices, he hasn't revealed plans to accomplish the goal and seemed to have sidelined it in favor of repealing Obamacare and tax reform. On Monday he revived the issue, saying that slashing pharmaceutical costs will be "a priority of mine."
At a hearing of the Senate's Health, Education, Labor and Pensions committee Tuesday, members of the drug supply chain say that the measures used to assess them are incorrect, and that they only get a portion of the profit their critics say they do.
"Claims from PBMs, payers, and others about the skyrocketing prices of medicines almost always focus solely on list prices, which are not reflective of actual spending trends," Lori Reilly, executive vice president of policy, research and membership at the Pharmaceutical Research and Manufacturers of America, said in prepared remarks. PhRMA is a lobbying group for drugmakers.
Rebate wrangling
The list price is set by pharmaceutical companies but doesn't factor in privately negotiated discounts for benefit managers and insurers, often paid as rebates by drugmakers.
For certain medicines used to treat chronic conditions, discounts can be between 30 percent and 70 percent of the list price, according to Reilly. The problem, Reilly said, is those savings don't always reach patients in the form of lower prices. Insurers usually keep some of the discounts to shrink premiums, while PBMs also take a chunk. Hospitals also charge significantly more than they pay for drugs, Reilly said in her prepared remarks.
A study commissioned by PhRMA, released on Tuesday, said hospitals mark up the price of drugs on average almost 500 percent. After accounting for negotiations with insurers, hospitals take in two and a half times more for a drug than they paid for it, according to the Moran Company report. The Moran Company is an Arlington, Virginia-based research and consulting firm.
Hospitals and insurers weren't called as witnesses for the hearing, but a representative for the PBMs said that the discounts reduce patients' costs and aren't connected to rising prices.
"Like manufacturers in other industries, drugmakers set prices according to supply, demand, and the level of competitive alternatives available," Mark Merritt, chief executive officer of the Pharmaceutical Care Management Association, said in prepared remarks. PCMA is the lobbying organization for PBMs, including Express Scripts Holding Co. and CVS Health Corp.
Discount gap
In his testimony, Merritt pointed to drugs for rheumatoid arthritis and multiple sclerosis that have seen sizable price increases even though their discounts are low compared to other treatments that haven't seen big jumps, such as asthma drugs.
While Merritt said PBMs pass through nearly all of the discounts to insurers, PhRMA's Reilly said there are questions about how PBMs classify some of those dollars that allows them to keep the funds.
The lobbying group for generic drugs said much of the blame should be on outdated regulations. Yet the group also blamed brand-name drugmakers for keeping cheaper generics off the market. Association for Accessible Medicines Chief Executive Officer Chip Davis said that brand-name drugmakers limit distribution of drug samples, which means they can't study them to create copies when the patents run out.
One thing the drug and benefit-management industries appear to agree on is that solutions should be market-based and focused on driving competition. Both pushed for updating regulations to allow value-based payment deals that allow insurers or the government to pay drugmakers based on whether a treatment works.