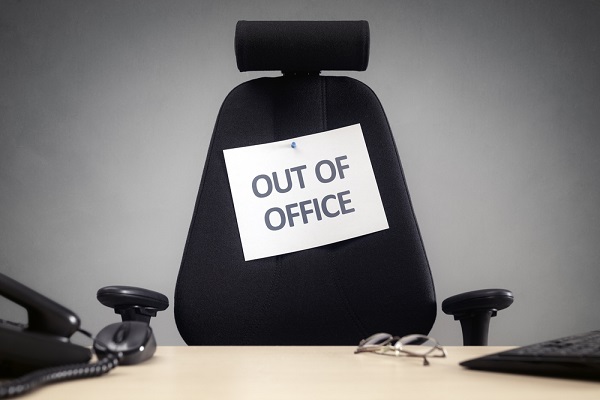 Lots of people do it, but if they get caught, they could find themselves standing in the unemployment line.
According to CareerBuilder's annual survey, not only are people calling in sick without actually being sick, more of them did so in 2017 than did so in 2016. In fact, 40 percent of workers have called in sick in the last 12 months when they weren't, compared to 35 percent in 2016.
While women are more likely to do so—43 percent to 35 percent respectively—30 percent of workers who have called in sick cite having a doctor's appointment as the top reason to take a sick day.
Related: Paid leave policies in the spotlight
And that can be risky, since 38 percent of employers have checked up on people purporting to be ill, and 26 percent have fired an employee for using a fake excuse to get out of work.
It's not just people who don't have sick time, either; 28 percent of workers who have a paid time off program still feel the need to "make up" an excuse for taking a day off, the survey finds. Not only that, but their excuses are "not always believable."
And watch out for those social media posts, if you tossed a day at work to finish holiday shopping or visit with out-of-town relatives—or even hang out at the latest cool spot. Remember those bosses who actually doubt their employees' health excuses? Well, 43 percent have caught an employee lying about being sick by checking out their social media posts, up from 34 percent last year.
Don't think you won't get caught, though, just by staying off Facebook. Some employers are very determined to uncover the truth. When checking up on an employee who called in sick, 64 percent of employers required a doctor's note, 46 percent called the employee, 25 percent had another worker call the employee, and 22 percent actually drove by their house or apartment.
Other common "justifications" for a sick day, after pleading a doctor's appointment, included just didn't feel like going to work (23 percent), needing to relax (20 percent) and needing to catch up on sleep (15 percent). Running errands (14 percent), catching up on housework (8 percent) and plans with family and friends (8 percent) also appeared on the list.
Of course, on the flip side, more than a third of workers have come to the office sick instead of staying home. But before you get too excited about their devotion (or incensed at their spreading of germs), their motivation for doing so is to save sick days for when they're feeling well.