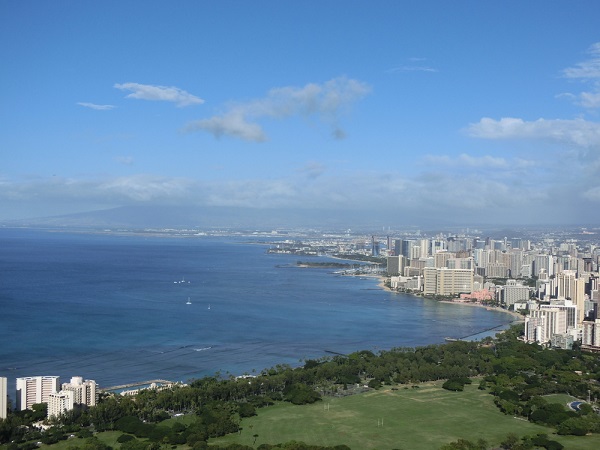 Friends and family members who care for elders are on their own, for the most part, dependent on whatever aid organizations they can connect with that might provide respite or assistance of one kind or another.
But that's not the case in Hawaii—at least not any longer—after Governor David Ige signed the Kupuna Caregivers Assistance Act into law. A Quartz report explains that the Hawaiian word "kupuna" roughly translates to elder, grandparent, or an esteemed older person, and that the new law—which took effect earlier this month—provides those who care for an elderly family member while also working at least 30 hours a week with a stipend of up to $70 per day.
Caregivers can use the money for anything that allows them to avoid missing work due to their caregiving duties—hiring a part-time health aide, for instance, or paying for meal deliveries or cleaning services. It can also replace caregiver income lost to carrying out those duties themselves and losing time from work as a result. While it's certainly not enough to underwrite all the expenses of caregiving, it certainly helps—and might serve as a role model to the rest of the country.
The state's general fund provides the cash from the existing balance, which is funded chiefly by income and corporate taxes.
The purpose of the law is to help caregivers stay in the workplace as long as possible while still being able to provide care to loved ones so that they can be as healthy and independent as possible.
And that could be a long time, since Hawaii has the longest life expectancy of all 50 states. While Germany, Austria, Japan and a few other countries have come up with universal insurance programs to cover long-term care for the elderly, Hawaii is the first in the U.S. to put such a system into practice.
As a rule, not just the U.S. but most countries have failed to devise a method of coping with the demographic reality of a rapidly growing population of elderly in need of assistance—and with the increase in the number of double-income households that keeps younger relatives from providing that care to their elders themselves.
An estimated 44 million Americans are caring for elderly relatives, with about 60 percent of them also employed. Not only does that make it tough to keep up with caregiving responsibilities, it takes a toll on their performance at work.
Among female caregivers, 33 percent have decreased their working hours, while 29 percent have declined promotions; 20 percent switched to part time; 16 percent have quit a job and 13 percent have retired early, all in the name of providing care.
That much lost time not only hurts employees, but weighs on the economy too; a 2012 study from AARP cited in the report points out that the cost of leaving the workforce early to care for a senior costs an employee about $304,000 in lost wages and benefits. And businesses lose an estimated $33.6 billion annually in productivity from caregiving employees.