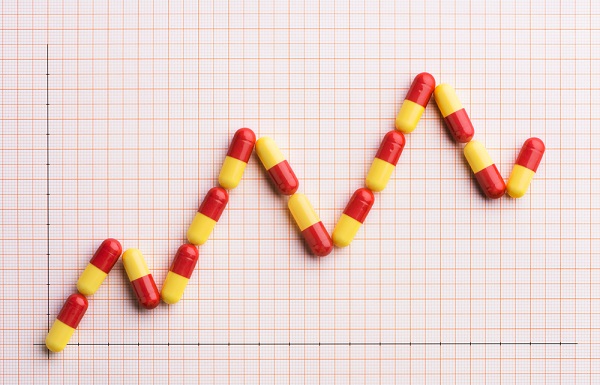 It may not feel that way to patients, but the meteoric rise in prices for drugs has slowed, causing both CVS Health and Walgreens Boots Alliance to report that pharmacy revenues are suffering as brand-name drug prices have come under pressure—both from generic substitutes and from slowing price inflation.
The Wall Street Journal reports that CVS, at least, isn't terribly worried about the slowing prices. According to CVS finance chief Dave Denton, although the present ding to the company's bottom line comes from the generics, in the long run they could actually be more profitable since they have a higher profit margin than name-brand medications.
According to Denton, "You're going to see continued dampening going forward as you think about the pipeline of generics coming into the markets…The introduction of generics can really dampen the top line but affect the bottom line in a positive way."
Generics saw substantial price drops last year, with wholesalers discounting them in an effort to snare more business. In addition, pharmaceutical companies looking to avoid a closer Congressional microscope on pricing practices, raised brand-name meds by smaller rates.
Some of the most expensive medications, such as cancer drugs or genetic-based treatments, aren't sold through pharmacies anyway, but administered either in hospitals or by physicians.
CVS, which also owns pharmacy benefit manager Caremark, predicts growth in 2018 in the low single digits, as well as operating-profit growth of 1–4 percent. That doesn't include the company's planned $69 billion acquisition of Aetna Inc., which it hopes to complete in the second half of 2018.
CVS says it also expects claims volume in its pharmacy-services segment to increase by 8 percent in 2018; revenue is expected to log a smaller growth rate, between 1.5–3.5 percent, thanks chiefly to those cheaper drug prices.
Walgreens, for its part, says its U.S. pharmacy sales increased by close to 9 percent by volume in the most recent quarter, with revenue up by 7.4 percent. The report says that in an analyst call, Alex Gourlay, Walgreens co-chief operating officer, also reported drug price deflation thanks to generics.
Walgreens also reports that the boost in prescription volumes helped to improve U.S. pharmacy sales in the most recent quarter, while comparable retail sales—general merchandise and personal care items—dropped by 0.9 percent.
Walgreens is also on the acquisition hunt, with regulators approving its $4.38 billion deal with Rite Aid Corp. to buy 1,932 of Rite Aid's stores. However, regulatory concerns drove down the size of the deal, which initially had been for $9.4 billion in an expansion that would have given Walgreens another 4,600 stores.