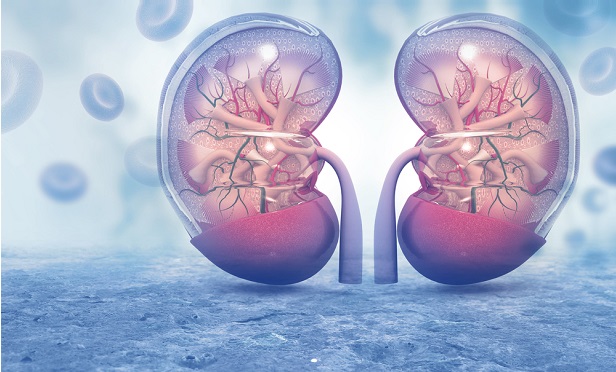 Kidney failure—and dialysis treatment that follows—is both a life-changing disease for employees and a catastrophic health plan expense for employers and insurers. In fact, according to the National Kidney Foundation, "the annual Medicare spending to treat kidney failure in the U.S. is approximately $31 billion."
Unfortunately, chronic kidney disease (CKD) is common. Nearly 10 percent of Americans over 20 years old have some level of CKD. The number of people with kidney disease grows 5 percent each year, according to the University of California San Francisco.
The disease is a "silent killer" that can progress to end stage renal disease (ESRD) unless it's well managed. More than 660,00 Americans have ESRD, meaning that their kidneys have permanently failed and dialysis is required to cleanse the toxins from their bodies.
Related: How to avoid $50k-a-day health care bills
Self-insured employers or health plans that must foot the bill are spending on average between $350,000 and $700,000 per member on dialysis. What's worse is that a stop-loss or re-insurance carrier may "laser" a member, meaning that the individual dialysis patient has to reach a higher individual plan claims payment level than other members before reinsurance is triggered. That threshold could be $350,000 or more based on what the fixed ongoing plan claims are for a particular member.
CKD is a health crisis that affects employer and employees—and it continues to increase. So, what can employers do to help their employees stay healthy and control their costs?
Step 1: Prevention
People with diabetes, obesity, high blood pressure and high cholesterol are at an increased risk of developing CKD, especially if they don't live a healthy lifestyle or follow their physician's treatment plan. Employers need to educate these employees on the link between these conditions and kidney disease and encourage them to take part in preventive biometric screenings, which inform more targeted chronic condition management as well as wellness program recommendations and activities.
In one real-life case, Mary*, an employee with malignant hypertension, didn't take her blood pressure medication because she didn't "feel bad." She was unaware that high blood pressure endangered her life. Her high blood pressure reading was caught at a biometric screening, and a nurse care manager was able to educate her and get her a prescription for a well-established generic medication with a low co-payment that same day. For Mary, this move reduced her risk of having a stroke, damaging her kidneys or another calamity that could have caused disability or worse.
Many employers have implemented workplace biometric screenings, wellness education, contests and activities as part of a larger wellness program. The data collected during biometric screenings can be analyzed across health plans in larger data sets that include medical and pharmacy claims, labs, health risk assessments, electronic medical records, demographics and more to help employers better understand their population health status and risk. It can also enable them to support employees like Mary in navigating their own health care and making better health decisions.
By analyzing comprehensive data specific to their populations, employers can better identify those who need outreach and support, lack a primary care physician, use out-of-network providers or typically incur high health care costs. This type of analytics engine should also identify those who are not following best practices in wellness and self-care so that education and clinical support can be provided to help them prevent a more severe future condition that will impact their health—and an employer's health plan.
Step 2: Chronic care management
Preventing disease and catastrophic downstream impacts from the start is best for employees and employers. One way to help employees stay healthy and manage chronic conditions and disease is care management—a practice that's directly attributed to improved clinical statistics and bottom-line financial outcomes.
Employers that work in partnership with care managers can help target them to employees who need interventions—to help diagnose them, alert them of risk and create and guide them on care and treatment plans.
In any health plan, some members or employees waste resources by seeking episodic care in the emergency room or by being admitted to the hospital because they've let their health issues get out of control. Predictive analytic technology identifies these target groups of people so that nurse care managers can work closely with them proactively.
When it comes to CKD, predictive analytic technology can help identify employees across the stages of the disease, as well as other related chronic conditions, to trigger early intervention and support. These members need to be aggressively targeted, educated and managed because kidney disease progression can be prevented.
Step 3: Providing support
As much as we'd all like to identify everyone early and get them the needed support proactively, many employers are facing situations where their employees or their spouse or dependents have already reached CKD Stage 3 or 4, and these employers need to know what to do to mitigate risk.
People in CKD at Stage 3 or 4 need to be approached by care management resources about their plan of treatment. At this point, the person may be in denial or unable to determine if they would like to be listed for a transplant, but it is not too early to start the process.
Many employers must step in at this phase to be sure each member has the care management support and information they need. Outreach regarding the importance of an early transplant listing decision is critical because it takes eligible individuals on the transplant list 24 months or longer to get a kidney.
The care manager needs to be fully engaged with each member who has CKD to educate them on the importance of complying with the physician's treatment plan. This plan typically includes nutrition, lifestyle activities, employment, weight, heart health, diabetes and blood pressure care and other chronic condition management.
Step 4: Understanding best practices and cost implications
Permanent kidney failure is a critical point in the process—a game changer. When kidney failure is permanent, kidney dialysis needs to be initiated.
Employers and care managers should not discount the importance of ongoing professional intervention and support as an individual adjusts to the major life changes inherent to being on dialysis. Care managers can provide emotional support during the daunting and depressing experience of requiring lifelong dialysis and/or potential kidney transplantation. They may also help the member access needed community, financial and medical resources at a time when income and functional capabilities may be reduced.
Failure to case manage and closely monitor these members can lead to a myocardial infarct or Coronary Artery Bypass Grafting (CABG) bypass surgery, which will bump members off the transplant list for 12 months before they can reapply to become eligible again. That is a huge price to pay for the member and the health plan.
At this phase, employers may be approached by a dialysis management company—a middleman vendor—who will use the average regional price to provide a quote. Employers need to understand and carefully analyze these deals since dialysis management vendors typically keep about 35 percent of the savings realized, which is then added to the negotiated cost. It's important to understand what costs and services are included in the dialysis management firm's bundled costs. If the final cost plus the dialysis management vendor's percent of savings is greater than the regional dialysis cost, employers may want to pass on the deal.
One last critical and complex item to note here is when health plan members have private insurance, this payer is always primary for medical care, even during the coordination period where dialysis patients are waiting for Medicare benefits. After the coordination period, primary Medicare benefits for ESRD are possible and provided through a special federal law just for individuals with ESRD.
The failure to monitor a dialysis patient to be sure they have enrolled successfully and in a timely way in Medicare typically means that the employer keeps paying for dialysis instead of Medicare becoming the primary payer. Medicare will not send a reminder, and Medicare will not reimburse these extra health plan payments for the member on dialysis.
This is complex, but it's vital that employers this process and their areas of responsibility, and know where to turn for the resources and guidance they need to navigate this. The alternative could be catastrophic—for both employee and employer.
Joy McGee-Cory is senior vice president at Advanced Plan for Health. Dr. Barbara Rutkowski, EdD, MSN, CCM is vice president, Clinical Operations at Advanced Plan for Health.