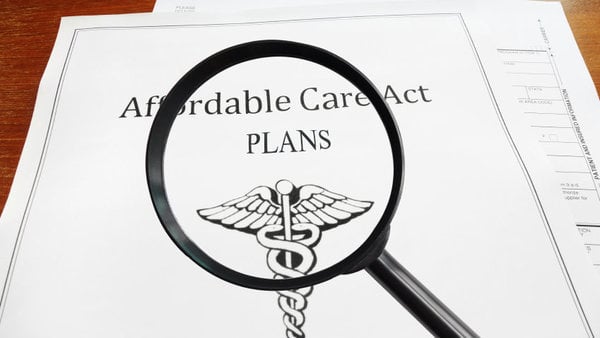 The Trump administration is pushing for controversial health care policy changes to be included as part of a budget deal that Congressional leaders are scrambling to get approved by March 24.
Democrats and some Republicans have said they want the funding measure, which must be approved to avoid a government shutdown, to include money aimed at stabilizing the Affordable Care Act marketplace.
The ACA marketplace has been rattled by a number of efforts by Trump and Congressional Republicans to chip away at the health law, notably the repeal of the individual mandate that was included in the December tax legislation and Trump's move in the fall to stop the payment of cost-sharing subsidies to ACA insurers.
The Trump administration signaled, via a memo obtained by the Wall Street Journal, that the president would be willing to sign such a measure, but is asking that the effort to save Obamacare come in exchange for some other conservative health policies.
Related: Obamacare signups down just 3.7 percent in 2018
The most notable proposal is to allow health plans to raise prices on older members. Currently, ACA plans are allowed to take age into account when determining prices for customers, but there cannot be more than a 3:1 price difference based on age.
The Trump proposal would raise the maximum ratio to 5:1.
Republicans are divided over whether they should try to help out the ACA marketplace, which all of them have in the past sought to dismantle entirely. Some worry that, without a stabilization effort, Republicans will be blamed for big premium increases right before the midterm elections. Members of the party's right flank, however, are staunchly against anything that will "bail out" Obamacare.
The administration memo suggested that any legislation authorizing funds for the marketplace would also put in place restrictions on the use of such funds for health plans that cover abortion.
Trump also wants any new deal to allow for the continued sale of short-term health plans that he authorized earlier this year.
"Although congressional efforts to provide taxpayer money to prop up the exchanges is understandable, any such efforts must also provide relief to middle-class families harmed by the law and protect life," says the memo.
While Democrats say they are eager to restore the subsidies that the president scrapped, they are also voicing suspicions that Republicans are using the stabilization effort as cover to further undermine the ACA with conservative policy changes. They are also unlikely to support increasing the amount insurers can charge older customers.
"I certainly hope the president and Republican leaders won't once again sabotage an opportunity to undo some of the damage they've done by choosing to play politics with women's health and making last-minute, harmful demands," said Sen. Patty Murray (D., Wash.).