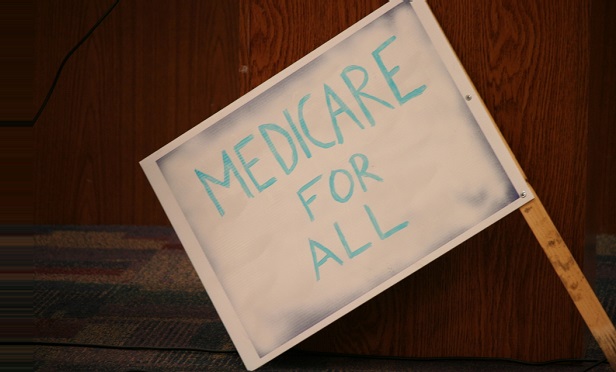 A majority of Americans support a national "Medicare for All" system, according to a new survey by the nonpartisan Kaiser Family Foundation released as Democratic presidential candidates jump into the 2020 primary field.
Fifty-six percent of Americans said they favor "a national health plan," sometimes called Medicare for All, in which all U.S. citizens would get their insurance from a single government plan, while 42 percent oppose the idea, the poll found.
The survey, released Wednesday, comes as the issue of transitioning toward Medicare-for-all has become a litmus test for many in the progressive base as a way of expanding health coverage to all Americans and lowering out-of-pocket costs.
Related: Single-payer vs. Medicare for All: What's the difference?
Many declared or prospective Democrats candidates have endorsed the idea of Medicare-for-all, including senators like Elizabeth Warren of Massachusetts, New York's Kirsten Gillibrand, Vermont's Bernie Sanders, New Jersey's Cory Booker, and Kamala Harris of California as well as former Texas Representative Beto O'Rourke and former Obama administration official Julian Castro.
Still, the term Medicare-for-all may mean different things to different candidates. The Kaiser poll showed greater support for proposals that expand the U.S. health-care program for older people without eliminating private insurance.
For instance, 74 percent favor creating a government-run plan like Medicare that's open to everyone while also allowing Americans to keep the coverage they have, according to the poll.
At the same time, 77 percent support the idea of allowing people between the ages of 50 and 64 to buy into Medicare, and 75 percent favor letting people who don't get coverage through an employer buy health insurance through Medicaid, the survey found. The age of eligibility for Medicare is usually 65.
Public opinion on Medicare-for-all could change if attacks from conservatives resonate. The Kaiser survey found that public opinion turns more negative on the idea if respondents are told such a system could cause delays for people seeking care, threaten the current Medicare program, require higher taxes, or eliminate private insurance companies.
The poll was conducted between Jan. 9-14, among a representative sample of 1,190 adults across the nation, and has a margin of error of plus or minus 3 percentage points.
Read more: