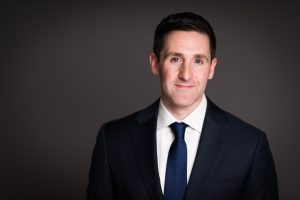 Brian Duval, Liberty Mutual Insurance
Director of Product Development, Accident & Health Insurance
Nowadays, voluntary benefits are more than just a nice perk for employees. They're fast becoming an essential part of a company's benefits portfolio, with the power to bring top talent to the company — and in many cases, keep employees from straying. According to a recent study1, 71 percent of employees say they would leave their current employer for another job offering better benefits.
Moreover, today's diverse multi-generational workforce calls for personalized benefits to suit varying characteristics, lifestyles, and preferences. Voluntary benefits help answer that demand.
"Voluntary benefits are a win-win for both employees and employers," says Brian Duval, Director of Product Development, Accident & Health Insurance at Liberty Mutual Insurance. "The employee has the option to participate in customized offerings with competitive group rates and select between options offered by the employer — at no cost to the employer." As these benefits can help employers boost retention and help employees control out of pocket costs resulting from the rising cost of healthcare, it behooves small and mid-sized businesses to get on board.
Over the last few years, the list of voluntary benefits has grown, yet one of the most popular is supplemental health insurance. According to the BenefitFocus 2018 State of Employee Benefits report2, nearly half of large employers in 2017 offered at least one of three major voluntary benefits, including accident, critical illness, or hospital indemnity.
Even with a good health insurance plan, a serious illness or accident can incur significant out-of-pocket costs, and take a toll on employees' finances. Benefits that bridge the gap between what is and isn't covered under a traditional health insurance plan can help employers better protect their employees – especially at a time when health care costs are rising and higher deductible plans are becoming increasingly more common.
With 40-plus years of experience working with employers, Liberty Mutual has a keen understanding of these financial challenges and addresses them head on through customizable accidental and health coverage solutions. One of the benefits of their Group Accident and Critical Illness insurance is that employees can take advantage of a lump sum cash payout to use however desired. This is immensely valuable in helping to maintain a certain lifestyle in the event of accident or illness. And the benefit is extremely flexible – for example, it can be used to pay the mortgage or credit card bills, or even to avoid having to cancel a family vacation for lack of cash.
What is paramount in this type of coverage is customization. To service an increasingly diverse workforce, we offer curated preset or fully customizable coverage, affordable options designed to meet every need, as well as a dedicated account team. There is also a strong emphasis on customizing communications related to education and enrollment support to suit every customer's need. Says Duval, "We are able to tailor our solutions, and we're very flexible in what we can offer to meet customers' needs. We can help them devise a solution – for example, more than one plan configuration. It is really about being able to give them the option."
Voluntary benefits are changing the insurance landscape. If the last couple of years are any indication of where the space is going, it won't be long before voluntary benefits become paramount for every business sector.
*Underwritten by Liberty Insurance Underwriters Inc.
Sources:
"What Employees Really Think About Their Benefits Package." One Medical, 2018
"The State of Employee Benefits." BenefitFocus, 2018.
Since 1912, we at Liberty Mutual Insurance have committed ourselves to providing broad, useful and competitively-priced insurance products and services to meet our customers' ever-changing needs. Now introducing Accident & Health voluntary benefits – customized at competitive prices so no matter what your benefit needs are, we have the perfect solution. Liberty Mutual is ranked 68th on the Fortune 100 list1, rated "A" (Excellent) for financial strength by A.M. Best Rating Services2 and has 40-plus years of experience with employer partners. For more information, visit our website.
1Liberty Mutual Group is ranked 68th on the Fortune 100 list of largest corporations in the U.S. based on 2017 revenue. 2A.M. Best Rating Services, 2018.