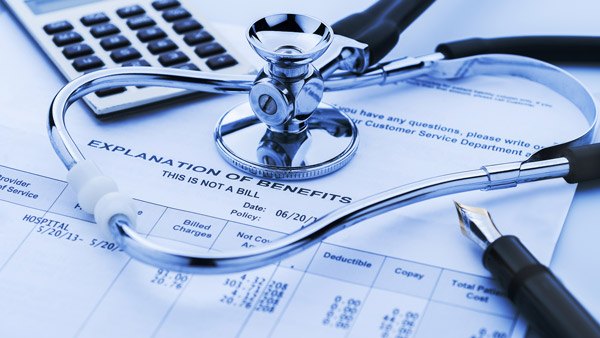 A new issue brief from the Kaiser Family Foundation finds that even workers who are covered by health insurance could be in for some pretty hefty expenses if they fall ill with the novel coronavirus—in some cases topping $20,000.
The report "Potential costs of coronavirus treatment for people with employer coverage," does take into account that many large insurers have agreed to waive copayments and deductibles for Covid-19 tests.
Related: Trump misleads with claim that insurers will cover coronavirus treatment
America's Health Insurance Plans (AHIP) has also said that many insurers are waiving costs associated with some testing and treatment (you can find a comprehensive list here), but as KFF notes, "hospitalizations for more serious cases would not be waived, meaning people with private insurance who face deductibles could be on the hook for large costs."
"We agree health care should be more affordable for everyone, and AHIP has been offering multiple policy solutions that would result more affordable coverage and care," says Kristine Grow, a spokesperson from AHIP, pointing out that the out-of-pocket costs are just a small fraction of the overall bill covered by an insurer. "It's important to appreciate the most important part of this study: That health care coverage is providing important financial protection for Americans, protecting patients from tens of thousands of dollars in health care costs."
To determine how high those costs could go, the study reviewed typical costs for pneumonia cases—without complications, with complications and with serious complications—and ran the numbers. The news isn't reassuring. The total cost for admission and treatment for an insured patient with major complications, including out-of-pocket costs, in 2018 averaged $20,292—although that total could vary widely throughout the country, from $11,533 to $24,178. This, by the way, is for people under age 65.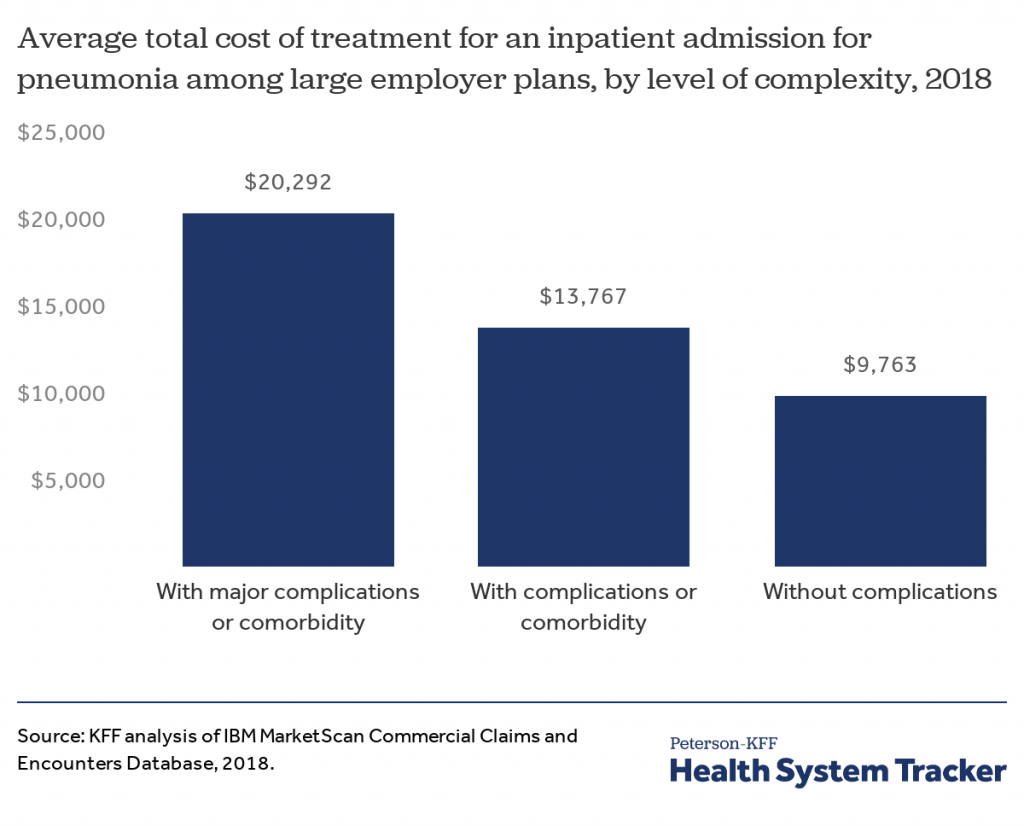 The costs for those with no complications averaged $9,763, while for those with lesser complications they ran to $13,767.
Typical deductibles, averaged across those insureds who have deductibles and those who do not, total $1,396. For admissions with no complications, out-of-pocket costs average $1,464, including deductibles, copayments and coinsurance. Says the report, "Average out-of-pocket costs for pneumonia admissions are similar regardless of severity because many people with hospitalizations reach their deductible and/or out-of-pocket max, thus limiting their exposure to the underlying cost."
But for COVID-19 the picture is different. Not only is the pandemic hitting earlier in the calendar year, when most people have not yet met their deductibles, but there's the matter of balance billing, which could happen for admissions in which care providers are not part of the insurer's network—and although "[s]ome large health insurance companies have assured the public they will not charge higher cost-sharing for people who inadvertently go out-of-network, … only health care providers (such as hospital and physician groups) would be in a position to halt balance bills."
This will hit a lot of people, says the report, since they estimate that 18 percent of patients admitted for pneumonia with major complications face out-of-network charges, while 15 percent of patients admitted into an in-network facility for all other medical conditions were also hit with out-of-network or "surprise" bills.
Read more: