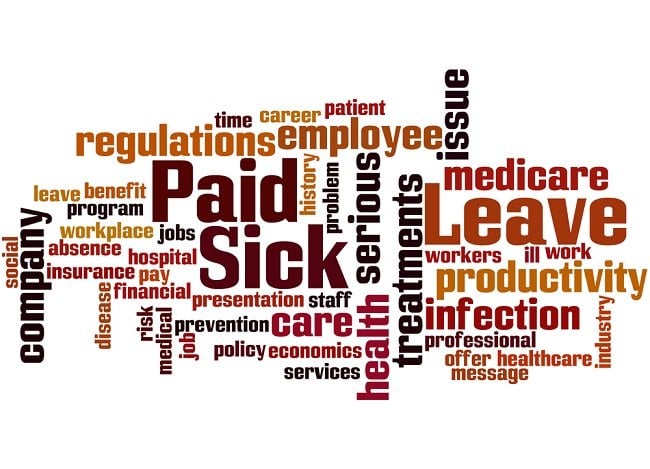 With the number of COVID-I9 cases rapidly increasing across the country, the U.S. House of Representatives passed a bill over the weekend that could bring much-needed relief to Americans impacted by the virus. If signed into law, the bill would guarantee widespread free testing for COVID-I9 as well as expand food assistance and unemployment insurance. The proposed legislation, however, would also impose new mandatory paid sick leave requirements on employers with fewer than 500 employees.
The bill, formally referred to as the "Families First Coronavirus Response Act" (FFCRA), would extend paid sick leave to include family leave and make these leaves immediately available to all employees impacted by the COVID-I9 virus. The paid sick leave requirements will extend far beyond the reach of existing federal leave laws, and will create additional leave requirements for employers who already offer paid sick leave voluntarily or as a matter of state law.
Related: Coronavirus puts paid sick leave policies in the spotlight
The FFCRA establishes mandatory paid leave requirements through the Emergency Paid Sick Leave Act, and also amends the Family and Medical Leave Act (FMLA) to require additional leave, both unpaid and paid, for what the FFCRA calls "public health emergency leave." The obligation to provide this new public health emergency leave applies to all employers with fewer than 500 employees.
Consequently, even employers with fewer than 50 employees, who, until now did not need to comply with most federal leave laws, will need to become familiar with, and correctly administer, these new requirements. To ease the financial burden these new obligations will impose, the FFCRA contains provisions providing covered employers with significant federal tax credits with respect to the amount of sick leave wages paid to employees under the law.
If the FFCRA is signed into law, covered employers will be required to provide all of their employees with immediate access to paid sick leave through December 31, 2020, for the following purposes:
To self-isolate because of a diagnosis with "coronavirus" (defined as "SARS-CoV-2 or another coronavirus with pandemic potential"); Obtain a medical diagnosis or care if an employee is experiencing the symptoms of coronavirus; and To comply with a recommendation or order by a public official with jurisdiction or a health care provider on the basis that the physical presence of the employee on the job would jeopardize the health of others because of: a) the exposure of the employee to coronavirus; or b) exhibition of symptoms of coronavirus by the employee.
Unlike traditional paid sick leave laws, however, the FFCRA would extend this benefit to employees who are indirectly impacted by the virus. Specifically, the proposed bill would extend paid sick leave to include the following purposes:
To care for or assist a family member: a) who is self-isolating because the family member has been diagnosed with coronavirus or is experiencing symptoms of coronavirus and needs to obtain diagnosis or care; b) who is the subject of an order/recommendation from a public health official or health care provider to stay out of the community because the family member has been exposed to and/or is exhibiting symptoms of the coronavirus; and To care for the child(ren) of the employee if their "school or place of care has been closed, or the child care provider of such child is unavailable, due to coronavirus."
Covered employers would be required to pay every employee who takes emergency paid sick leave at a rate of compensation no less than the employee's "regular rate" of pay (as that term is defined under the Fair Labor Standards Act ("FLSA")) for leave taken for the employee's own coronavirus-related conditions. For every employee who takes emergency paid sick leave for the fourth and fifth reasons identified above (i.e., for the care of sick family members and/or children), covered employers are required to pay the employee at a rate of compensation no less than two-thirds of his or her "regular rate" of pay. Full-time employees of covered employers are entitled to up to 80 hours of emergency paid sick leave; part-time employees of covered employers are entitled to an amount of emergency paid sick leave up to the average number of hours they work over a two-week period. Employees are eligible to take this leave after 30 days of service with their current employer.
Unlike the majority of paid leave laws enacted by various state and local governments, which typically run concurrent with other related leaves, covered employers must provide emergency paid sick leave under the FFCRA in addition to any other paid time off the they may already offer to their employees. The FFCRA specifically provides that employers may not change their current paid leave policies as a result of this new leave requirement. In other words, employers may not reduce the amount of leave ordinarily available under their own policies in order to avoid the impact of the law. Also, unlike FMLA, employers may not require employees to exhaust any of their employer-provided leave time before taking emergency paid sick leave time under the FFCRA.
In addition to the emergency paid leave requirements, the FFCRA will also amend key provisions of the FMLA to require all employers with less than 500 employees, including those with less than 50 employees that are not subject to the FMLA, to allow for both unpaid and paid leave during future public health emergencies. Also, FMLA eligibility would be would significantly lowered to 30 days during such emergencies, which is far less than 12-month eligibility parameters that generally apply under FMLA. According to the FFCRA, covered employers may choose not to pay an employee for the first 14 days of an employee's public health emergency leave. If an employee continues to be eligible for and continues to take public health emergency leave in excess of that first fourteen-day period, covered employers are required to provide the employee with paid leave for the duration of the qualifying leave. This paid leave must consist of an amount of pay that is not less than two-thirds of an employee's "regular rate" of pay (per the FLSA) for "the number of hours the employee would otherwise be normally scheduled to work." Unlike the emergency paid sick leave law, the amendments to the FMLA would be permanent and triggered anytime a public health emergency is declared in the future.
As the FFCRA has received overwhelming bipartisan support, there is a strong likelihood that this emergency legislation will be signed into law. Although the Act has not yet been addressed by the Senate or signed into law by the President, both actions are expected to happen early this week. Covered employers will be required to post and keep posted, in conspicuous places, a notice regarding emergency paid sick leave that the Department of Labor will issue in the near future. The DOL is also due to issue additional guidance to help employers comply with these new requirements.
Philip Qualo, J.D., is a compliance & regulatory affairs consultant at The Phia Group, LLC.
Read more: