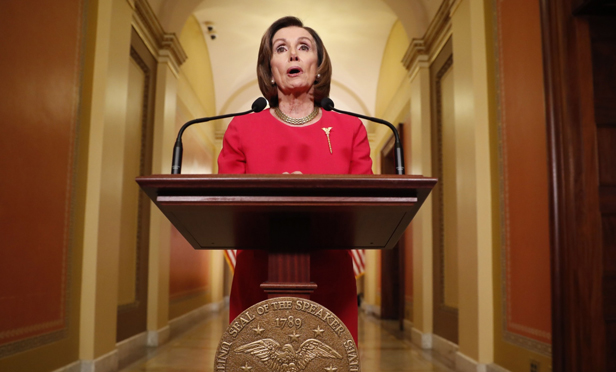 Senate Majority Leader Chuck Schumer, D-N.Y., and House Speaker Nancy Pelosi, D-Calif., are calling for interim emergency legislation costing more than $500 billion as lawmakers discuss a broader follow-up to the Coronavirus Aid, Relief and Economic Security (CARES) Act.
"The heartbreaking acceleration of the coronavirus crisis demands bold, urgent and ongoing action from Congress to protect Americans' lives and livelihoods," Schumer and Pelosi said in a statement early Wednesday morning. "As Democrats have said since Day One, Congress must provide additional relief for small businesses and families, building on the strong down-payment made in the bipartisan CARES Act."
Senate Majority Leader Mitch McConnell, R-Ky., said Tuesday that he would work with Treasury Secretary Steven Mnuchin and Schumer to approve more funding by Thursday for the Paycheck Protection Program under the $2.2 trillion CARES Act.
Mnuchin called for another $250 billion to be added to the original $349 billion in PPP funds, according to a tweet from the treasury secretary.
Congressional Democrats are calling for:
$250 billion in additional PPP funds, with $125 billion channeled through community-based financial institutions;
$100 billion for hospitals, community health centers and health systems, including production and distribution of national rapid testing and personal protective equipment such as masks;
$150 billion for state and local governments, on top of the aid provided in the CARES Act;
A 15% increase to the maximum benefit under the Supplemental Nutrition Assistance Program.
After passage of the interim emergency legislation, Congress will move to pass a "CARES 2 Act," Schumer and Pelosi said.
Lobbyist calls for Social Security boost
Measures being discussed for the next stimulus plan includes more stimulus cash, "fixes" to the CARES Act, infrastructure spending and a boost in stabilization funding for states and local governments.
Max Richtman, president and CEO of the National Committee to Preserve Social Security and Medicare, sent a letter to House lawmakers on Tuesday urging them to include an increase in Social Security benefits by $250 per month through the end of 2021.
"Older Americans are among the most vulnerable to the ravages of COVID-19. Their struggles are significantly aggravated by the crisis," Richtman said.
Richtman also said the new package should include a new Medicaid grant for states to boost their home- and community-based long-term care services.
READ MORE: