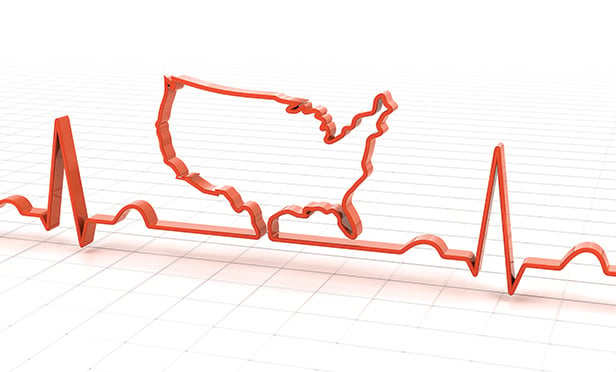 It's not just the elderly and those with health impairments that are getting hammered by the coronavirus. Communities of color are likely to be among those suffering the most, as both health and finances are threatened by the crisis.
A new KFF analysis finds that, according to early data, groups of color accounted for 48 percent of confirmed cases in Illinois and 56 percent of the state's deaths, even though they only constitute 39 percent of its population.
Related: The other America: Health care leads the way in perceptions of inequality
The situation is even worse in Louisiana, with blacks making up just 32 percent of the population but accounting for more than 70 percent of COVID-19 deaths. In Washington, D.C., while blacks make up 45 percent of the population, they unfortunately account for 59 percent of the district's deaths from the coronavirus, and Michigan and North Carolina are also seeing their black communities suffering disproportionately.
One factor that could account for the high toll the coronavirus is taking on communities of color is overall health aside from the pandemic. Nonelderly black, Hispanic, American Indian and Alaska Native adults, the report finds, are more likely than whites to characterize their health as only fair or even poor in federal survey data.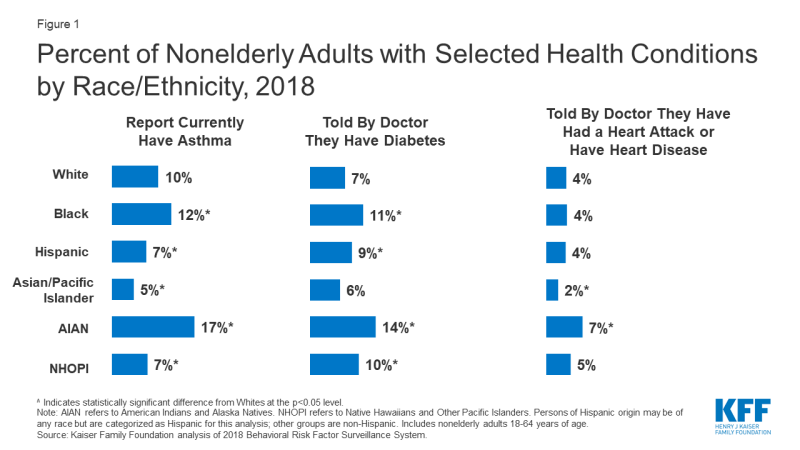 In addition, communities of color are also more likely to lack health insurance and to be without a usual source of care, and that can make it even tougher for them to access testing and treatment for the coronavirus—already a challenge for most people as testing lags dangerously and health practitioners are overwhelmed by patient loads. Among the nonelderly, the report says, 22 percent of American Indians and Alaska Natives had no health coverage in 2018; so did 19 percent of Hispanics and 11 percent of blacks. Just 8 percent of whites in that age group did not have coverage.
And to put the icing on the cake, communities of color are also most likely to hold jobs in the industries suffering the most from loss of already-low income, and therefore have the least resources to get by on in the absence of a regular job: hospitality, restaurant, retail and other service industries. So they have less to fall back on in an economy shuttered by the pandemic.
Related: