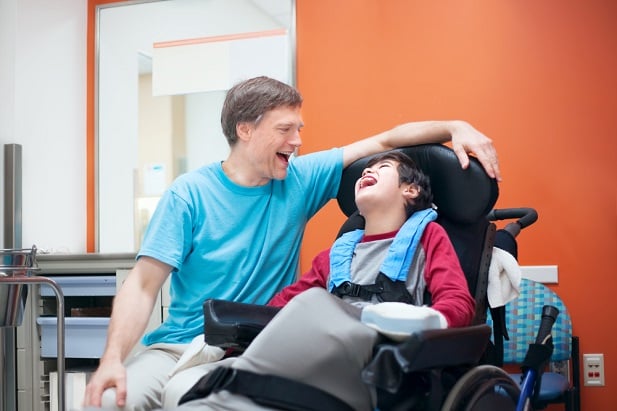 In the midst of the novel coronavirus (COVID-19) pandemic, employers scramble to set up and manage remote operations while they adjust to an ever-changing business climate. Their employees are scrambling, too, as they make arrangements to blend work from home with family responsibilities and other family members whose lives are also disrupted.
For some, the "new normal" means finding a quiet space to work alongside their spouses or partners while their children access distance learning portals nearby. But for others, the challenges are far more intense, because they are caring for a family member with complex needs during an ever-changing situation.
Scenarios your caregiving employees are dealing with
Even when the world isn't going through a global pandemic, caregiving employees often struggle to manage the demands of family and work; many switch to jobs with fewer or less demanding responsibilities, cut back hours, or quit altogether.
Now, in addition to time constraints and a firehose of competing priorities, a relentless news cycle and an onslaught of changing guidelines have employees understandably concerned about how to best keep themselves and their families safe.
Savvy employers need to make an effort to reach out to their employees to understand and acknowledge the challenges their workers are facing and provide an increased level of support at this time. A growing number are already doing so. Responding with strong leadership during a time of crisis, these inspiring employers are supporting their employees with new or extended benefits, flexible policies, and unprecedented compassion in these unparalleled times.
Consider the range of caregiving scenarios your employees may be facing:
Elder caregivers. Balancing eldercare and career can be challenging on a good day, because of the unpredictability and lack of adequate supports in place for aging Americans. During the pandemic, caregiving challenges and stress are increasing exponentially.
As nursing homes, assisted living facilities, and hospitals restrict visitation, adults who serve as primary caregivers and advocates for aging and ill family members are cut off from seeing and helping them.
For workers whose parents live in their own homes or with them, managing the risk of exposure is also challenging, as is balancing work calls and deadlines. They may also now have additional hands-on care tasks as they suspend services from home health aides and therapists and try to keep their aging parents away from medical facilities.
Spousal caregivers. Millions of other Americans are acting as the primary caregiver for a spouse with a long-term disability or chronic illness. Spousal caregivers — more so than caregivers with other relationships to their care recipients — often report fair or poor health as a result of their caregiving responsibilities.
For many of them, work can serve as a respite from the day-to-day stress of living with a partner who is ill. Now, during the coronavirus outbreak, many of them are caring round-the-clock and taking on additional medical tasks as they opt not to go — or are prohibited from going — into doctors' offices or hospitals for appointments, relying instead on unfamiliar telehealth appointments.
Their own health may suffer even more than usual as they struggle to make time to care for themselves.
Parents of children with disabilities. While millions of parents across the country are now charged with supporting their children in distance learning, many have additional responsibilities. There are approximately 7 million children, or 14 percent of all public school students, who receive federally mandated special education services because of their disabilities.
For the parents of these students, COVID-19-related school shutdowns mean more than monitoring and assisting with assignments from home.
These children are cut off from necessary special education and related services that are typically provided in school and generally require in-person contact, made impossible by social distancing guidelines.
Parents are also managing their children's anxieties, as well as their own fears about their children regressing while schools are closed. These parents are not only logging on to online learning portals, but also figuring out how to provide needed supports or other accommodations without the right staff or assistive technology. No easy task.
Essential workers. Employees who are required to report to work on site have a different set of challenges than workers who are now working at home. This is especially true for those who are caring for another family member at home.
Essential workers who must still report to a place of business outside their home are trying to mitigate the risk of exposure to themselves, their family members, and their coworkers. These workers are now adding the challenges of donning protective gear before work, and disinfecting their clothes after work, on top of the demands of their jobs.
They may be wrestling with guilt over the competing needs of their families and their jobs, and they are likely facing a heightened level of risk, fear, and anxiety over the spread of the virus.
4 crucial steps employers can take
No matter what caregiving scenario an employee faces right now, there are critical steps employers can take to support them. Here's how:
1. Offer flexible schedules and build safety nets into workstreams. Be proactive in offering flexible schedules for employees working from home. Doing so can help your employees feel a greater sense of control over their lives, especially at this time when so many aspects of life are out of our control.
Set clear parameters around deadlines, team communication, and client support, so that employees know what is expected of them. Then, let them manage from there.
Plan for disruptions by assigning teams to critical projects and clients, requiring that employees copy other staffers on critical communications, and building in extra time for important projects, where possible.
2. Re-examine company policies and then overcommunicate them to staff. Make sure you have processes in place for employees to address their concerns from accessing employee assistance programs, contacting telehealth experts, or reviewing their retirement funds.
Overcommunicate these benefits – via email, memos and during staff meetings – so employees can focus on accessing the help they need instead of spending time trying to figure out what is available to them.
3. Share resources for self-care and act as a role model. Now more than ever, caregiving employees need to pay attention to their own well-being. And management needs to model the behavior they want to see. Send your teams links to helpful webinars and articles.
Better yet, attend webinars with them. Consider offering a wellness allowance for employees to download apps and video series on meditation and yoga classes. Encourage participation in online support groups and perhaps start a group just for your team.
4. Streamline information related to COVID-19, especially as it relates to caregivers. Serve as a reliable resource on or conduit to the latest guidance related to the pandemic.
Limit the sharing of news stories and sensational material and instead provide your employees with credible, updated information from sources such as the Centers for Disease Control and Prevention, the U.S. Department of Labor, or your state government's website.
Employers make a major difference in caregiving employees's lives
These are highly uncertain times and there is no rule book to follow; even the best corporate handbooks don't quite cover what's needed right now. Employers who listen and lead with compassion and confidence can make a major difference in their caregiving employees' lives; it just might make the difference between having to stop working to take care of a loved one or being able to manage work and life through the pandemic.
Carolyn A. Romano, J.D., has over three decades of experience advocating for and participating in systemic efforts to improve the lives of children, the elderly, and other vulnerable populations. As Vice President of Product at Torchlight, she relies on this expertise to create caregiving solutions that empower employees with the information they need to take care of their loved ones and themselves. Carolyn frequently writes and speaks on the topic of Corporate Caregiving Culture — the win-win result when employers make sure their employees have what they need to care for the most important people in their lives.
Liz O'Donnell is the founder of Working Daughter, a community for women balancing eldercare, career, and more. An award-winning writer, she recently published her second book, Working Daughter: A Guide to Caring for Your Aging Parents While Earning A Living, which Library Journal named one of the Best Books of 2019. A former family caregiver, she is a recognized expert on working while caregiving and has written on the topic for many outlets, including The Atlantic, Fast Company, Forbes, TIME, WBUR and PBS' Next Avenue.