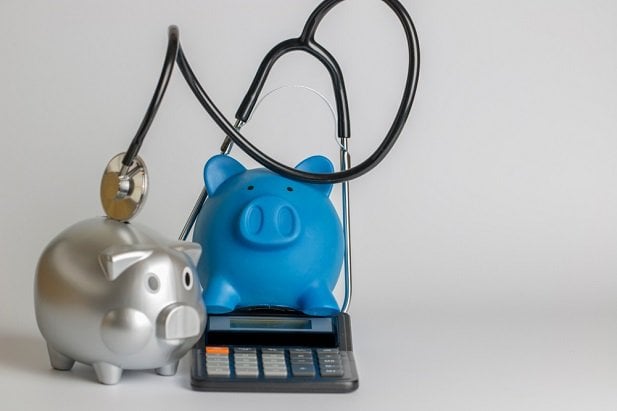 Employers that self-fund their employee health coverage, as well as insurance companies, are asking Congress to kick in funding for future coronavirus bills as insurers are predicting that premiums could increase by a lot next year.
According to The Hill, estimates range from $34 billion to $251 billion in additional costs related to COVID-19 for employers. The analysis, which was commissioned by Covered California, posited the potential for 40 percent premium increases next year for private plans just from coronavirus costs alone.
Related: Will COVID-19 increase premiums? Some insurers say no.
The 61 percent of workers who are covered by self-funded plans, in which their employers pay the health care costs instead of buying outside insurance, are at highest risk for premium hikes. And the increases could also contribute to pay cuts or stagnant wages.
"Without a doubt, employers are facing significant unknowns with regards to the COVID-19 crisis, while at the same time they themselves are under financial stress," said Ilyse Schuman, senior vice president for health policy at the American Benefits Council, which mostly represents large companies that self-fund their health plans instead of buying private insurance for their employees.
Schuman added, "They'll be left with no option but to pass costs along to employees in the form of higher premiums next year. That's really why we're asking Congress to step in and protect employer-sponsored coverage."
Although the American Benefits Council is asking Congress to fund a reinsurance or risk corridor programs aimed at stabilizing premiums through payments from the federal government, and last week America's Health Insurance Plans, the insurance company trade group, and the BlueCross BlueShield Association sent a letter to congressional representatives asking for "federal risk mitigation programs to support the financial stability of plans that incur extraordinary, unplanned costs in 2020 and 2021 due to COVID-19," some health experts are saying any losses may not necessarily be due to the coronavirus but instead are caused by cancellation of nonessential surgeries.
"Obviously there's an increased need for health care from COVID, but a decrease in health care demand in many other parts of the industry," said Cynthia Cox, vice president at the Kaiser Family Foundation and director for the program on the ACA.
A risk corridor provision had been included by House Democrats in one coronavirus bill, but it had been stripped out by the time it got to the White House.
Read more: