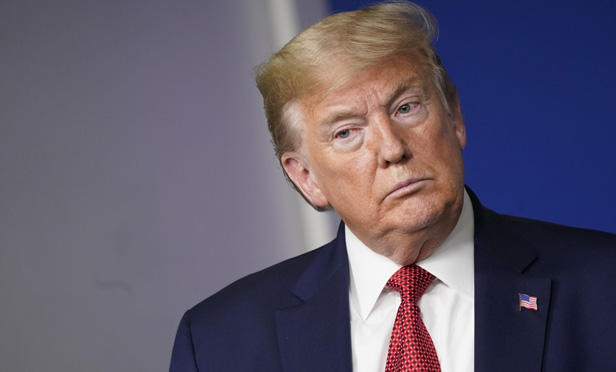 President Donald Trump released late Thursday a three-stage plan for governors to use in reopening their economies, arguing that preserving the health of Americans also means "preserving the health and functioning" of the nation's economy.
Related: Taking pulse of Americans' COVID-19 sentiment
During a Thursday evening media briefing, Trump said that based on the latest data, "our team of experts believes that we can begin the next front in our war, which we're calling Opening up America Again. That's what we're doing, we're opening up our country."
Trump announced on Tuesday the leaders of banks and financial services firms that will help re-open the economy and released the list of lawmakers Thursday. That list included senators and representatives from both parties, including all Republican senators except Mitt Romney of Utah, the only Republican to vote in Trump's impeachment trial to remove him from office.
The new federal guidelines on reopening the country, Trump said, will allow governors to take "a phased and deliberate approach to reopening their states."
Some states, Trump continued, will be able to open up "sooner than others."
But a coalition of seven Midwestern governors announced the same day that they were joining forces to determine when to start easing stay-at-home restrictions and reopen their states' economies. Similar efforts are being made by governors on the West Coast and in the Northeast.
Ed Mills, policy analyst for Raymond James, told ThinkAdvisor in a Friday morning email that governors "will absolutely follow the [federal] guidelines, but they will be forced to flesh out the details."
Trump, Mills said, "has made it clear that much of this is up to the states, so the states are creating consortiums to ensure that there is coordination. These consortiums will help, but you are likely to have a partisan divide in how some of the states chose to respond."
Hurdles for employers
Phase 1 of the federal plan "really should be titled 'barely open,'" Mills said in a Friday morning email briefing. The economy says it is reopened but major restrictions remain. Also, of note, [the guidelines] only allow outpatient elective surgeries."
Phase 2 should be called "kind of open," according to Mills. "We have a hard time seeing how any state will meet the gating criteria to then be able to move to Phase 3."
Phase 3, meanwhile, is "wide open," Mills says, "but requires at minimum 42 days to pass from now (three cycles of the 14-day gating criteria) and could take months."
As for employers, the plan "proposes lots of new requirements" to meet before reopening like temperature checks, monitoring the workforce for active symptoms, and contact tracing for employees who test positive — which means "protecting employee privacy will be challenging."
If employers don't abide by the requirements they "likely will face litigation," Mills adds.
A political win
As to what Trump's plan could do for his re-election chances, Greg Valliere, chief U.S. policy strategist at AGF Investments, said in his Friday morning briefing that "Trump has devised a win-win scenario on the coronavirus — if his call to gradually reopen the country is perceived as successful, with falling death rates, he will get credit as the economy and the markets improve."
However, if "the reopening is rocky, with new clusters of infection and public frustration over restrictions, [Trump] can blame the governors, who now will call the shots…. Or he can blame the WHO, the media or Democrats. He's got cover — no one plays the blame game like him."
READ MORE: