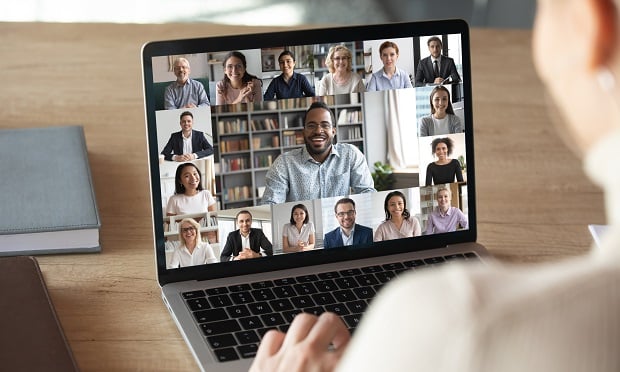 The coronavirus pandemic has dramatically and potentially permanently altered how companies recruit, hire and manage employees. Entire corporate offices suddenly shifted to kitchen tables and bedroom desks, and employees at all levels within companies had to quickly learn new tools, recruitment strategies and management practices.
But for all the ways bosses and workers might be rising to the challenge–embracing flexibility and adaptation–how are these pandemic-induced changes sustainable for the foreseeable future? And how do HR teams need to alter how they find and welcome new hires in ways that align with long term strategy?
Make technology work for you
In Q1 of this year, app usage was up 20%–and that number will likely grow as the impacts of the coronavirus continue keeping employees at home and relying on tech platforms to stay connected. As more and more companies have implemented work-from-home policies, the limits of video and phone call programs have been tested.
Related: Most popular and fastest-growing workplace apps
Tools like Zoom, Skype, Slack, Microsoft Teams and others are imperative to productivity and connection–but they are not created equal. Each one has unique features, and if your team has been fully remote the past few weeks, you likely have a good sense of ideal workflows. Investing in the right technology will make interviews, onboarding and management easier. Candidate experience is still crucial in this time, and instead of a shiny and modern office to welcome interviewees, you must rely on ease of use and functionality of platforms.
Plus, eventually, the economy will rebound and you'll need to resume hiring, build up a staff or continue sourcing candidates. The platforms you invest in now can help keep your leads warm or prepare a talent pipeline, whether it's a full single sign-on suite or as simple as automatic email rules to keep communication moving.
Consider employee workflows, project management, candidate sourcing and job interviews when choosing and implementing technology.
Adapt to and initiate policies to support employees and your HR team
Remote work can be beneficial for workers and companies, and pre-coronavirus, there was a major trend in favor of more flexible schedules. Organizations started realizing that recruiting might be easier when tapping talent from regions outside of their location, and employees prioritize work-life balance and avoiding long, stressful commutes. As the pandemic forced teams to stay inside and businesses to implement work from home policies, many were likely already interested in making the switch.
But as the impacts of pandemic continue to unfold, and teams are adjusting to this new way of life, more HR managers are thinking long-term about benefits and policies to support this environment.
Consider how performance reviews can be conducted or how company-wide announcements can be made. You still likely need official communications and your policies and practices should align with standards for physical meetings. Think about how you can help employees establish their working hours to prevent longer days and interrupted dinners, and equip your HR team to implement and support a culture of respect. The beauty of remote work is that employees can work during times that might better support natural habits, like morning versus evening. Your company might formalize standard working hours, say, during a 12-hour period, and employees can work with their manager on what works best for their schedule.
Help your staff prepare
It's important to make candidates feel just as welcome as you would for an in-person meeting. In addition to interviewers having informed questions for candidates, your team needs to be prepared to use the platforms needed for the call or video and trained to understand the intricacies of hiring at a distance.
Candidates will know if your employees aren't used to or familiar with the tools they're using. Just as you want an experienced, upbeat and welcoming tour guide of your physical office space, you need your workers to be comfortable and confident with their tools. This translates to candidates feeling more relaxed and makes it clear that your company sets up employees for success.
Company reps should be informed and educated – just like every standard interview – and do test runs of the technology prior to the interview. Pay special attention to a candidate's body language, vocal inflection and other non-verbal cues, in addition to what they're saying. These will be key indicators of who they are, without the immediate assessment that a physical interaction provides. Staying observant is key to minimizing any confusion or negative hiring outcomes.
Invest in culture
Whether your team suddenly shifted from fulltime office jobs to work-from-home, or you're scaling up and mass-hiring to meet rising demands related to the pandemic, you need to connect employees to company culture.
Employer brand and culture will be reflected in policies and interview practices, but once these workers are on the job and performing daily duties, your team should be communicating effectively and staying connected.
From consistent check-in meetings to an internal social network, there are many ways to unite dispersed teams. Utilize Slack or Teams channels as resource groups; for example, one could be for employees who are managing work with kids at home. Create an internal social network to encourage team members to share regular life – from pets and kids to their afternoon coffee, volunteer work or big wins. Establish communication channels that exist outside of a traditional work-stream where employees can engage with coworkers in a passive, lighthearted and positive way. This strategy will maintain productivity and encourage collaboration during this ever-shifting work environment, while benefiting your employer brand in the long run.
The hiring and managing landscape has changed for good. Most of the practices needed to engage employees, maintain productivity and build an employer brand are likely what companies should have been doing all along: frequent and proactive communication; supportive approaches to completing work; and flexibility in allowing employees to be human.
Accomplishing these during the midst of an international pandemic will move your team forward, potentially for the long haul.
Liz Cannata is senior manager of HR operations at CareerBuilder, a global talent acquisition software company. In her role, Liz oversees HR technology and various HR programs. Liz specializes in using data and analytics to influence and implement strategic business decisions for the company.
Read more: