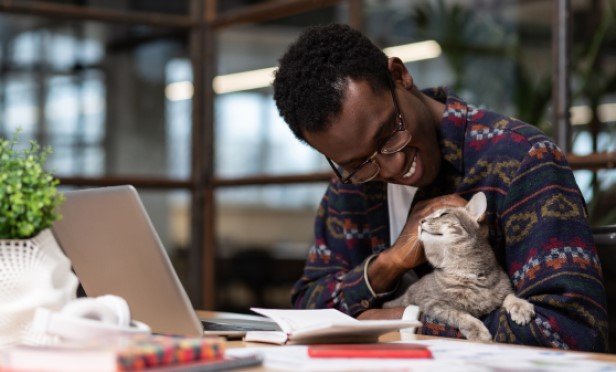 Sick, struggling, and burned out. Many employees arrive at work in a state that isn't aligned with productivity, and employers — and morale — are taking a hit. Research shows the cost of presenteeism is up to 10 times higher than absenteeism, fueled by the downstream effects of employees being at work when not at their best.
Presenteeism crucially differs from absenteeism: An employee may be physically at work but not fully present or productive, creating additional challenges for organizations.
"Presenteeism is a challenge for many reasons, such as employees spreading illness, lowered morale and a decrease in overall quality of work performed," says David Hurley, director of sales of voluntary benefits and member specialty groups at Nationwide. "And the issue isn't isolated to certain industries, it's a widespread problem."
To address this issue, forward-thinking companies are leveraging pet insurance to counter the negative aspects of presenteeism while supporting employees' well-being, boosting morale and enhancing recruiting efforts.
Why presenteeism and productivity are a costly combination
Various challenges, from physical illness to mental health challenges to situational burnout fuel presenteeism. And with 60% of employees admitting they've attended work while sick, it's a relatively common problem.
The cost of presenteeism is 10-fold that of absenteeism, but it's also worth noting that it's closely related to employee engagement. And the price of disengaged employees is high, estimated at 18% of a worker's annual salary.
"Presenteeism can impact employee morale and job satisfaction and ultimately result in people leaving their jobs," says Hurley. Offering pet insurance is a creative solution to improving employee engagement, presenteeism, and retention.
Supporting the human-pet bond to reduce presenteeism
Pet owners adore their furry companions, and the health benefits of the human-pet bond are well documented. One study showed that 69% of pet owners reported less stress and anxiety. More employers are recognizing this powerful bond and are offering pet insurance to lower presenteeism rates.
A recent report found the results of providing pet insurance included:
Employees missed less work: 76% of employees reported "rarely missing work due to physical or mental health well-being and recuperation" when their employer offered pet insurance.
Employees reported less stress: 57% of respondents said the amount of stress in their lives is acceptable, compared to only 44% of employees at companies without pet insurance.
"We've found the simple act of offering pet insurance supports employees in an area of high importance to them," says Hurley. "Pet insurance gives employees peace of mind and spares them the financial stress associated with unexpected vet bills. And for employers, it provides a new tool for addressing presenteeism."
Presenteeism, no doubt, has been a difficult challenge for employers in the past, yet new strategies like pet insurance help to reduce issues associated with presenteeism while giving morale and recruitment a boost.
Nicki Howell is a freelance writer with over a decade of experience writing about benefits, insurance, and technology trends.
Learn more today at PetsVoluntaryBenefits.com • 855-874-4944.
To read more about pet insurance, including how Nationwide can help your organizations, check out additional resources from their Expert Perspectives.