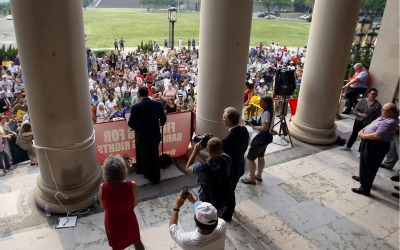 TRENTON, N.J. (AP) — A war of words has erupted in New Jersey over a proposal to require public workers to pay more for health benefits, with the largest public worker union denouncing the plan as dishonest and the Legislature's top Democrat dismissing the unions' position as selfish.
Senate President Stephen Sweeney, the Democrat driving the proposal to raise health and pension benefits contributions for state, county and local workers through legislation, agreed Monday to support a provision to allow the changes to expire after four years. But that seemed to do little to win over reluctant Democrats in the Legislature or change the unions' staunch opposition to what they see as an infringement on collective bargaining.
The bill is scheduled for its first public hearing on Thursday in the Senate. Assembly Speaker Sheila Oliver said Monday she's still hoping to broker a compromise that relieves taxpayers and protects worker rights.
As of now, the bill would get through the Legislature without support from a majority of Democrats in either house.
Hetty Rosenstein, state director of the Communications Workers of America, said the benefits reform legislation being pushed by Sweeney is worse for public employees than advertised because it assumes health care costs won't rise in coming years.
It's "bad numbers that expose his bad policy," Rosenstein said of the proposal, which bases employee cost-sharing for health insurance on income and plan cost, but doesn't take rising health care costs into account.
But Sweeney said the latest pushback from the union proves his point that public workers have been unwilling to share soaring health insurance costs with taxpayers.
"I was very happy CWA pointed out that health care costs will go up 28 percent over the next four years, and they want the taxpayers to pay every bit of it," Sweeney said.
CWA, which has 55,000 state and local members, is in the midst of contract negotiations with Gov. Chris Christie's administration. The union submitted a health care giveback proposal that it says will save taxpayers $200 million.
He said employees will get more health insurance options and some will cost less. The legislation allows for new health plans to be created, and that, in turn, will help control costs, he said.
The proposal calls for workers to pay 3 to 35 percent of their health care premiums, based on income, after a four-year phase in. Public workers now contribute 1.5 percent of their salaries toward health care.
A survey of public and private employers by the nonprofit Kaiser Family Foundation last year found that workers with employer-sponsored health plans on average paid 19 percent of the premium for single coverage and 30 percent for family coverage. Those in retail paid the highest average percentage of the premiums, the survey found, while state and local government workers paid the lowest — on average 9 percent of the premium for single coverage and 25 percent for family.
Under the proposed legislation, which is still being drafted and is subject to change, a worker earning $70,000 a year would pay 22 percent of the total after the phase in. Rosenstein said that same worker would pay $1,100 a year more than the table shows — or $5,277 total — if health care costs rise 6 percent a year. Sweeney said workers could reduce out-of-pocket health care costs by choosing a cheaper family plan.