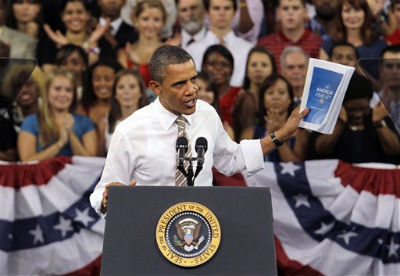 JAMESTOWN, N.C. (AP) — President Barack Obama appealed anew Tuesday for Americans to put pressure on Republican members of Congress to support his jobs legislation, declaring that "we are in this together."
And Obama said he hit the road to take his case directly to the people for a simple reason: "I'm the president." On the second-day of a three-day tour to continue pushing his ideas for creating jobs, Obama acknowledged he's been asked why he is taking time to ride a bus through small-town North Carolina, a traditionally Republican state that he won in 2008 and hopes to win again.
"I'm not the Democratic president or the Republican president," Obama said at a community college in Jamestown, N.C. " … I don't care if you're a Republican or a Democrat because we're all Americans."
Although Republicans blocked his $447 billion jobs plan in the Senate, Obama is continuing an aggressive effort to rally public support for his ideas and to portray Republicans as the ones standing in the way of creating jobs at a time of high unemployment.
"We don't need a Republican jobs act or a Democratic jobs act. We need a jobs act," the president said. "We need to put people back to work right now." He has said that lawmakers will break up the bill and vote on its individual components.
Obama said the ideas in his jobs bill previously have been supported by lawmakers in both parties. "What makes it different this time other than that I proposed it," he asked.
Obama's ride for this trip through winding mountain roads isn't his usual mode of transportation, the modified aircraft known as Air Force Once. Rather, it's a sleek, million-dollar Secret Service-approved bus that's giving the president a chance to sit back, admire the colorful fall foliage and bask in some small-town Southern hospitality.
"Saw the mountains, saw some lakes, saw all the wonderful people in this part of the country," Obama said Monday during a speech in rural Millers Creek.
"Even the folks who don't vote for me are nice," he added.
At the heart of Obama's three-day bus trip through North Carolina and Virginia is the sales pitch for elements of the jobs bill.
But the president is also selling himself, an incumbent running for re-election, trying to re-energize voters whose enthusiasm may have waned. That's particularly important in North Carolina, a state Obama wrested from Republicans in 2008, but which could slip out of his grasp next November.
To try to recapture some of his electoral appeal, Obama turned to campaign staples: barbecue, babies and barrels of candy.
Obama spent more than four hours Monday driving through the Blue Ridge Mountains, which were bright with red and orange fall leaves. He stopped off in Marion, population 8,075, for lunch at Countryside Barbeque. He ordered at the counter — the barbecue platter and sweet tea — then spent more than half an hour shaking hands and having his picture taken with the lunchtime crowd.
The tech-savvy president even helped one woman figure out how to take a photo on her smartphone.
Obama had a close encounter with one baby boy: "I think you got some biscuit on me," he said as he handed the child back to his mother.
And he made personal appeals for his economic policies, telling one table of local businessmen about his call for $50 billion more in new infrastructure spending. He said, "We're going to have to do it eventually, so why not do it now?"
Obama's unscheduled stops aren't wholly impromptu. White House staffers typically scope out areas in advance and Secret Service officers arrive well ahead of the president.
But they're about as spontaneous as it gets for the president, and afford him the freedom of personal, retail politics that's often missing in the highly scripted White House.
Obama's bus, as well as the staff and press vans that followed behind, passed crowds of people lined up on the sidewalks of small towns and residents sitting on lawn chairs in their front yards. A group of schoolchildren gathered outside their classrooms, waving small American flags. A man pulled his car over to the side of the road and saluted as the commander in chief sped by.
One woman held a sign reading "We believe. We voted. Now What?" That message underscored the challenge Obama faces as he seeks to rally his supporters ahead of the 2012 election.
Key to Obama's 2008 success in North Carolina was his campaign's ability to boost voter turnout among young people. And there were plenty of them in Boone, home to Appalachian State University, when Obama stopped Monday at Mast General Store.
The store was filled with barrels of candy, which Obama started grabbing by the handful — to help the White House prepare for Halloween, he said.
"On Halloween, the first lady doesn't mind," Obama said of his health-conscious wife.
Day two of Obama's bus trip was ending in Hampton, Va., with hours of drive time in between to give Obama plenty more chances for unscheduled stops.