The country's obese population is slowly creeping to the 50 percent mark.
By 2030, 42 percent of Americans will be obese – not chubby, hefty or overweight, but obese.
That was the ominous prediction made three weeks ago when the Centers for Disease Control and Prevention declared obesity an epidemic in this country. More than 78 million U.S. adults are obese, and 32 million more are expected to add to the crisis over the next two decades. A problem of this size will add $550 billion in health care spending.
At the workplace level, obesity-related medical claims are eating into health plan costs. According to a 2008 Mayo Foundation for Medical Education and Research, claims linked to obesity account for 2.8 percent of all medical costs for adults ages 19 to 64 years old. Among overweight and obese adults, each one-unit increase in body mass index – a measure of height for weight – yields an additional $119.70 in medical costs and $82.60 in drug costs.
[See also: 5 reasons why the workplace is ideal for wellness]
The CDC's alarming news came right before HBO premiered a four-part documentary series that brings awareness to the problems of obesity and related health conditions. "The Weight of the Nation" is a collaboration between some of the most respected names in the health industry, including the Institute of Medicine, the CDC, the National Institutes of Health, the Michael and Susan Dell Foundation, and Kaiser Permanente.
And because it's a public service – not entertainment – documentary, filmmakers have allowed the entire series to air online and on YouTube, which makes the films embeddable on any website or Facebook page.
The films depict testimonials, stories, facts and statistics, and even offers action items for those seeking help. It also sheds light on how communities, schools, and workplaces can come together to offer an environment conducive to getting healthy.
The workplace, especially, has in recent years been emphasized as one of the biggest influencers on health behavior. Express Scripts, which released a survey on plan management last week, cites wellness programs as now being the most effective measure to control health care costs, according to respondents of its survey. [See Poor health behavior wastes $317 billion]
"I think that the dialogue shouldn't be about obesity per se, it's really about lifestyle choices, healthy eating, active living and making good choices," said Elisa Mendel, vice president of HealthWorks, Kaiser Permanente's work force health program for employer groups.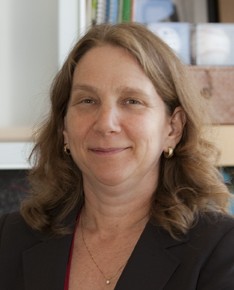 HealthWorks and Kaiser offer resources and programs, both free and for purchase, that can give patients and employers tools they need to promote a healthier lifestyle.
Mendel (right) recently spoke with BenefitsPro about the health programs HealthWorks offers, HBO's new documentary, and the weight of the nation:
BenefitsPro: Is it a challenge for employers to initiate a dialogue about obesity with their employees?
Elisa Mendel: [Lifestyle choices, healthy eating, active living and making good choices] are the conversations to have, not "you're fat what are you going to do about it?" It's got to be more of, "How are we, as an employer, giving you [the employee] the right environment to make those healthy choices?"
(photo: Calvin Rodwell Elementary students Henry Rodesno-Hercules and Khari Salmond-Wilkins swap salad tips with Governor Martin O'Malley during HBO's The Weight of the Nation campaign launch event in Baltimore. Steve Ruark/AP Images for HBO)
Is it socially acceptable to wear your tennis shoes and go on a walking meeting? Are we allowing and encouraging those kinds of things? And, likewise, do we have healthy eating options? Is it the norm in the organization to bring in donuts in the morning or are employers serving pizza as a thank you to the employees?
The conversation has to be more about the culture that you're in and what is acceptable that's encouraging healthy behaviors.
BP: Can employers in fact make a difference not just about obesity, but the lifestyle and health of their employees?
EM: Absolutely, and for a couple reasons. One is, we all spend 2,000-plus hours a year working, and for most people, they interact with their coworkers on a daily basis. There's a lot of data that says the norms of your friends and social network is a great predictor of what your norms are. I've seen this in our own offices, where people decide they're going to start a walking club and do things together, or they're going to do healthy potlucks or they're going to do a 5K together, or maybe the employer has helpful cooking classes.
We all spend 2,000-plus hours a year working, and for most people, they interact with their coworkers on a daily basis. There's a lot of data that says the norms of your friends and social network is a great predictor of what your norms are.
BP: Sometimes when employers think about wellness programs, they're thinking, where's my return on investment? What are some examples of some specific programs or initiatives that you've seen that can really be effective and helpful for employers, especially with their costs?
EM: You need to think of [return on investment] in terms of overall productivity, absenteeism and morale. It needs to be thought of pretty broadly. When an employer comes in and asks [HealthWorks], "If I do program X, what is return Y?", that's a signal that [the program] is probably not going to take, and that's probably not a place to spend our energy. It really is about the larger "surround sound" that is available through the employer.
So it could be through programs that they buy – like a walking program or they give people pedometers or even if they have some kind of rewards or incentives programs. But the data is pretty clear that one thing alone doesn't change folks. It's about the multitude of things, and so it really is about changing the overall culture.
It's like if you think about the "green movement" and what does it take to really change your carbon footprint? To just say, I'm going to use recycled paper – there's nothing wrong with that, but it's insufficient.
There are a lot of employers out there that get it, but you'd be surprised at how many don't.
BP: Now that a huge national campaign has been launched and a fight on obesity is under way, how do you keep the momentum going?
EM: We've been working on building the momentum for quite a while with employers. The first thing is, are they even thinking about the cost that health has on their business? Many employers only think of it in terms of the medical benefits they're paying, and not necessarily as an investment in health that improves productivity and absenteeism. So, we have been engaged and will continue to talk a lot about how the health of your employees affects your bottom line. The first, most important step is that there is that understanding.
There are a lot of employers out there that get it, but you'd be surprised at how many don't.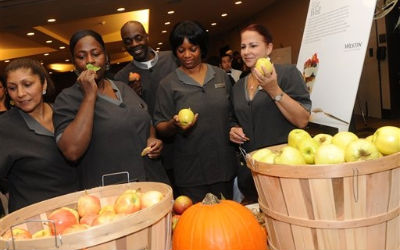 (photo: employees at the Westin Times Square sample a variety of produce brought in for the launch of Westin Hotels & Resorts' new employee Wellness program. Diane Bondareff/AP Images for Westin Hotels & Resorts)
BP: Do you feel like the message/campaign is actually going to change things?
EM: I am optimistic. I think that there is a growing understanding of what the cost of this is, and that this has got to end. One of the things that haunts me from the documentary was when they said this is the first generation of kids that are not going to live as long as their parents.
This goes beyond Kaiser, benefits, employers…this is society. This is not OK. I do believe that people are gathering together. Actually, what Mrs. Obama has been doing has raised a lot of awareness in childhood obesity and what we could be doing. She's really active to get the private sector involved also.
It's the village – it's everyone needs to get involved. I think that this raises awareness and it moves things along in terms of how the public engages and how they think about it. It's a complex social issue and I think that these movements and people like us getting involved just help make the voice stronger.
More articles about wellness:
5 reasons why the workplace is ideal for wellness
7 steps to introducing a wellness program
5 wellness strategies to combat obesity
Diabetes in young people soars