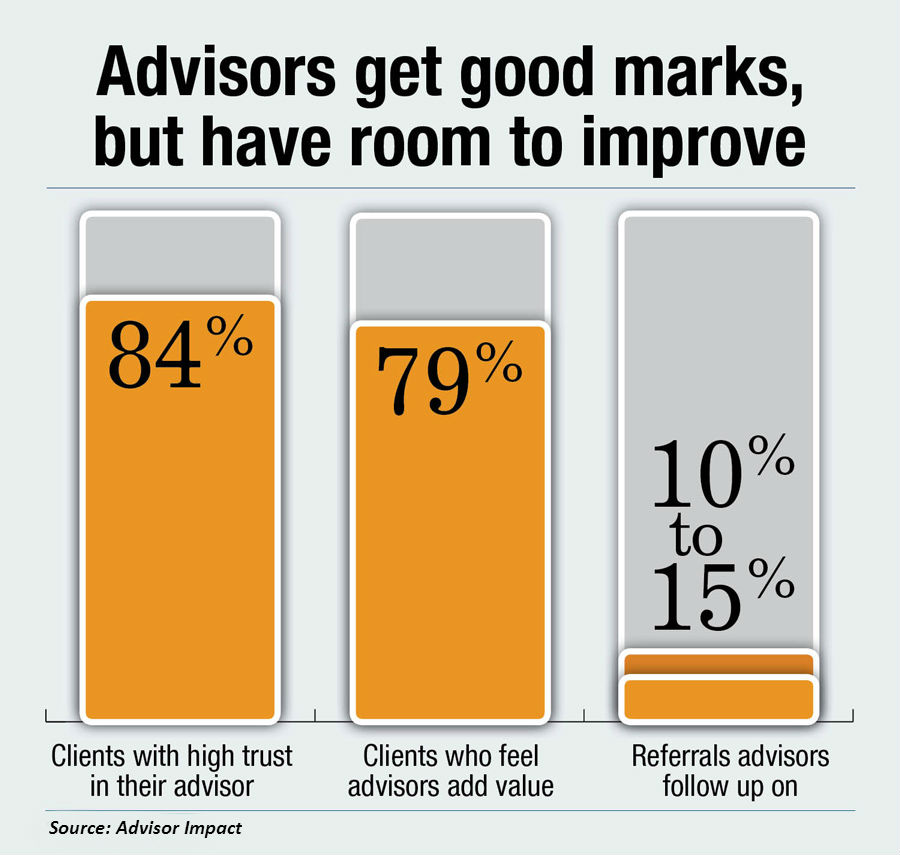 Nearly 90 percent of investors who use a financial advisor say the advice they receive plays an important or critical role in meeting their financial goals, and 84 percent say they have a high or very high level of trust in their advisor.
The data, collected through an annual survey in the U.S., Canada and the United Kingdom by Advisor Impact, a firm that provides customized client feedback programs for financial professionals, and sponsored by Genworth Financial Wealth Management, was compiled into "The Rules of Engagement," an in-depth report on the needs and expectations of investors. More than 1,200 investors across the U.S. participated in the survey.
"We believe that client engagement is the most critical metric for advisors and for the industry because it reflects both the client experience and the potential for growth. Engaged clients are the most satisfied and loyal, they perceive higher value in the role of advice and they will drive almost all referral growth for advisors," said Julie Littlechild, Advisor Impact's CEO.
The survey also found that 79 percent of clients said they somewhat agree or strongly agree that their advisor adds value over and above market performance, and 66 percent of respondents said they somewhat or strongly agree that their advisor delivers value relative to fees charged.
Despite the positive response to the survey, Littlechild said there is work to be done. Trust in the industry as a whole is low, despite high levels of trust in individual advisors, and advisors only meet with 10 to 15 percent of the referrals that are made to them.
"Our new Client Engagement Index is a simple but powerful reflection of the health of an advisory business and the industry," said Littlechild. "As compared to other measures of success, it is the only one that captures the quality of the client experience and actual referral activity in a single number."
The Index also will track consumer sentiment, the role of advice, key performance indicators for advisors and the impact of engagement with respect to value and trust.
According to the current Advisor Impact study, Client Engagement, which is a composite score reflecting individual levels of satisfaction, loyalty and referral activity, increased 4 percent from 24 percent in 2010 to 28 percent in 2012.