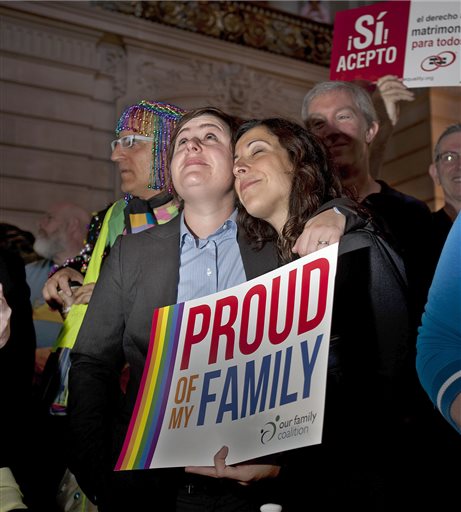 The Supreme Court decision to strike down key provisions of the Defense of Marriage Act opens the doors to more than 1,000 federal benefits to same-sex married couples.
Among others, the Americans with Disabilities Act, Family and Medical Leave Act and Employee Retirement Income Security Act all could be affected by the DOMA ruling.
Gay couples living in one of the 12 states, plus the District of Columbia, where same-sex marriage is legal should expect to see a bit of a windfall from Uncle Sam.
That's because how employee health benefits are taxed will change as a consequence of the court's decision.
Bruce Elliott, manager of compensation and benefits at the Society for Human Resources Management, said the DOMA ruling Wednesday means tax-free health benefits for employees' domestic partners, a perk already granted heterosexual married couples.
"Pre-DOMA (decision), the employer-paid portion of partners' benefits were fully taxable," he said. "Now, as with any spouse, they will not be subject to tax on a federal level. State taxation will depend on where they reside."
If, for example, an employer subsidized $10,000 of an employee's medical insurance, and the partner's portion was half that, the employee before the court's decision would be liable for federal taxes on his or her partner's $5,000 portion. Today, they would not be taxed by the IRS.
While this might lessen health care costs for employees in same-sex relationships, the situation is less clear for employers.
Elliott said it's that unlikely employer benefit costs will skyrocket, though adding new employee spouses to benefit pools could raise or lower firms' insurance costs, depending on the health of those partners.
Elliott said those tasked with running payroll should have it a bit easier, because they no longer need to calculate how much was paid out in partner benefits for purposes of taxation.
Beyond taxation issues, Todd Solomon, an employee benefits attorney with the Chicago office of McDermott Will & Emery LLP, said that in states where same-sex marriage is legal, employers with self-insured welfare plans might not have to extend spousal benefit coverage to same-sex spouses. On the other hand, those who continue to provide benefit coverage only to heterosexual couples could face federal discrimination lawsuits.
Solomon said employers that provide pension plans will be required to recognize same-sex spouses for the purposes of determining surviving spouse annuities. Organizations that provide 401(k) plans will have to recognize same-sex spouses for the purposes of determining death benefits.
He said businesses also will have to offer COBRA continuation coverage to same-sex spouses, as well as enable them to take family, medical and military leave.
Retroactive benefits might also be possible in post-DOMA decision in states where gay marriage is legal, Solomon said, with employees walking into the office today seeking to amend tax returns and claim refunds.
He added employers also should be eligible for FICA tax refunds for prior open years.
There are many other benefits at stake for same-sex couples, but Elliott and others caution HR managers to adopt a wait-and-see approach.
President Obama has created a working group to determine how federal agencies can best begin to comply with the Supreme Court ruling on DOMA.
The IRS, Social Security Administration and Department of Justice also are expected to weigh in with guidelines.
"I think employers will begin getting questions, and they should try their best to answer them with the information they have," Elliott said. "But we're not dealing in black and white yet. It's mostly shades of gray, and we're not through with litigation on this issue by a longshot. The Supreme Court was pretty clear that this decision is limited to those who already are legally married."
Just 12 states allow same-sex marriages.
Solomon, author of "Domestic Partner Benefits: An Employer's Guide," agreed, saying: "We still don't know what happens to same-sex spouses who live in states that don't recognize same-sex marriages, such as Florida or Texas. We can't really answer that question, until additional guidance is issued."