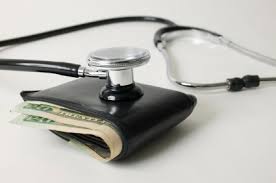 Employees who reach the age of 50 can finally begin to see the light at the end of the health care premium tunnel. Those who hit 60 while on the job actually experience some relief.
These and others findings can be found in the 2013 ADP Annual Health Benefits Report, which draws upon responses from employees at 175 companies, who were questioned about a wide range of health care cost metrics. The study focused solely on full-time employees with companies where both employees and the employers contributed to the health plan premium.
The premium-by-age data showed that workers between the ages of 40 and 49 shouldered a much greater burden of coverage than any other group. ADP speculated that this age bracket has more dependents who have coverage up to the age of 26 than those in other categories, thus accounting for the big jump from the 30-39-year-old bracket. Here's the breakdown by age and average premium paid:
Younger than 30, $576
30-39, $817
40-49, $949
50-59, $891
60+, $804
Premiums are rising, of course, we all know that. The average cost of premiums has increased by $100 since 2010, from $731 to $832.
The increases certainly aren't as bad today as three years ago.
"Across all industries and demographic groups, the average monthly premium rose 13.9 percent between 2010 and 2013," the report said. "The largest percentage increase was between 2010 and 2011, when premiums spiked 7.6 percent. In the last year, they rose 3.1 percent." And, as some might recall, premiums rose just 2.6 percent in the 2011-2012 period.
Viewed through a state-by-state lens, with both the total premium cost and the increase in cost considered, New Jersey clocked as the state with the highest average premium, at $968, though it also reported one of the lowest premium increases. In the high-and-getting-higher bracket fell New York, Wisconsin, Maine, Michigan and Texas.
At the other end of the spectrum, Colorado reported the lowest average premium at $733, and also had the lowest percentage increase. The state of Washington was a close second to Colorado.