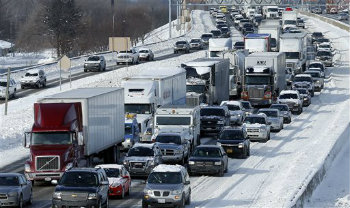 Jan. 9 (Bloomberg) — Detroit, struggling to provide its 700,000 residents with basic services, was sued by retired workers including police and firefighters who are seeking to block the bankrupt city from unilaterally cutting their health- care benefits.
The retirees said the city's decision to reduce funding of vested health-care benefits by 83 percent, starting in March, will force retirees to spend money out of pocket to replace the coverage, according to a filing today by representatives of the workers in federal bankruptcy court in Detroit.
Some of the retirees live near the poverty line, while others are older and incapable of returning to work or were injured in the line of duty, according to the filing. The retirees seeks to block the city from dropping its state and federal "contractual obligation" to provide them with health- care benefits, according to the filing.
"The city's decision to walk away from its retirees, all of whom devoted large portions of their gainful years working on its behalf, is unconscionable," according to the filing. "Given that many retirees rely on these benefits for life- sustaining medical care, the potential for loss of life and significant injury is great."
Detroit filed for bankruptcy in July, listing about $18 billion in debt and saying it couldn't meet obligations to creditors and still provide essential city services. Some of Detroit's 23,000 retirees collect pensions that exceed $100,000 a year. The average for general city retirees is about $19,000 annually. The average pension for police and fire retirees is about $30,000 a year.
U.S. Bankruptcy Judge Steven Rhodes ruled Dec. 3 that the city properly sought bankruptcy protection on July 18 and rejected arguments by unions and retiree groups that pension cuts are barred by Michigan's constitution.
Bruce Bennett, a lawyer representing the city of Detroit, didn't immediately respond after regular business hours to a phone call seeking comment on today's filing.
Kevyn Orr, Detroit's emergency financial manager, is named as a defendant in today's complaint.
The bankruptcy case is In re City of Detroit, 13-bk-53846, U.S. Bankruptcy Court, Eastern District of Michigan (Detroit).
With assistance from Steven Church in Wilmington, Delaware.