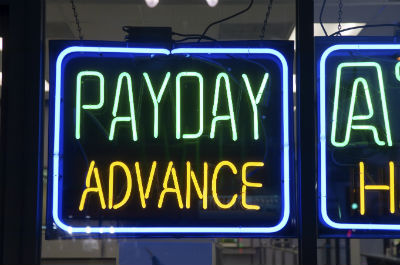 Payday lenders prey on low-wage workers who live paycheck to paycheck, charging exorbitant rates for financial quick-fixes.
Although that perception is prevalent among many employers, it's far from the complete picture. No one is immune from financial stress that can create problems for businesses and employees alike.
"We encounter financial distress at all levels of pay grade, with larger debt problems typically with manager-level, six-figure-salary employees," says Adam Potter, president of SimpleFi in Palo Alto, California. His company offers alternative solutions to payday loans.
Employees turn to quick solutions for any number of reasons. Many who built two-income lifestyles when times were good suddenly had to live on one income or one full-time and one-part time job during the recession. Others had to make tough decisions that hurt their credit ratings. Consumers often rely on payday loans because they have either been turned down for other forms of credit or offered less than what they applied for, according to a study by the Credit Research Center at Georgetown University's McDonough School of Business.
Being a click away from ready cash can be tempting.
"Internet payday loans are dangerous for cash-strapped consumers," said Jean Ann Fox, director of consumer protection for the Consumer Federations of America. "They combine the high costs and collection risks of check-based payday loans with security risks of sending bank account numbers and Social Security numbers over web links to unknown lenders."
Paying the price
They also carry a steep price.
"Internet payday loans cost up to $30 per $100 borrowed and must be repaid or refinanced by the borrower's next payday," Fox says. "If payday is in two weeks, a $500 loan costs $150, and $650 will be electronically withdrawn from the borrower's checking account."
The costs to employers are less obvious but just as real.
"Reduced productivity and absence in the workplace are some of the hidden cost to employers when employees engage with payday loan lenders," Potter says. "Employees under financial distress are distracted and vulnerable to missing work to deal with financial burdens. These absences and other health impacts of stress cost employers more than $400 annually per employee."
Short-term stresses also can lead to poor long-term decisions.
"Employees have come to me wanting to borrow from their 401(k) or are looking at other options where the interest rates are horrible," said Jasmine McHenry, human resources generalist for PEMKO in Ventura, California. PEMKO, which also has a facility in Memphis, Tennessee, manufactures architectural hardware.
"They've been forced to go to these places because they couldn't find the right loan vehicle elsewhere," she says. "But just because you don't have a good credit score or haven't built up credit doesn't necessarily mean you're a credit risk."
Employer-based alternative
So what if employees could receive the financial help they need at work—without risk to their employer? That's the concept behind SimpleFi, which Potter founded with Dino Setiawan, a fellow graduate of Stanford Business School.
"SimpleFi provides the opportunity for employers to address the financial service needs of their employees while delivering highly accessible financial assistance and low-cost financial empowerment resources, including management tools, credit-building and personalized advice and guidance," Potter says.
SimpleFi is available for $30 per employee per year. The plan includes personal financial counseling.
"We take responsible lending seriously," Potter says. "Our approval process is specifically designed to ensure our borrowers are using SimpleFi funds to help get themselves out of problem debts. We have access to significant data, including an applicant's credit report, bank statements and personal interviews.
"We reject any applicant with cash-flow patterns indicating gambling or addiction if they're not willing to address it with professional rehabilitation."
PEMKO began working with SimpleFi after Fox met Potter at an HR conference a year ago. She believes it's been a win-win benefit for the company and its employees — none of whom have failed to repay their loans.
"It's benefited employees by not having to take money out of their retirement funds," she said. "It also removes the desperation of having to work extra hours or find a part-time job if there is a financial need. It takes off that weight."
Removing the stigma
She's also found that employees are more willing to share their concerns with a third party than with their employer.
"Many people's eyes glaze over when you hold financial education classes and start talking about credit or banking," McHenry says. "It's difficult to find a successful one-size-fits-all approach. It's much more effective when someone can visit with them one on one, clearly assess their situation and help them form a plan."
Potter agrees.
"Employees who are experiencing financial distress are often not likely to discuss financial matters with their employer or HR department for fear of embarrassment," he says.
"Employees are not under any obligation to ask their employer for access to funds, as all financial conversations are handled through SimpleFi. The program provides a certain level of anonymity for employees and is an added benefit for the employee."
Open communication has contributed to the success of the program at PEMKO. "Let employees know that if they have financial problems, this is an option," McHenry says. "Make it a visible option, be patient with the process and respect employees' confidentiality and privacy."
Many HR professionals are making physical wellness programs a top priority. Doing the same for financial health can give them another edge in recruitment, retention and productivity.
"SimpleFi was founded under the belief that everyone deserves the opportunity to pull themselves out of financial difficulties using fair and sustainable solutions," Potter says.