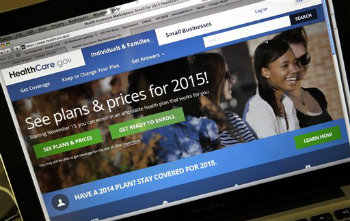 Forget a modest 3 percent or 4 percent premium increase. Avalere Health finds that the most popular exchange plans — silver — in 2014 increased premiums by 10 percent on average in 2015.
In analysis out Thursday, the health consulting firm said 28 percent of all exchange enrollees selected the lowest-cost silver plan available.
The analysis comes shortly after government data found that people buying PPACA plans for 2015 can expect to pay about 3 percent more on average for the cheapest coverage. That same data also projected a 4 percent increase for silver plans from a year before.
Those who choose to automatically be enrolled in their previous plans without shopping around could face even higher increases, Avalere Health said, while underscoring the importance of shopping around.
"This is a competitive market dynamic and many plans that priced attractively last year are playing catch up for 2015," said Dan Mendelson, CEO at Avalere Health. "Consumers who care about costs need to shop."
Read: What to know about PPACA's second enrollment period
Avalere warned that the complicated nature of how subsidies are calculated may confuse consumers. When consumers' tax credit subsidies aren't updated to reflect the new benchmark, they're not presented with new, lower-cost premium options.
"Federal premium subsidies are tied to the second-lowest-cost silver plan (benchmark plan) in a given region," Avalere said in its report. "Subsidized exchange enrollees who are enrolled in a more expensive plan must pay the difference — dollar for dollar — between the benchmark plan premium and their selection."
In analysis last week, Avalere found that the benchmark plan will remain the same in only 13 percent of regions served by the federal exchange in 2015.
The administration announced this summer PPACA's new auto-enrollment feature. Avalere researchers said they expect most consumers to simply let their plans to auto-renew, though it will hurt their wallets.
"Consumers who return to HealthCare.gov to shop will find lower-cost alternatives available," said Elizabeth Carpenter, director at Avalere Health, in a statement. "However, based on experience from other markets, we expect that many people will not return to the exchange website and will remain in the same plan."