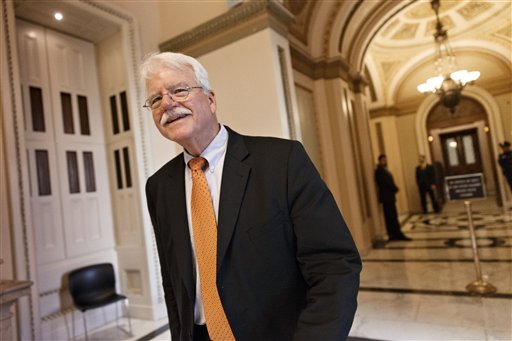 Congress will vote Thursday on a $1.1 trillion spending plan that includes a provision to help out the Pension Benefit Guaranty Corp. by letting financially ailing multiemployer pension plans cut retiree benefits for the first time in 40 years.
Opponents to the provision were trying to get additional House members to oppose the last-minute 161-page bill, which was attached to the massive spending plan during a lame-duck session of Congress.
The current Congress was scheduled to adjourn Thursday, and the spending bill must be approved in order to keep the government running. There is a possibility that Congress could pass a continuing resolution which would keep the government open until the end of the week, which would give legislators more time for legislative proposals.
Also read:
Benefit clawbacks: Only way to avoid a pension cliff?
PBGC deficit hits record $62 billion
Critics such as the Pension Rights Center charge the provision is short on details and uses complex language. They are particularly opposed to cuts to retiree benefits in troubled multiemployer pensions. Immediate legislative action is not needed, the opponents add, because the pension plans will not run out of money for 10 to 20 years, and only some 150 to 200 of the nation's plans are in trouble. Overall, there are some 1,400 multiemployer plans covering about 10 million workers, according to the center.
"We want these multi-employer provisions … stripped from the [spending] bill," Nancy Hwa, a spokeswoman for the center, said. "They shouldn't have been attached in the first place." Among the unions opposing the plan are the International Association of Machinists and The Teamsters.
However, supporters say it is desperately needed. They explain the provision comes as a result of a bipartisan effort supported by House Education and the Workforce Committee Chairman John Kline, a Minnesota Republican, and George Miller, a ranking California Democrat, and it is backed by business groups, retirement fund managers and some labor unions.
"Today, leaders from both parties came together under very difficult circumstances and stood up for the employers, workers and retirees who count on multiemployer pensions," Randy G. DeFrehn, executive director of the National Coordinating Committee for Multiemployer Plans, said in a statement.
While opponents charge the process has been undemocratic and negotiated behind closed doors, DeFrehn said there was three years of hearings and negotiations involving labor unions and employers.
He also said the provision will help actually help protect retirees from potentially deeper cuts to their benefits. "Impacted workers will have more to live on in retirement because the insolvency of their pensions can now be avoided," he said. "This bipartisan agreement gives pension trustees the tools they need to maintain plan solvency, preserves benefits for the long haul, and protects the 10.5 million multiemployer participants. With time running out on the retirement security of millions of Americans, moving this bipartisan proposal forward now is not only timely, but necessary."
The National Coordinating Committee for Multiemployer Plan's "Solutions, Not Bailouts" recommendations' were a "foundation" for the multiemployer pension proposal, congressional staff said.
Several safeguards were inserted in the congressional proposal including one that allows trustees to cut retiree benefits only after a vote by workers and retirees. A majority of participants would have to approve any cuts.
In addition, there are protections for retirees who are 75 or older or are disabled. Also, the PBGC can facilitate the merger of two or more multiemployer plans if they are in critical shape. Another limitation is that a participant's or beneficiary's monthly benefit from the plan cannot be reduced below 110 percent of the PBGC's guarantee level. And participants and beneficiaries who are 80 and older as of suspension will be exempt.
"This may mean some benefit cuts, but it may mean a plan will last another decade or even longer," Miller has said. "We have a plan that first and foremost works for the members of the unions, the workers … and it works for the companies."
The Employee Retirement Income Security Act has kept retiree benefits from being cut since its enactment in 1974.
"This is not a perfect solution … but it is a good solution," Kline said in testimony Wednesday before the Rules Committee. "Further delay will make this harder not easier."
Similarly, Miller said the amendment is the "only available option to save these failing plans."
He added that the proposals in the amendment are "not a new idea" but "I think it's time has come."
Also read: Can this government bailout be avoided?