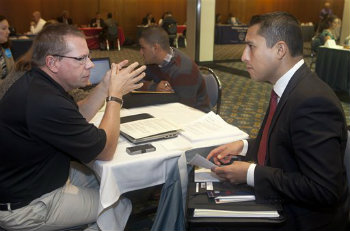 Retaining and recruiting top quality employees continues to bedevil American businesses. Apart from growing their businesses and turning a profit, more than half of small to mid-sized companies surveyed by TAG Employer Services cited finding and keeping top performers as their greatest challenge in the year ahead.
However, while the survey revealed the importance placed on recruitment and retention by the 400-plus executives of these mid-tier employers, two other challenges loomed large: cost control and reduction, and compliance with government regulations. Unlike major corporations, these smaller players don't have the staff firepower to address compliance and cost management, and the survey highlighted their concerns in these areas.
Here's how the chips fell when respondents were asked to rank their most pressing challenges in the year ahead:
Business growth and profit: 77 percent
Employee recruitment and retention: 54 percent
Cost control and reduction: 50 percent
Complying with government regulation: 39 percent
Building the next level of management: 31 percent
Management succession: 23 percent
Customer retention: 17 percent
"Loss of key employees, a concern for any organization, is especially troubling for companies with fewer than 200 employees," said Joe Johnson, chief operating officer for TAG, which provides administrative services to its clients. "When a skilled worker departs it is really felt by mid-market employers. They've got to scramble to find a new person with just the right mix of competencies."
Johnson noted that these mid-tier firms pay dearly for poor hiring decisions or the loss of a leader.
"They have a lean staff and do their own recruiting, maybe by advertising or word of mouth. Skilled labor is hard to find, and getting the right fit certainly is a challenge. A bad hire can easily cost a smaller employer as much as 40 percent to 50 percent of that hire's base salary," he said.