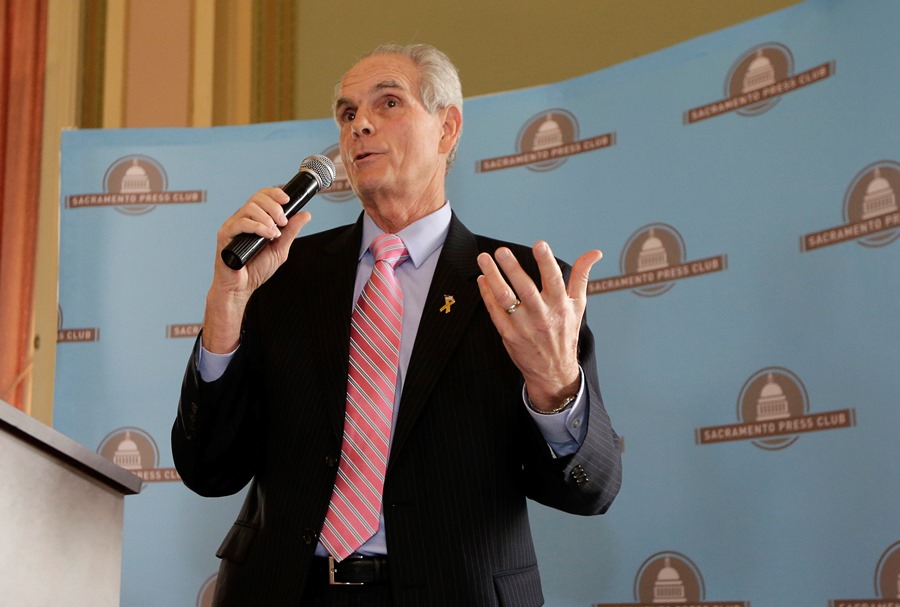 Today, a bipartisan coalition in California has filed the Voter Empowerment Act of 2016 with the Secretary of State, which seeks to amend the state's constitution by referendum and give voters in local elections final say in government employees' pension benefits.
Spearheaded by former Democratic San Jose Mayor Chuck Reed, who led an ongoing battle to reform that city's pension system, and former Republican San Diego city councilman Carl DeMaio, the measure would require local governments put to referendum any increases in defined benefits to existing government employees.
It would also require voter approval for defined benefit pension plans to be offered to new hires.
READ: 10 worst states for public employees' pensions
And it would limit governments' annual contributions for pension plans at 50 percent of the required amount, unless voters authorized a higher contribution rate.
California state law has been "impeding common sense solutions in our local communities," said DeMaio in a news conference announcing the filing of the initiative.
Politicians at the local and state level have propped up unsustainable pension systems throughout the state, caving to the power and political influence of government employee unions, he added.
READ: Illinois bid to solve historic pension shortfall dies
In California, public employee pension debt grew from $6.3 billion in 2003 to $198 billion in 2013.
DeMaio noted that CalPERS has said local and state pension plans will require 50 percent increases in annual contributions over the next five years, and CalSTRS will require 100 percent increases.
"It's very clear politicians have failed," said DeMaio. "This has had the impact of creating a government that costs us more and delivers less."
The State's Attorney General will be responsible for crafting the title and summary of the provision voters will see on the ballot in the November 2016 election.
Once language for the referendum has been crafted, the coalition will have six months to collect 560,000 signatures for the measure to be put to voters.
DeMaio said he expects little trouble getting the signatures, and that ultimately voters across party lines would support the initiative. Polling shows two-thirds of Californians support putting pension benefit increases up to a vote at the local level, he said.
Unless voters approved extending defined benefits to new hires, they would be enrolled in a defined contribution plan. A government employer would not be required to get voter approval to enroll new hires in defined contribution plans.
Both former elected officials emphasized that the measure would not affect existing retirement benefits to existing employees or retirees. If voters pass the amendment to the constitution, the restrictions on new government hires would begin Jan1, 2019.
Language in the amendment would require local governments to implement voter-approved changes to pension plans, according to language in the act.
That provision was in part influenced by efforts in Ventura Country in 2014.
The Ventura County Taxpayers Association crated pension reform that would have moved some of that county's employees to a defined contribution system.
Shortly after the measure was approved to appear on the November 2014 ballot, a local judge ruled the measure was illegal, and had it removed from the ballot.
DeMaio said the measure ultimately will cut the "Gordian knot we have seen in courts that prohibits common sense pension reforms."
In San Jose, former Mayor Chuck Reed's effort to bring pension reform to voters was hampered by an inaccurate title and summary of the provision voters were to vote on last year, he said.
Also, a decision at the district court level said the provision was illegal. Efforts to appeal that decision were too late, and the measure ultimately was left off of last year's ballot.
But this time Reed is "cautiously optimistic," he said, as the process for getting the Voter Empowerment Act of 2016 on next year's ballot has begun early enough to survive legal challenges.
Other members of the coalition behind the proposed amendment are former San Bernardino Mayor Pat Morris, former Vallejo Vice Mayor Stephanie Gomes and current Pacific Grove Mayor Bill Kampe, all Democrats.
Anaheim Mayor Tom Tait, a Republican, is also formally a part of the coalition.