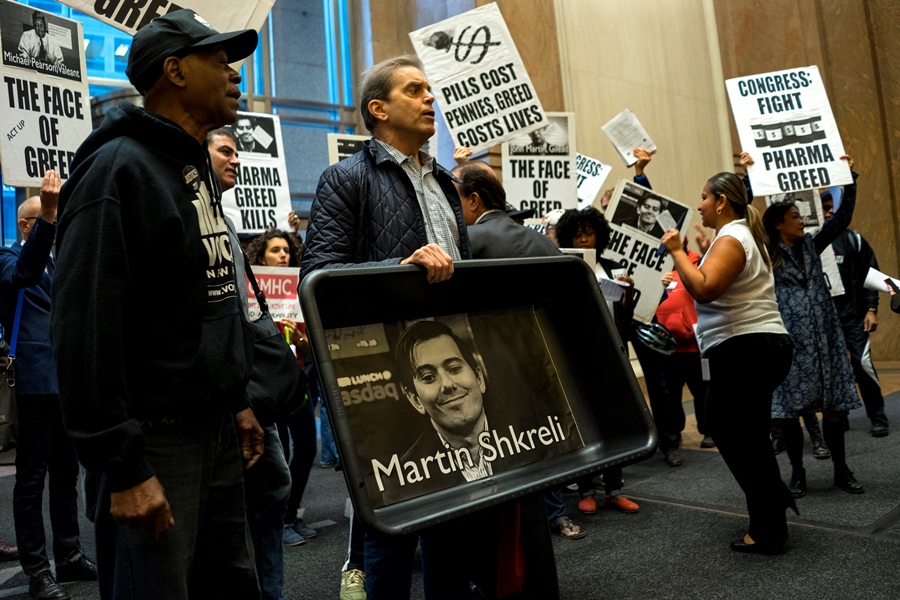 (Bloomberg) — Turing Pharmaceuticals was warned by New York's attorney general that the distribution network for a rarely used cancer drug, whose 55-fold overnight price hike drew widespread criticism, may violate antitrust laws.
State officials made their concerns known to Turing and Chief Executive Officer Martin Shkreli in an Oct. 12 letter obtained by Bloomberg.
Turing's decision to raise the price of the decades-old medicine, which it acquired in August, brought a storm of criticism, including from Democratic presidential candidate Hillary Clinton, whose subsequent vow to reform the drug industry sent the biotech sector plummeting.
After acquiring the anti-parasitic drug Daraprim, New York-based Turing implemented the price increase.
The treatment, the only federally approved drug for a condition that can arise in patients with weakened immune systems, such as those with aids or cancer, was raised from $13.50 to $750 per pill.
Read: CVS accused of overcharging for generic drugs
Lower price
Shkreli initially defended the move, saying it was a bargain even at the higher price, since it can save a patient's life within a limited amount of time. He later said he would lower the cost, without saying by how much.
Shkreli and another representative for Turing didn't immediately respond to e-mails requesting comment on the letter from the attorney general's office. The New York Times reported the letter earlier.
Read: Worry over who gets $15,000 drug
In the letter, the antitrust bureau chief for New York Attorney General Eric Schneiderman asked Shkreli to contact the office "immediately" to respond to concerns that the company's sales practices were intended to deter generic pharmaceutical firms from creating alternatives to the drug.
"We understand that Turing is not permitting Daraprim to be sold in retail pharmacies, but rather is distributing it only through a small number of specialty pharmacies," said Eric Stock, the bureau chief, in the letter.
Inhibit competition
The move may inhibit competition by preventing generic drug-makers from obtaining access to samples, Stock said. Without samples, other drugmakers would be unable to conduct studies needed to win regulatory approval for generic versions, he said.
"Turing's actions may be restraining competition unlawfully, and have the potential to greatly impede access to a drug that is critical for the public health," Stock said.
Shkreli, 32, is under investigation by federal prosecutors in Brooklyn, New York, in an unrelated matter.
The office is looking into potential securities law violations while he was at Retrophin Inc., another biotechnology firm he founded.
In an interview in January, Shkreli said he was unaware of the criminal probe and denied wrongdoing. Retrophin later disclosed the investigation and sued Shkreli for $65 million, claiming he breached his duty of loyalty to the biopharmaceutical company in a long-running dispute over his use of company funds.
Before Shkreli started Turing, Retrophin implemented a similarly large price increase for another older drug, Thiola. The drug, used to treat a painful condition that causes repeated kidney stones, went from $1.50 a pill to more than $30, Benjamin Davies, a Pittsburgh-based surgeon, wrote last year in TheStreet.com.