At first, it seemed the only connection the chief marketing officer for the National Football League had to her audience of retirement industry professionals was that most of them, by a show of hands, watch football.
But Dawn Hudson's point in speaking at the Insured Retirement Institute's annual meeting was this: You have to transition generations to your product just as the NFL does.
Related: Becoming the competitor you fear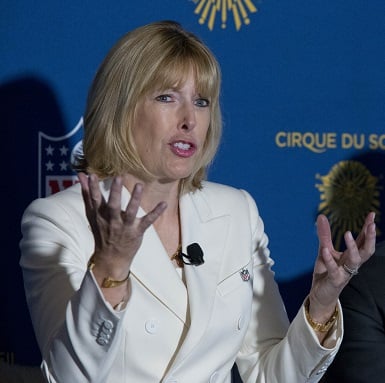 "We think there's a real opportunity for millennials" for the NFL to pass the love of football on, the NFL's CMO said.
But that doesn't mean she's sitting on the couch waiting for a Hail-Mary pass. "We are marketing the strength of what we do, and having fun." Here are five things I took from her talk:
1. Realize your industry's hidden strengths.
As social media and all forms of entertainment have exploded and created diversified audiences, the NFL realized it had an advantage over other media events: Community.
"The NFL is the only thing that's most watched live. It's a community event, you have friends or family over and watch together."
Hence the "Football is Family" campaign. (Which is not without its detractors — try Googling that campaign and Bob Kostas, or Drew Magary, for a different take).
What about the retirement industry? "You are viewed as people who protect their future," she said.
And reframe that boring idea of saving for retirement – "It's preparing for new experiences. It's being sure you will be able to afford new experiences."
Related: 6 ideas for customizing personal reviews
2. Be open to different ways of looking at things.
Just as Hudson was about to join the NFL as CMO, the Ray Rice domestic violence video came out. Her friends and family questioned whether she should be considering a move to the NFL at that time. But she saw opportunity for improvement in the midst of what was a public relations disaster. "Organizations change under pressure," she said, about her decision to accept the position.
The video was horrible, she said. "But when we did a statistical analysis, we saw that the incidence among NFL players was half of the general population." Instead of arguing about domestic violence, "we focus on stories."
This started with reframing the domestic violence conversation from "NFL players are doing this," to "NFL players are trying to do something about this." It was important, she stressed, not for the League to have all the answers.
The idea was to let individual players speak and in that way remind the public that not all NFL players have domestic abuse issues. She showed examples of clips from NFL ads showing concerned players warning against domestic violence.
3. Connect to your audience and keep your brand top of mind through philanthropy.
Millennials especially, value philanthropy, she said, showing a spot about DeAngelo Williams, who wears pink at every game, not just the official Breast Cancer Awareness weekends, in honor of his mother who died from breast cancer.
And this year, she said, the NFL is focusing on the fact that millions of women don't go out and get mammograms, saying they lack the time to do so. "So we're doing a spot where an NFL player goes out and does their job while they go get a mammogram."
They're also focusing more on individual players' foundations and philanthropy. "We're in a world where people don't want to hear the NFL say 'hey look at us, here's what we're doing.' Younger fans especially want to know what individual players are doing."
4. Tailor communications to your audiences or clients and don't assume they're all the same.
"We use data, try something, see how they react, try something else." Millennials, especially, she said, "can't sit still. They get bored easily."
Related: 14 recognizable retirement brands
Millennials are "the 2-screen generation," meaning they can't just watch a football game on TV — they have to be tweeting or texting at the same time.
And what about their younger brothers and sisters — Gen Z? "They're the 5-screen generation" with tablet, phone, TV, gaming console, and more. (I couldn't figure out what the fifth screen was — maybe another TV.)
But you can't just repeat the content across platforms — it has to be different on each one. "We're looking at how to segment very finely." This cuts across not just age and gender, of course, but level of interest and type of interest. A casual fan has different viewing needs from, say, a fantasy football fan.
5. Be transparent.
"Transparency really matters in the digital age," she said. Accepted wisdom about millennials says that this generation in particular values authenticity and honesty. "They mistrust someone who says they have all the answers."
Related: Engage millennials or suffer the consequences
She cited as an example of transparency a time when the online auction site Ebay went down on Black Friday. "They put cameras on their techs, the people trying to fix it, so customers could see what was going on."
Some might argue the NFL was less-than-transparent when faced with concussion research, which, in fact, spawned a movie about the conflict between researchers and the NFL. During Q&A at the end, someone asked how the NFL is dealing with the concussion issue. She downplayed the prevalence of concussions and added, "Girls soccer players and jockeys have more concussions than football players, jockeys because they fall off their horses."
The biggest challenge facing the NFL going forward, she said, is "the change in how people consume information."
"What we see as different about millennials, is that they're pragmatic, and family and social networks are important to them." But, she said, they're distracted because they're being inundated with information demanding their attention. "Figuring out how to evolve this time-based sport is going to be the biggest challenge to keep fans 20 years from now."
Related: Millennials envision a different life
What do you think the retirement industry can do to keep clients, consumers, plan participants, and plan sponsors fans 5, 10, or 20 years from now?