A. Mark Fendrick, M.D., has captured the spirit of the shifting political landscape in 2017. "When I am presenting to groups, I now use the title, `Make American health care great again,'" he says.
Related: Study suggests plan transparency doesn't reduce costs
Fendrick is on the front lines of developing strategies and tactics to make U.S. health care more effective as well as more affordable. He approaches this difficult task from multiple positions: director of the Center for Value-Based Insurance Design; professor in the University of Michigan's Department of Internal Medicine and Department of Health Management and Policy; and as a practicing physician.
"In this world of 140-character soundbites, led by President Trump, the main message is not how much we spend, but how well we spend," he says. "Along with other physicians, I didn't go to medical school to save people money. I was taught how to make individuals and populations healthier.
"I am concerned not only with the economic side, but by the clinical side as well. I ask everyone if they are as concerned about the health of our population as they are about spending less. I would hope people are asking if we are getting healthier with increased spending."
This remains the holy grail of U.S. health care. How can physicians, insurers and politicians ensure that quality of care improves while slowing or even reversing the upward cost curve?
Where we are now
The logical starting point is to take a realistic look at where we are now.
"In 2016, many purchasers unfortunately saw a double-digit increase in their bills," says Dave Mordo, legislative council chair for the National Association of Health Underwriters in Washington, D.C. "Premiums and maximum out-of-pocket expenses rose higher, and there was a decrease in provider networks. It was a little bit worse than 2015 and there were some extenuating circumstances as part of the Affordable Care Act. More employers cut benefits to bring down costs or raised deductibles."
The problem is not a lack of resources, but how those resources are being deployed, Fendrick says. "There is more than enough money in the system, but it is not being spent properly," he notes. "We need to spend more on the things that make people healthier and less on the things that make them less healthy."
"When you think about health insurance, there are three components to the cost: claims, administration costs and profits," says David Newman, executive director of the Health Care Institute in Washington, D.C. "If you look at our 2015 costs report, what we are seeing is growth in spending, which is a function of price and utilization. Most of the growth is on the price side. To the extent that the price is going up and utilization is flat, it's obvious that premiums have to go up. We have been trying for 10 to 15 years to figure out ways to control costs through a variety of mechanisms."
What are some of those mechanisms?
Where we need to go
Predictions and recommendations for 2017 and beyond abound. One thing is certain: The arrival of President Donald Trump and a new regulatory and legislative team will change the playing field.
Related: 5 best states for group health insurance
"One trend I am looking at is in the area of legislation and regulations that may help reduce costs dealing with employer exclusions and the repeal of taxes," Mordo says. "House Speaker Paul Ryan wants to rewrite the tax code. If we can eliminate the Cadillac Tax, the employer mandate and the individual mandate — all of these little taxes that are passed through to the consumer—we will see a reduction in costs right off the bat. With repeal and replace being passed through reconciliation, we can see significant changes in the next 18 to 24 months."
A number of specific cost-reduction proposals are on the table.
Sophisticated buyer purchasing power. Individual health care consumers have little influence over price, Newman says. However, what he calls sophisticated buyers — employers, insurers and state governments — have the collective clout to demand change.
"We found that one form of knee surgery costs $17,000 more in Pompei, Florida than it does in Miami, which is 180 miles away," he says. "The solution is for sophisticated buyers to demand to be told why there is such a big difference and to use their purchasing power to drive prices down.
"For example, one person purchasing a colonoscopy can't make a difference in price. However, Safeway probably purchases 10,000 colonoscopies for their employees. They know how to demand lower prices."
Comparable care. "I am tracking the whole concept of comparable-care organizations," Mordo says. "They are based on quality, not quantity. More people are getting used to comparable-care organizations, although they have a smaller network. Better outcomes control the cost of health care, which in turn helps control insurance costs. It's the old saying, 'health insurance is expensive because health care is expensive.' This is a prime example."
Value-based insurance. The 2016 National Health Interview Survey reported that 38.8 percent of consumers younger than 65 with private health insurance were enrolled in a high-deductible health plan during the first half of 2016, which is a sharp increase from 25.3 percent in 2010. Similarly, a 2016 Kaiser Family Foundation survey showed that the average health plan deductible increased from $818 in 2006 to $2,069 in 2015. Fendrick is concerned that larger deductibles will cause consumers to forgo essential, high-value medical care.
"Value-based insurance is about the health value of the service," he says. "Patients are less likely to pay for a prescription if it costs $300 out of pocket instead of $50. Ideally, deductibles would lead to a reduction in the use of only low-value care. To accomplish this goal, consumers must be able to distinguish between high-value and low-value clinical services, which is difficult. Therefore, increased cost sharing contributes to avoidance of both low-and high-value care."
What would value-based insurance look like?
"Efforts are under way to develop more sophisticated cost-sharing strategies that can replace traditional approaches," he says. "An alternative benefit design that encourages the use of high-value care, while at the same time reduces wasteful spending, is needed. Specifically, value-based insurance design calls for lower cost sharing for high-value services and higher cost sharing for low-value services.
Related: Employer health plan costs to rise modestly in 2017
"A health savings account/high-deductible health plan would have the option to provide predeductible coverage of high-value services used to manage chronic disease while discouraging the use of wasteful care. By expanding predeductible coverage for essential care and directing high deductibles to low-value services, this high-value health plan would provide more effective coverage without fundamentally altering the original intent and spirit of consumer-directed plans."
In January, the Centers for Medicare and Medicaid Service will launch a model that allows designated Medicare Advantage plans to offer varied benefit designs for enrollees diagnosed with specified chronic conditions. Published evidence from private and public payers suggests that reductions in cost share modestly increase the use of targeted, high-value services and can reduce the use of targeted, low-value services.
Look for more of this type of small-scale experimentation going forward. "To the extent that it is a completely different approach, there will be a lot of demonstrations and experiments," Newman says.
Perhaps best of all, this type of innovation is considered doable. "Health care in general is very controversial right now," Fendrick adds. "The value-based plan is one of the few
Health care recommendations that has bipartisan support."
More transparency. This strategy is simple — health care consumers would demand more accountability if they understood exactly how much they really pay.
"We have to get providers and hospitals to be more transparent," Mordo says. "People must understand what they pay for and what it really costs. Providers don't always want to display their prices, but it would be a big lift."
Increased competition. Finally, expect to see a boost in free market competition in a bid to reduce expenses.
"The whole idea of competition will help," Mordo says. "In the marketplace, we went from 23 carriers down to six, and we had carriers leave the marketplace in every state. We need more carrier competition, and it doesn't seem to be headed that way now."
The law of averages says that not all of these proposals will work, but it also is true that the more that are tried, the greater the likelihood of finding real solutions to rising costs.
A costly future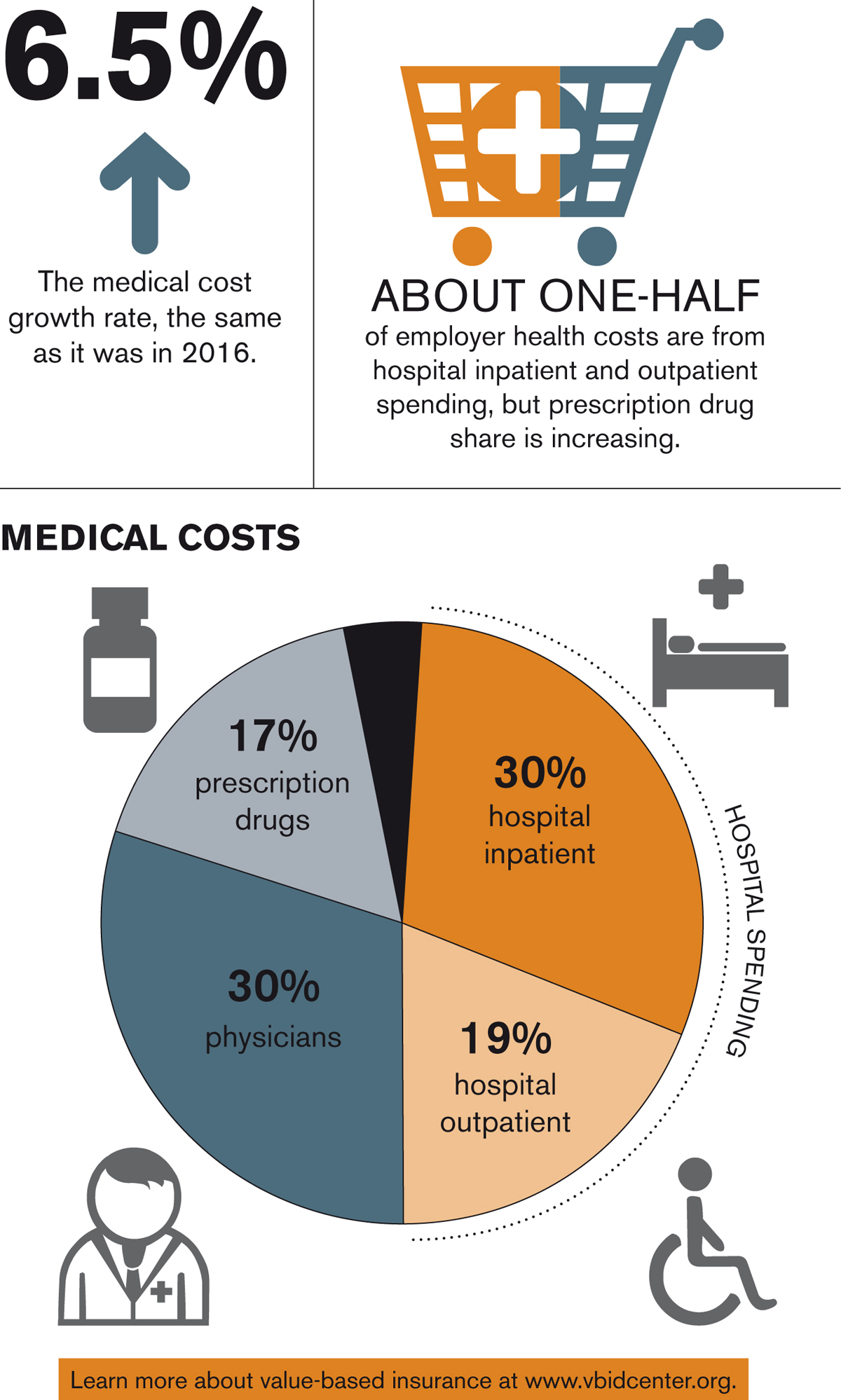 The accounting company PricewaterhouseCoopers (PwC) recently looked at 2016 realities and 2017 projections in "Behind the Numbers 2017." Among its key findings:
Medical costs in 2017 will continue to rise at the same rate as in 2016, and signs point to even larger future increases.

2017 will be a year of equilibrium for medical costs, because the forces that increase health costs are being tempered by a demand for value.

The decade's slowing medical cost growth rate could move back up as new health care access points increase utilization.

Health care organizations must increase access to consumer-friendly services while decreasing unit costs.

Cost-saving strategies deployed over the last few years have run their course and may not be able to bend the cost curve with new inflators on the horizon.

Price, not utilization, is the force behind historical medical cost trends.

Since the early 2000s, use of services has declined and higher prices are driving the growth. However, a close focus on both prices and health care delivery and access changes are needed to contain costs.

Drug spending is still a relatively small portion of overall health spending.

The proliferation of convenient ways to get care has led to higher utilization. Even if higher use of these alternative sites reduces spending in the future, the savings may not reduce the short-term cost of more visits.