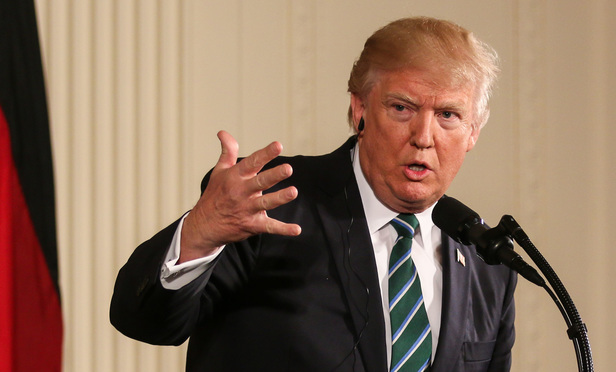 A decade-old program that forgives the federal student loan debt of those who work in public service jobs for 10 years would be eliminated under President Donald Trump's proposed budget.
Related: Bill would protect Social Security against student loan debt
That budget, released Tuesday, would axe the Public Service Loan Forgiveness Program and institute other changes to the student loan repayment system that would make some attorneys, nurses, teachers, doctors and other professionals who borrow from the government to finance their professional educations wait 30 years to see their debt canceled — up from 25 years.
Public Service Loan Forgiveness is popular in the legal field, where it's widely viewed as a financial lifeline to attorneys who pursue careers in relatively low-paying positions such as public defenders, prosecutors and legal aid attorneys. Without loan forgiveness, those positions hold less appeal and would see significantly higher turnover, supporters said in the wake of Trump's budget unveiling.
Fewer talented and experienced attorneys in those positions would in turn hurt the communities they serve and ultimately cost them more, they added.
"We need lawyers who are willing to become prosecutors, public defenders and legal aid lawyers," said American Bar Association president Linda Klein on Tuesday. "I can only imagine what the cost of withdrawing this support will be to our communities. The cost of failing to provide these necessary services to people — and I'm not just talking about lawyers — will be a problem I don't know that the people who decided to zero out Public Service Loan Forgiveness have thought about."
Still, presidential budget proposals generally serve as a frame for budget negotiations in Congress. It's lawmakers on Capitol Hill who ultimately decide what programs to fund and cut.
Eliminating the loan forgiveness program would save the federal government $27 billion over 10 years, according to Trump's budget projections.
It's unclear how the Office of Management and Budget came to that estimate, said Philip Schrag, a Georgetown University Law Center professor, who has studied the loan forgiveness program. But a long-standing criticism of the program, he said, is that government officials don't actually know how much it will cost in the long run.
Related: One of the best new employee benefits is about to get even better
Other critics have zeroed in on outlying cases where highly paid doctors could have their loan debt forgiven, said Chris Chapman, president of AccessLex Institute, a nonprofit organization that advocates for greater access to legal education. But the vast majority of qualified borrowers will never earn such incomes. "You shouldn't make policy around exceptions," Chapman said.
Heather Abraham said her heart sank when she learned that the Public Service Loan Forgiveness Program was on the chopping block. She graduated from the University of Minnesota Law School in 2012 with about $200,000 in student loans, which includes some undergraduate debt as well as her joint law degree and master's in housing and public policy.
She now earns about $38,000 a year as a fellow at Legal Services of Northern Michigan in Traverse City, Michigan, where she represents clients in eviction cases and the chronically homeless. She's counting on the program to forgive the balance of her loan debt in 2022. In fact, the program is the reason she decided to leave her job as a legislative aid to U.S. Senator Amy Klobuchar and follow her dream of becoming a lawyer.
"That's what told me, 'Yes, I can do what I really want to do and what I'm meant to do,'" Abraham said. "It took me 10 years to get where I am today, after that bill passed, but I'm finally doing the work I love. Politics has never felt more personal to me. It scares me, and makes me think so many communities will suffer because talented people will not go into public interest."
Despite Abraham's worries, experts say the language in Trump's budget proposal suggests that the program's elimination would only apply to new federal loan borrows after July 2018. Those already in the program and current law students funding their tuition with federal loans would still be eligible, though Congress could pursue further changes that roll the program back or cut it altogether for existing borrowers, supporters warn.
Still, outright elimination of the program would be a tough sell on Capitol Hill, said Isaac Bowers, director of law school engagement and advocacy at Equal Justice Works, a nonprofit organization that helps law students pursue public interest law jobs.
The program was established in 2007 under President George W. Bush, and it enjoyed bipartisan support at the time. It remains popular with Democrats and some Republicans who view it as a way to ensure that government and public service organizations can recruit and retain talented workers.
"We have talked to plenty of members of Congress on the Republican side of the aisle who are still supportive of Public Service Loan Forgiveness and understand how important it is," Bowers said. "I do not think it's a forgone conclusion that Congress will vote to either cap or eliminate it."
Related: Student loan bill capitalizes on demand for repayment help
But Trump's budget proposal is important because it establishes a baseline of what the administration would accept, Chapman said.
"The risk is that Congress can say, 'Oh, well the Trump administration says we can eliminate Public Service Loan Forgiveness and save [money] we can spend elsewhere that we know the president is not going to veto,'" Chapman said. "It gives cover."
Under the current iteration of the program, borrowers pay 10 percent of their discretionary income toward their student loans. The balance of their federal loan debt is forgiven after making a decade of payments, as long as they have worked in a qualified public service job that entire time. The initial cohort of eligible borrowers is due to have their loan debts forgiven in October.
The average qualified borrower will pay 91 percent of their federal loan amount before their debt is forgiven, Bowers said, meaning the bulk of the amount forgiven by the government is actually accrued interest.
The percentage of lawyers directly affected by throwing out the program would be relatively small, but the reverberations of its undoing would be broad.
About 15 percent of law graduates take government and public interest jobs upon graduation, and Bowers estimates that between 3 and 5 percent will stay in those positions long enough to qualify. Still, those lawyers have an outsized impact on underserved populations, supporters said.
"Public Service Loan Forgiveness is not really about the borrower," Bowers said. "It's about the recruitment and retention of public service into these long-term public service careers and the communities they serve. Ultimately the people who will be hurt are the beneficiaries of these legal, medical, social work service providers, and the students who will not have teachers who are as dedicated and long serving.
Employers benefit from the program because it reduces turnover, Schrag said. "The average tenure of a lawyer at a government organization like a state Attorney General's Office or the Federal Trade Commission is about two years," he said. "The Public Service Loan Forgiveness Program, by incentivizing people to stay for 10 years, enables the government agencies and nonprofit organizations to hire people who will stay beyond the two years it takes to train them to do a good job."
Equal Justice Works has already aligned with a coalition of organizations for doctors, nurses, social workers and other professions that qualify for the program and is planning a lobbying campaign in support.
Related: Student debt hruts employees' financial responsibility
Similarly, a number of legal education groups have been lobbying for the program in recent years after President Barack Obama proposed capping the amount of debt that can be forgiven. (That proposal never went forward.) The Association of American Law Schools, the Law School Admission Council Inc. and the National Association for Law Placement Inc. are among the groups lobbying Congress to maintain the program, Chapman said. The ABA too will be pushing lawmakers to keep the program, according to Klein.
"We were there when it started and we're going to fight for it to stay," she said.
Dismantling the Public Service Loan Forgiveness Program would also hurt enrollment at law schools that serve lower-income students who have public service career aspirations, said Mary Lu Bilek, dean at the City University of New York School of Law. Many of its students simply could not afford its relatively low in-state tuition of $14,663 and living costs without the promise of loan forgiveness. Three-quarters of the school's 2016 graduates took public service jobs, she said.
"Eliminating Public Service Loan Forgiveness means that smart and public service-oriented students from communities underserved by the profession and underrepresented in the profession are faced with a Hobson's choice: Not pursue the service-oriented practice that motivated them to come to law school or not go to law school at all," Bilek said.
As a result, only students of greater financial means would be able to pursue public interest careers, not just in law but across all professions, she added.
Public Service Loan Forgiveness isn't the only change Trump's budget proposal would make to federal loans. It also calls for streamlining the student loan repayment system, which currently offers five different income-based repayment plans that cap payments at a certain percentage of the borrower's income and cancel outstanding debt after a certain period of time.
The proposed budget calls for a single repayment option for graduate-level loans, in which borrowers would pay 12.5 percent of their discretionary income toward their loans and have their balance canceled after 30 years. That's a less favorable deal that the current options offer, which cap payments between 10 and 15 percent of income and cancel balances after 20 or 25 years.
"Law students and any graduate of a professional school should be concerned about that," Bowers said.
Abraham said she would like Congress to not only preserve the Public Service Loan Forgiveness Program, but to protect it from future attacks.
"I'd like to see a critical mass of Congress step forward and say, 'This program is vital,'" she said.